It's been a year since Justin Trudeau became Prime Minister and the Liberal Party gained an overwhelming majority in parliament. Trudeau swept most of the country, including all of Atlantic Canada, on a platform of Real Change. He promised a 180-degree shift on most of the Harper government's policies, especially on climate change. Yet, one year later, Trudeau's lofty promises have little substance to show for them. His government is in bed with the oil and gas industry, just as cozily as Harper's was.
The rights of First Nations continue to be ignored when they don't align with the Liberals' economic plan.
TIME FOR ACTION
Time is running out. The devastating impacts of climate change are accelerating and every passing month of inaction leaves an even greater threat for the future. It's time to turn Trudeau's rhetoric into reality.
Canadians endured a sweltering summer. June and July weren't just above average temperature; they broke all previously recorded temperatures — since record-keeping began in 1880.
Phil Plait, a writer for Slate Magazine, looked at those numbers and saw a disturbing trend: it's not just summers that are pushing temperatures up; July was the 10th month in a row that broke global records for that month. August followed that trend.
Even with a couple months remaining, 2016 is on track to be the hottest year on record. Just like 2015 was before it, and 2014 before that.
This record-breaking pattern carries devastating consequences. A warming climate increases chances for wild fires, like the horrific Fort McMurray, Alberta, fire that displaced over 90,000 people. It also reduces water tables and increases both the likelihood and the severity of droughts.
This summer, 15 regions across Canada faced moderate droughts, including most of southern Ontario, and two smaller pockets beside Niagara Falls and Lake Ontario respectively faced severe drought conditions.
Just after the federal election last year, Trudeau and his top negotiators attended the United Nations Climate Change Conference in Paris. Every country submits their greenhouse gas emissions reduction targets and attempts to negotiate a binding agreement on how to lower overall global emissions.
Trudeau faced criticism at the time for bringing Harper's targets, which were both incredibly insufficient and obstructive. Trudeau pushed back, saying there hadn't been time to draft new targets. What's more, he said he wanted to hear from Canadians and include them in the process. As the next round of climate negotiations approaches in November, it's clear nothing has changed.
Environment Minister Catherine McKenna has announced that the Liberals are going to whole-heartedly adopt Harper's emissions targets. The same targets that McKenna and other Liberals previously decried as "unambitious" and "fake."
This is doublespeak at its worst.
TIME FOR DEMOCRACY
Last winter Trudeau promised to hold town halls across the country to give citizens input into what our national climate strategy should look like. To date, less than half of sitting Liberal MPs have hosted consultations. The few that have been held were the result of constant pressure from environmental groups. Not exactly a groundswell of democratic engagement.
Stephen Harper made no effort to hide that he did the oil and gas industry's bidding, going abroad to lobby on their behalf, declaring all environmental activists "radicals" and pushing new laws to limit dissent. But neither has Trudeau pulled back from an unhealthily close relationship with the oil corporations.
In December 2015, Janet Annesley, the former vice-president of the Canadian Association of Petroleum Producers (CAPP) became Natural Resource Minister Jim Carr's chief of staff. Before CAPP, Annesley spent nine years with Shell.
Then in April of this year, the National Post revealed that Trudeau had ordered staff to develop plans to ensure Canada's two largest and most controversial pipelines, Energy East and Northern Gateway, become a reality.
Then at the end of September, Trudeau approved the Pacific NorthWest Liquefied Natural Gas (LNG) project near Prince Rupert. According to the Canadian Environmental Assessment Agency, the $36 billion processing facility and 900-kilometre pipeline would increase BC's carbon emissions by as much as 8.5 per cent, making it "one of the largest greenhouse gas emitters in Canada."
TIME FOR JUSTICE
Trudeau's approval runs roughshod over many First Nations and marks his largest failure to honour his climate promises.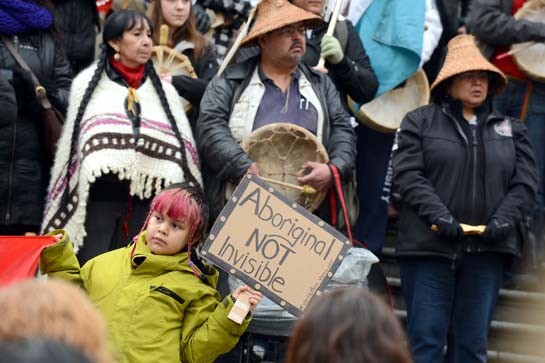 Central to Trudeau's climate plan was the promise of a new, more equitable relationship with First Nations. He criticized the past government's actions, and stated that any future fossil fuel projects had to respect community concerns and "build relationships with Indigenous people."
In April of this year, however, the Liberals approved permits for the Site C dam on Peace River, near Fort St. John, BC. The massive hydroelectric dam will flood over 100 kilometres of river valley and threaten thousands of hectares of the most fertile farmland in the province.
It's also all on Treaty 8 territory.
Two First Nations — West Moberly and Prophet River — have filed legal challenges against the dam over its disruption of fisheries and destruction of ancestral burial grounds. A joint federal-provincial review of the project concluded that it would have lasting adverse impacts on Treaty 8 First Nations.
All six of the Treaty 8 First Nations are opposed to the project, as are a number of environmental organizations. Even the Royal Society of Canada has come out against it.
None of that was enough for the Liberals to prevent or even postpone granting construction permits for the dam.
Despite promising a "nation to nation relationship with indigenous peoples, based on recognition [and] rights," First Nations have had no say over the dam. Trudeau has continued on the path of his predecessor, forcing ecologically destructive projects past Indigenous opposition.
Unlike with Harper, we've heard all the right words under Trudeau. Unless the rhetoric turns into reality though, the Liberals will usher in an era of record-breaking temperatures and extreme weather events that will make even last summer look mild.
James Hutt is a labour organizer, writer, and climate activist on unceded Algonquin Anishinaabe territory (Ottawa).