What does social unionism look like in the age of climate change? This year we're going to find out. As I write this, the Canadian Union of Postal Workers (CUPW) is in the middle of intensive negotiations with Canada Post. The union is demanding not just better working conditions for its own members, but also action on both climate change and poverty.

The postal workers have put forward a number of key demands that would transform post offices into hubs for a new green economy. Indeed, if CUPW and its allies are successful, this strategy, called Delivering Community Power, could be the first step in Canada's transition away from fossil fuels.
EXPAND SERVICES, REDUCE EMISSIONS
Delivering Community Power is a collection of proposals that would expand services, reduce Canada's emissions, create good green jobs, and lower poverty. More than just a campaign, it's a bold vision of Canada Post that can address the two greatest challenges of our time: climate change and inequality.

It launched two years ago as a collective project between labour and social and environmental organizations that include CUPW, the Canadian Postmasters and Assistants Association, The Leap, ACORN, Friends of Public Services and the BC Government and Service Employees Union (BCGEU). Now the campaign is ramping up as CUPW brings those proposals to the bargaining table.
WHY CANADA POST?
It's hard to overstate just how large Canada Post is. Canada Post is the country's largest retail and logistics network, reaching all corners of the country. In fact, with 6,300 locations, there are more post offices than Tim Hortons. Canada Post also has the largest vehicle fleet in the country.

It regularly returns massive profits; last year alone, Canada Post generated $114 million in net profit. And we own it. As a Crown corporation it belongs to us, the people, and we get a say in what it does. So what happens if we direct it to go 100 per cent renewable? It would be one of the largest actions the government could take against climate change.

In her article Connecting Canada: Postal Hubs and the Promise of Community Power, Our Times writer Melissa Keith profiled Delivering Community Power when it first launched in 2016. At the time, the campaign was gaining momentum, but Canada Post was still controlled by Harper's appointees, notably CEO Deepak Chopra, who relentlessly pushed cuts to door-to-door delivery.
Now, Canada Post has a new board and a new mandate. The Liberals pressured Chopra to resign and shuffled out many of the board members, putting more progressive and environmentally aware people in their place, including past BC Federation of Labour president Jim Sinclair. What's more, after an independent review of Canada Post, the Liberals announced a new vision for the Crown corporation: to prioritize services and to reinvest all profits back into innovation and expansion.

Now more than ever, the moment is ripe to reimagine the role and impact of Crown corporations in general, and Canada Post in particular.

Environmentally, Delivering Community Power would see Canada Post install solar panels on post offices, convert its entire fleet to electric vehicles, and retrofit its buildings for energy efficiency — all with the goal of transitioning Canada Post to using 100 per cent renewable energy. The plan would also see the corporation install public charging stations for electric vehicles at post offices, creating a truly national network to support the rollout of electric vehicles.
VIBRANT COMMUNITY HUBS
Socially, it would turn post offices into vibrant community hubs — offering rental retail space for artists and producers, meeting spaces for local groups, and broadband internet and digital training for areas that currently lack it. In both urban and rural settings, letter carriers could check in on seniors along their route, just like they do in Japan and France.

For people enrolled in the service there, letter carriers use smartphones to ask seniors a series of assessment questions (designed by a family member), deliver medicines or groceries, and send medical help when necessary.
THE BEAUTY OF POSTAL BANKING
The vision would also bring in postal banking. Postal banking is the simple but much praised method of offering the same services you'd get at a bank right at the post office, but for far less than you'd pay at a bank. More than one million Canadians don't have access to a bank and two million are forced to rely on Payday lenders, who charge exorbitant fees and interest rates.

Delivering Community Power would change that by ensuring that everyone can access financial services and by offering low-interest loans to Indigenous and low-income communities, while prioritizing investing in local renewable projects.

Part of the beauty of postal banking is that it's been incredibly profitable everywhere it's been tried, usually generating hundreds of millions in annual revenue. Canada Post made large profits for 18 of the last 20 years. (See John Anderson's report for the Canadian Centre for Policy Alternatives, called Why Canada Needs Postal Banking.) Even in the unlikely event that trend changes, revenue from postal banking would easily pay for the upfront costs of the Delivering Community Power proposals.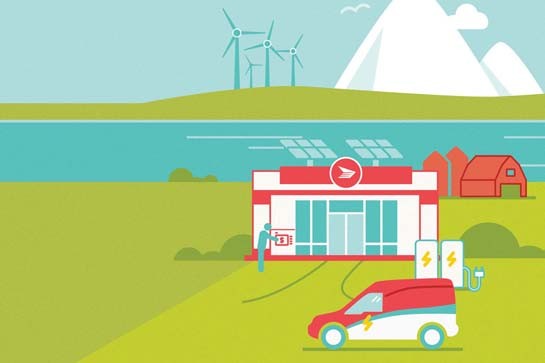 Still, winning the Delivering Community Power vision won't be easy, but postal workers have never shied away from a challenge. In fact, they have a long history of fighting for broad social change and taking great risks that ultimately won some of the benefits we now all enjoy.

In 1981, CUPW went on strike for 42 days in order to win paid maternity leave for its workers across the country. The strike galvanized members and brought allies like women's organizations onto the picket lines with them. Ultimately, CUPW won 17 paid weeks of maternity leave, the first national union to do so, and that win created a new standard for all workers.

Now, postal workers are fighting for climate justice. They have the Delivering Community Power proposals on the bargaining table for the collective good. But they can't do it alone. Bargaining will be tough, and they'll face intense pressure to make concessions, especially on what some might consider secondary benefits.
JOIN THE MOVEMENT
It's an ambitious set of proposals. To be successful, it will take a national movement pushing Canada Post to act. Such a drastic transformation of the Crown corporation will require direction from the federal government. That's why CUPW and allies are taking the campaign to a new level, launching local organizing teams to pressure MPs across the country. The teams will bring together rank-and-file union members, environmentalists, social-justice advocates, and Indigenous activists to mobilize the country, community by community. Together they'll demand that their MPs implement the Delivering Community Power vision.

Over 50 union locals and organizations have already signed on and more are joining every week, forging lasting connections for solidarity that extends beyond bargaining.

Over the summer and fall, Delivering Community Power will be recruiting and mobilizing supporters in your community. It will train thousands of new leaders and build our power, as workers and as neighbours, to build a better world for all. Sign up at Delivering Community Power. Be a part of making this visionary set of proposals a reality and helping postal workers on their route to making Canada a country with a truly green and just economy.
James Hutt is a labour organizer, writer, and climate activist on unceded Algonquin Anishinaabe territory (Ottawa).