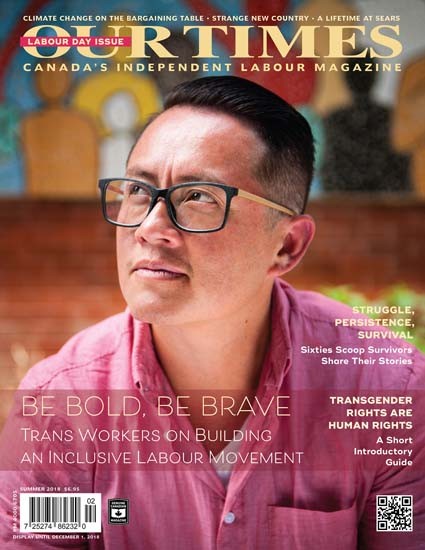 Summer 2018
Features
Being a union activist helped Sebastian Trujillo navigate his transition at work. "My union was very supportive of me and my transition and what I was going through," he says.

TRANSGENDER RIGHTS ARE HUMAN RIGHTS: A SHORT INTRODUCTORY GUIDE

How to make the union movement and the workplace safer for and more inclusive of trans workers.

STRUGGLE, PERSISTENCE, SURVIVAL

Mark Head was sitting on his couch watching Unsolved Mysteries, eating chips and relaxing, when he saw an old picture of himself as a child flash across the screen.
Departments
NOTES

CLiFF Celebrates 10 Years * Rally for Decent Work * Mayworks and Labour Arts

The Canadian Union of Postal Workers has put a bold vision on the bargaining table to address climate change and inequality.

OUR TIMES TALLY

Rank of Canada in having the least number of annual paid holidays throughout the industrialized world: 3

Getting a sense of where social media is going and what's coming for the Giant Nasties of Silicon Valley.

IN THE DEBRIS

OUR TIMES 2018 FUNDRAISING APPEAL

LOOKING BACK ON A LIFETIME AT SEARS

I am reflecting on how our lives might have been if my mother had been treated fairly as an employee right from the early days.

BETWEEN A BOOK AND A HARD PLACE

Almost no one showed up to read or study. The library was loud, rowdy, and totally out of control. It was time to change things.

STRANGE NEW COUNTRY

Strange New Country is Geoff Megg's riveting look at the personalities and politics active at the turn of the 20th century in British Columbia's fishing industry.

Don't tell women they don't understand numbers or economics or policy. Don't talk about their age, their weight, their hair or their looks at all.