Charlie Huntley's workplace is unique for a number of reasons. Not only is it a worker-owned union co-op café, but the majority of the workers there also identify as queer or trans or both. According to the Glitter Bean Café's website, the explicitly queer- and trans-centric café "rose from the ashes" of the Smiling Goat Organic Espresso Bar on Spring Garden Road in Halifax, Nova Scotia.

Smiling Goat baristas went public in the spring of 2018, after months of bounced pay cheques and excuses from owner Kit Singh. The Service Employees International Union (SEIU) held union organizing drives at four Smiling Goat locations and, according to Huntley, there was 100 per cent turnout, with each and every employee voting yes to joining the union. Singh responded by shutting down three of five cafés with no explanation.
DOING THE EDUCATION WORK
A long-time employee of that Smiling Goat (formerly Just Us!) location, Huntley was first introduced to the labour movement during an earlier 2013 union drive at the coffee house. During the hard-fought campaign the then Just Us! management fired two of the workers behind the drive. At the time, Huntley, who later became chief steward at the café, felt that labour embraced the trans café workers. The union had to, Huntley says, if it wanted them as members.

"I think work started happening around me that I didn't see, which is probably how it's supposed to be," says Huntley, with a laugh.

For instance, SEIU Local 2 asked one of Huntley's trans co-workers — who had experience educating others about gender and sexuality — to do a workshop, and that workshop was "really well received."

"But mostly that was within my union; my union specifically got my pronouns right," says Huntley, whose pronouns are the gender neutral "they" and "them."

Within the larger labour movement, "lots of folks weren't super non-binary friendly or knowledgeable." The learning curve can be steep, especially for those trade union activists used to greeting each other as "sisters and brothers." For Huntley, that often meant being misgendered, that is, being addressed or referred to with pronouns that conflict with the person's gender. Even members of a human rights committee Huntley was a part of misgendered them. Huntley eventually left that committee.

Still missing for Huntley are chances to connect with other trans union activists. They would like to see a network of trans workers and to know more about their trans labour elders.

Sebastian Trujillo expresses similar sentiments. A Toronto SEIU Healthcare member and LGBTIQ representative on the SEIU Healthcare executive board, Trujillo says that while he knows many LGBTQIA2S+ union activists, none of them are trans men, so "there's a bit of isolation there."

Regardless, he calls his experience with the SEIU "amazing." Trujillo, who works in the nutrition department at Mount Sinai Hospital, got involved in his local eight years ago and was chief steward at his workplace until December 2017.
Being a union activist helped Trujillo navigate his own transition at work. "I knew my rights and I knew my collective agreement, and SEIU was very supportive of me and my transition and what I was going through," he says.

During bargaining, Trujillo and his fellow union reps were able to change all of the language in their collective agreement, from "he/him" and "she/her" to the more inclusive "they" and "them."

The SEIU was in the process of filing a human rights complaint against Trujillo's employer on his behalf when another union raided his workplace. The new union, NowU, won the drive and the SEIU had to drop the case. But Trujillo has since taken a second, part-time job as a housekeeping aid; he's working at a Baycrest seniors' health and residential care centre so he can remain a member of the union and also keep his seat on the SEIU Healthcare executive board.

It's that kind of activist work, focused on queer and trans rights and carried out through a union, that Martine Stonehouse misses. In 2017, the Canadian Union of Public Employees (CUPE) Local 4400 member retired from her position as head caretaker at Eastdale Collegiate Institute after 30 years with the Toronto District School Board (TDSB).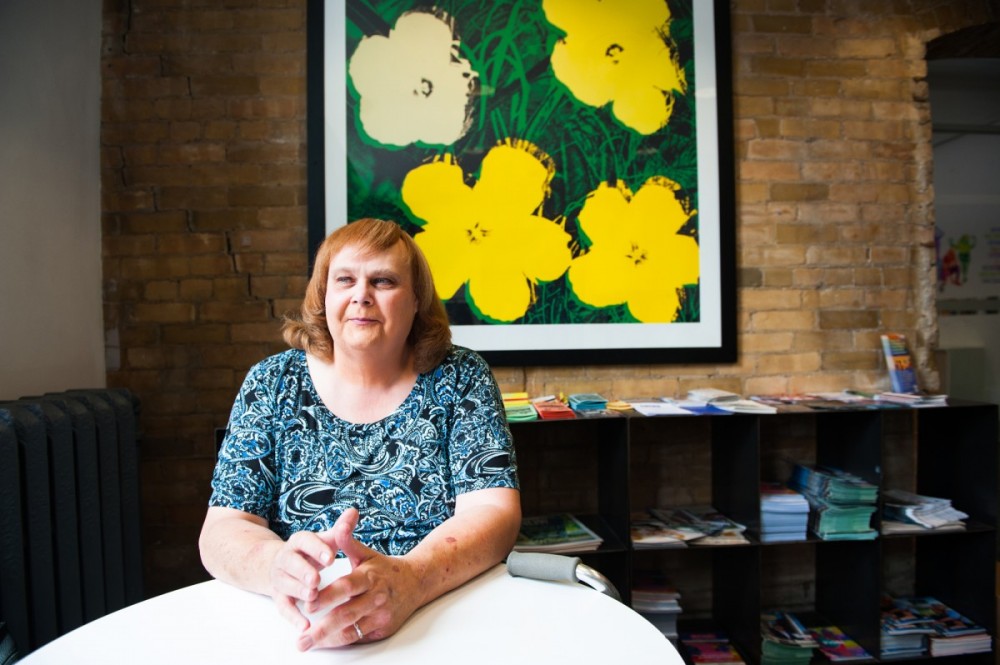 "I don't regret retiring from the TDSB," says Stonehouse. "What I do regret is having to step down off all my committees. It just left a big hole."

And no wonder. Since getting involved in the labour movement in 1999, Stonehouse has sat on her local's equity committee, the Pink Triangle committees of both CUPE Ontario and CUPE National, and the pride committees of both the Ontario Federation of Labour (OFL) and the Canadian Labour Congress (CLC). According to Stonehouse, before she joined there had never been an (out) trans person on the CUPE Ontario Pink Triangle committee.

Stonehouse became a trans activist when the Ontario government delisted gender-confirming surgeries (GCS) in 1998, meaning the procedure would no longer be funded under the provincial health care plan.

In 1999, she filed a human rights complaint. Three other people, including another CUPE member, later joined that challenge, Hogan v Ontario (Minister of Health and Long-Term Care).

That same year she was invited to the Ontario Federation of Labour's Solidarity in Pride conference — her first time attending anything of the sort. There she met her future lawyer, Susan Ursel, who would represent her in the human rights challenge.
WHEN UNIONS HAVE YOUR BACK
CUPE supported Stonehouse's fight in tangible ways. Local 4400 paid for 27 days of book-off so that she could attend tribunal hearings. Ursel represented her pro-bono, but CUPE Ontario contributed financially towards other costs associated with her challenge.

Meanwhile, in 2000, Stonehouse and fellow trans activist Susan Gapka formed the Trans Health Lobby Group (turned Trans Lobby Group). They lobbied politicians, crashed Liberal BBQs and pushed for gender identity and expression to be included in the Ontario Human Rights Code, which, in 2012, they were. Gapka, who is now on both the CUPE Ontario and National Pink Triangle committees, was given the key to the city of Toronto in May of 2018 for her groundbreaking work.

And the human rights challenge? Finally in 2006, Stonehouse and two of her co-complainants in Hogan v Ontario received a settlement from the Ontario government. The fourth complainant was denied a settlement, but later appealed. In June of 2008, the government of Ontario relisted gender-confirming surgeries, and in 2015 a documentary film called Transfixed, chronicling Stonehouse's struggle, was released.

Of her union experience, Stonehouse says, "I was received very well. I never had a problem at convention or at any union functions." While "there were some people who were curious," Stonehouse adds that because she has Asperger's Syndrome she didn't always notice how other people perceived her.

When Stonehouse got involved there was "very little understanding of trans people," but education has gone a long way toward changing that, she says. Union executives and stewards, specifically, have a much better understanding, the activist believes.

"We haven't gotten everybody yet, but we're getting there," says Stonehouse.

Because education is so crucial to ensuring change, the Canadian Labour Congress (CLC), in 2010, collaborated with members of their Solidarity and Pride working group to adapt "Workers in Transition: A practical guide for union representatives," created in 2008 by the then Canadian Auto Workers. The aim was to make the adapted guide available to all CLC affiliates.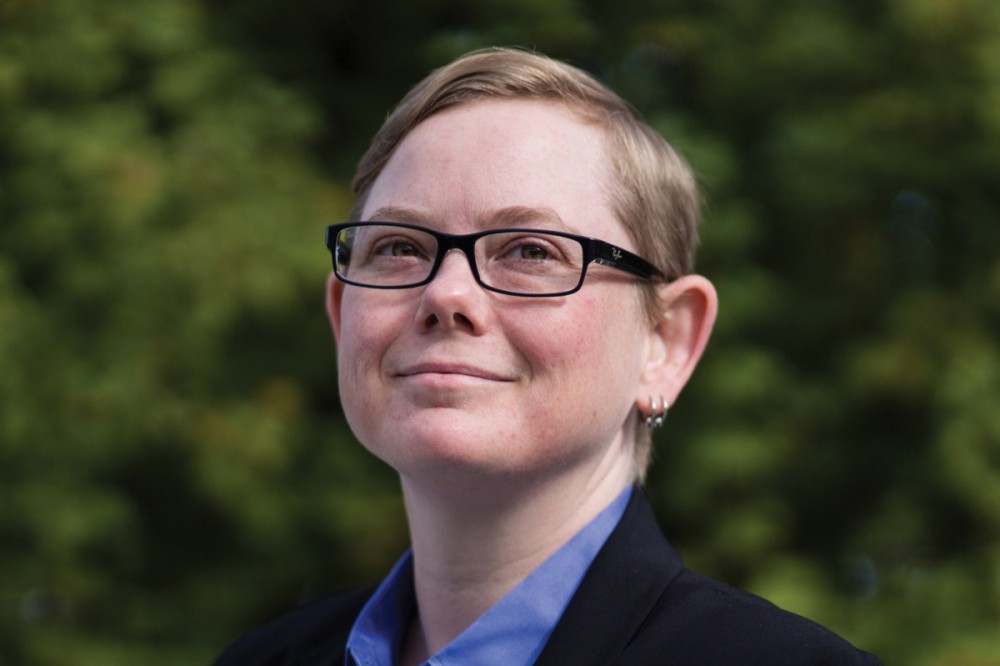 Adrienne Smith, the CLC regional representative (Pacific Region) tasked with updating the CLC guide, says that though the original CLC adaptation was obviously compiled with care it is also "held captive by the time in which it was published."

"It really overstates the binary [identifying as either male or female], and it implies that surgical interventions are the only kind of gender-affirming care available or required," says Smith, who identifies as non-binary.

Smith offers 90-minute training sessions (a service of the CLC) to affiliates across the country. The sessions include: vocabulary, who trans and intersex people are, the barriers trans people face to full participation in the workplace, and existing legal protections. Participants, for example, practise asking someone's pronouns and apologizing gracefully, if they get them wrong.
HAVING A UNION MAKES A BIG DIFFERENCE
During these sessions, Smith stresses how important it is to retain trans people in unionized workplaces because "they are integral and valuable" but also because "having a union in place can be one of the differences between a trans person being able to make their life and their workplace better or not."

According to Trans Pulse project data released in 2011, 18 per cent of trans respondents had been refused employment because they were trans, while 32 per cent were unsure if they had been. Thirteen per cent of respondents said they had been fired because they were trans, while 15 per cent were unsure. (Trans Pulse, which wrapped up in 2014, was a community-based research project that collected data on the impacts of exclusion and discrimination on the health of trans people in Ontario.)

Smith is almost done updating the guide, which will be sent to the CLC's Solidarity and Pride working group to review before its 2018 launch.

The new guide will talk about gender as a spectrum rather than the rigidly defined classifications of male and female, and it will make space for those who don't identify with the gender binary by, in part, addressing the everyday language we use.

That applies to "brothers and sisters."

While the iconic union greeting may imply a familial bond to some, it ignores members who don't identify as one or the other.

"I just don't know how I'm supposed to motivate them or feel good about trying to involve my queer and trans co-workers in the labour movement when people say 'sisters and brothers,'" says Huntley. "We feel very erased. And just gross."

Huntley, who spoke to This Magazine at length in December of 2016 about the problems with "brothers and sisters," prefers "fellow workers." Smith would prefer to keep gender out of it entirely but says that "brothers, sisters, and friends" splits the difference in a very comfortable way. Words like "speaker, delegate, participant," and "activist" are also gender neutral, they note.

"They [instances of gendered language] are exclusions that people are not making intentionally, and there's no reason for us to continue that," says Smith.

For the first year-and-a-half of his transition Trujillo used "they" and "them" pronouns. While he says that his union was really good with his pronouns, some fellow labour activists found them hard to adapt to, and he often ended up having to provide impromptu education.
THE IMPORTANCE OF CISGENDER SOLIDARITY
"It's so tiring at the end of the day," says Trujillo. "Over the last three years I have seen a bit of a change. It is happening, but very slowly."

Seeing cisgender (non-trans, non-gender-fluid) labour activists taking on some of that education makes him feel safe, says Trujillo.

"Sometimes trans people are expected to do the education labour when it's actually not their specialty," says Huntley. "Just because I'm trans doesn't mean I actually even have all of the knowledge or ability to teach that knowledge in a workshop format."
On June 22, the former Smiling Goat baristas set social media aflutter with the announcement that, in July, they would be opening the Glitter Bean Café. One of the first orders of business? Painting the formerly dark brown two-storey house a distinctly queer purple.

"It'll be so important that labour shows up to support a (mostly) queer-owned worker co-operative," says Huntley. "We're excited to welcome those folks to our café — we've been missing a lot of folks who understandably didn't want to support Kit Singh."

According to a quote from Huntley's co-worker Lorelei Carey in an April 2018 FLARE article, 90 per cent of the baristas at the Smiling Goat workplace were queer, while 50 per cent were trans.

It was the SEIU who pitched the idea of re-opening the café as a worker-owned union co-op, says Huntley. It was something the baristas had wanted for some time, but didn't have the funds for until the SEIU pitched in with a "chunk of funding."

"There needs to be resources put behind trans and queer people," says Huntley. To truly support the large proportion of trans and queer people in precarious work, Huntley says, "unions just have to pony up and organize low-wage workers."

For Huntley, it's also about showing up, both literally, at picket lines as allies, for example, and figuratively, by providing education. Doing so includes unions talking to their own members.

CUPE ran a "Pride in CUPE" course, says Stonehouse, at various labour schools, but not many people signed up. She says that while she was on the union's Pink Triangle Committee, they pushed to get LGBTQIA2S+ materials to locals. What needs to happen now, though, says Stonehouse, is that unions have to "somehow get funding to the locals to be able to reach out to the branches of their workplaces."
Stonehouse believes that part of the reason there aren't more trans people involved in the labour movement is that people are still not able to come out at work.

"I don't know if we've given them a safe space where we can say openly 'I'm a trans person' without them feeling like they're going to be a target or be outed," says Trujillo.

Trujillo has been able to meet other trans men through a support group at The 519 community centre in the Church and Wellesley Village in Toronto. However, Trujillo, who moved to Canada from Mexico, knows only two other Latinx trans men, whom he met through the 519. He is currently working with those two friends to create a Latinx FTM (female-to-male) support group.

For Trujillo, his work at the SEIU won't be finished until the union "cleans our own house." That includes changing the "brothers" and "sisters" signs on the head-office bathrooms. The offices need to be safe for all members, he says.

Trujillo plans to go back to school to get his Grade 12 English so that he can attend classes to become a paralegal. After graduation Trujillo wants to focus on labour law, which will allow him to concentrate on one of the things he loves most. That thing, says Trujillo, is the labour movement.