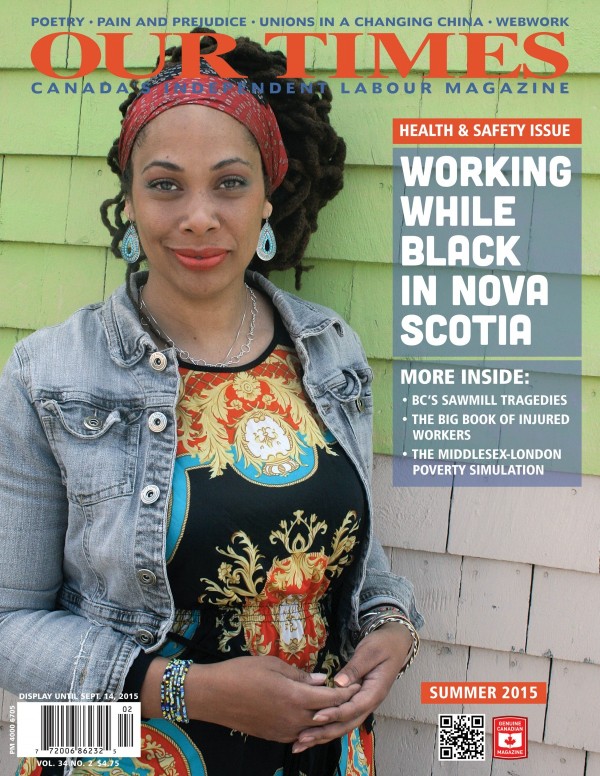 Summer 2015
Features
"It was a war zone," says Lakeland Mills sawmill worker Bruce Germyn, recalling the night when the BC mill exploded. Contrary to safety regulations, highly combustible wood dust had not been controlled. No one has been held accountable.

The web-based project Working While Black in Nova Scotia provides space to confront a persistent myth: that racism is no longer a problem in Nova Scotia.

UNIONS IN A CHANGING CHINA

All the Chinese labour leaders our delegation met were eager to exchange information about collective bargaining, union services for members, and health and safety. Workers in China today seem as militant as workers in Canada in the early days of our trade union movement.

37

THOSE WHO DID THE WORK

I THINK OF YOU

I wrote this poem in honour of my grandfather, one of the 133 men who died between 1914 and 1932 while building the Welland Ship Canal.

It was April 28, and we were on our way to the Day of Mourning ceremony for workers injured or killed on the job. I'd brought the book with me, and I was nervous.
Departments
NOTES

Black Lives Matter * Black Trade Unionists Convene * NB Honour Roll * Online at Our Times * Walmart has Plumbing Issues? * Our Times' Staff News

If you're relying on Buzzfeed to get your word out and your word is a union word, start working on Plan B.

BEING AMIRA

Poverty is one of the most widely accepted forms of violence in our society. Walking through a poverty simulation forces us to confront that fact.

DERANGE OF MOTION

"I learned at school that I should never express certainty," writes Karen Messing in her book Pain and Prejudice: What Science Can Learn About Work from the People Who Do It.

HEALTH & SAFETY FOR THE PSYCHE

Stigma shows up like this: almost half of Canadians say they wouldn't socialize with someone with a mental health problem.