Features
The Big Book of Injured Workers
A Diary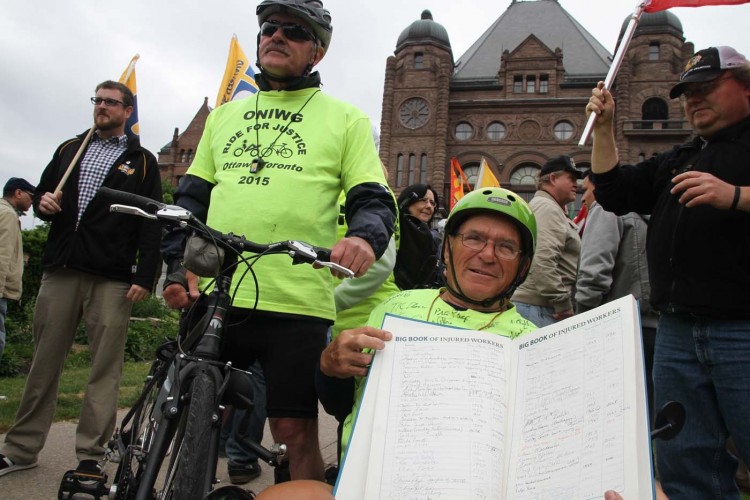 It was April 28, 2015. The day started out a little chilly as I made my way to the Go Station. The train would take me to Toronto's Union Station. From there, I'd get the subway to the Christie stop. I had my idea with me in my knapsack. It was weighing on me, physically and mentally. Would it be well-received or would there just be polite comments? Good job! But you really missed the mark there.
I adjusted the straps of my knapsack, left the Christie station and crossed the street to the coffee shop where I was to meet Orlando. He was picking me up to attend a Day of Mourning ceremony in Woodbridge. I enjoyed a coffee and a breakfast sandwich and reviewed the speech I was to give. Nervous energy was coursing through me. I was unable to keep still, so I walked back out into the morning sun to think.
How would I present this idea? How would I make the pitch? The key to every sales pitch is you only get one chance: no do-overs. The air had warmed up considerably. It began to feel like a nice spring day for a change. Orlando arrived. I got in his car, put my knapsack down in front of me, and we embarked on our road trip to the ceremony. I decided to make Orlando the target of my first sales pitch.
I eased the Big Book of Injured Workers out of the knapsack and asked Orlando, "Would you like to see the big book?" I displayed just the top of the book and waited for his response. "Wow," he said. "That is a big book!" So, that was the first response I received. I eased my idea back into my knapsack and we talked about other things.
We arrived early in Woodbridge, so we stopped for breakfast. This time, feeling more confident, I brought the Big Book of Injured Workers into the restaurant with me and put it on the table in front of Orlando. He chuckled, but with respect. "Wow, you really did mean a big book, didn't you?"
He opened the book and immediately wanted to sign it. What a relief — receiving the approval of a mentor and a friend! Orlando kindly bought me breakfast and we headed out to the Day of Mourning ceremony.
I felt apprehensive when I got there and saw the crowd gathering. Orlando had brought his Injured Workers' Day flyers with him. I took out my Big Book of Injured Workers. Here was my audience for the launch of the book: injured workers, labour activists, and politicians.
I noticed an older couple sitting alone, not mingling. Just sitting, waiting for the ceremony to begin. I wondered who they could be. Orlando introduced me to Enzo Mancuso, the event organizer, who put me on the speakers' list. I explained to Enzo the purpose of my book and, to my relief, he also thought it was a good idea.
I guess I should explain what the Big Book of Injured Workers is all about. Inside it there are lines for people to sign their name, and to give their age and the date of their injury. My idea was the book would hold some 12,000 names. I hoped to fill it with the names of injured workers, and anyone who wanted to see our compensation system adhering to its 100-year-old mandate of justice and fairness to all — unlike what it is doing today.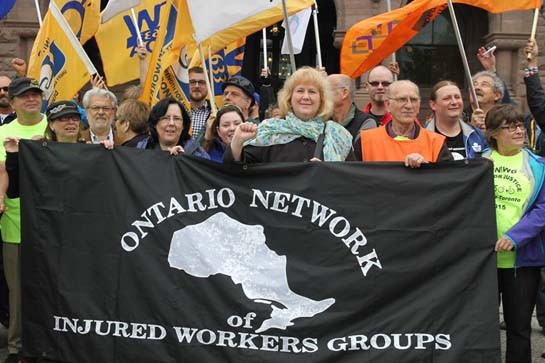 Enzo told me that the couple sitting alone were the parents of a young man who had fallen to his death earlier in the year. Suddenly, the purpose of my idea became clear to me. My previous self-absorption about how my book would be received was replaced with a sense of guilt as I approached the grieving parents. How could I ask these two people, with their hearts still not healed from this tragedy, to sign my book?
Orlando introduced us and I struggled to get the courage up to ask for their signature. I felt as though I was taking something away from them, something they might not want to share.
After offering condolences to the parents my heart beat fast and my throat constricted, threatening to silence me.
I began to explain the purpose of the Big Book of Injured Workers, and asked them if they would honour me by signing the book. This act, I was thinking, would no doubt open the wound just a little more, reminding them of their loss. Still, they graciously signed the book. I asked if they had grandchildren and the father nodded and said they had two — two children whom they would need to help through the loss of their father.
Their signatures suddenly made this book more than a tool for political action, but a book that represented the heart-wrenching pain that always follows a workplace accident or death.
I delivered my speech, and it went well. Many people came up to sign the book. One was the widow of a worker killed some 20 years ago, leaving her to raise her then six-year-old daughter alone. Another was 80 years old, injured at work in the 1980s. Everyone seemed to understand the purpose of the Big Book of Injured Workers.
I will never again observe a moment of silence or attend a Day of Mourning ceremony without thinking of those two parents sitting alone on a warm spring day, grieving the loss of their loved one.
Orlando Buonestella is an injured workers' advocate with Injured Workers Consultants (IWC). He is also a community researcher with the Research Action Alliance on the Consequences of Work Injury. Enzo Mancuso is also an injured workers' advocate. He works as an occupational health and safety training representative at the Workers Health and Safety Centre (WHSC), in Toronto.
April 28 is the National Day of Mourning for workers who have been killed or injured on the job, or who have suffered illness due to workplace-related hazards. It was declared an annual day of remembrance in 1985 by the Canadian Labour Congress (CLC), and recognized by the federal government in 1991. Today it is observed in countries around the world.