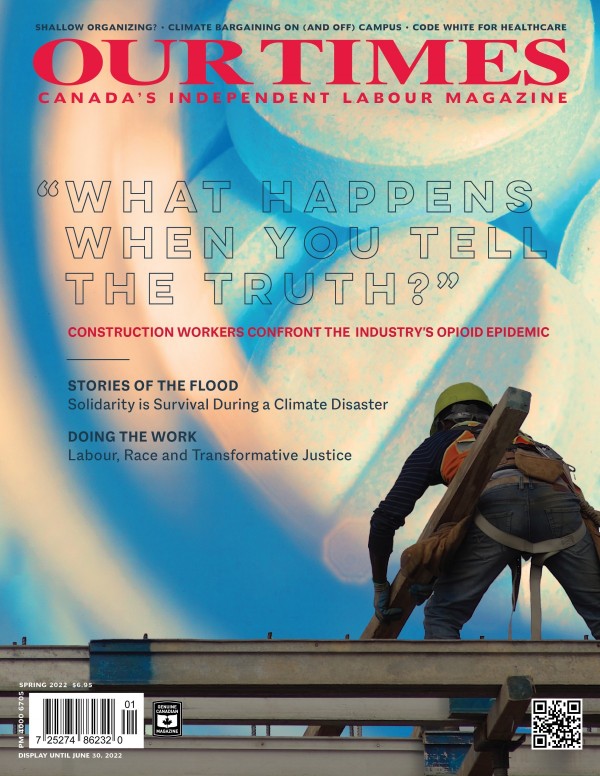 Spring 2022
Features
Construction workers have the highest rate of death by overdose of any group of employed people. Injuries, precarious employment, stressful environments and abuse on the job mean many use drugs and alcohol to cope. It's time to build hope.

STORIES OF THE FLOOD

When last year's torrential rains arrived in BC, municipal governments were overwhelmed by the ensuing flood and mudslide emergencies. A patchwork of volunteers and first responders came to the rescue, among them members of trade unions and First Nations. These are some of their stories.

Oppression is a revenant. If you believe it is a thing of the past, I invite you to scratch the surface of your own family's history.
Departments
UPFRONT

Two Different Worlds • Respecting Frontline Workers • Occupational Disease: Parkinson's • Acadia University Dispute

CLIMATE BARGAINING ON (AND OFF) CAMPUS

Canada's public universities and colleges have a unique ability to drive climate action and shape climate policy on a local, municipal, provincial and national level.

SHALLOW ORGANIZING & DEEP ENGAGEMENT

Plant a seed, grow a forest. Let's talk about what I call the Johnny Appleseed Theory of Online Education and Action.

SOLIDARITY

We had veered off the road somehow and were stuck in a snowbank on a desolate stretch of highway, decades before cellphones and roadside assistance plans. My dad was sure help would come.

ENGINEERING

A TRIUMPHANT TOAST

In her landmark essay, "In Search of Our Mothers' Gardens," Alice Walker gave voice to the sentiments that shaped my parents' behaviour: "What did it mean for a Black woman to be an artist in our grandmothers' time?

CODE WHITE

Healthcare workers experience higher rates of violence than police officers do. Code White lets healthcare workers tell their stories, and offers a prescription for change.

Democracy is delicate and easily broken. That's why we took to the streets, caught between convoyers and every police force in Canada.