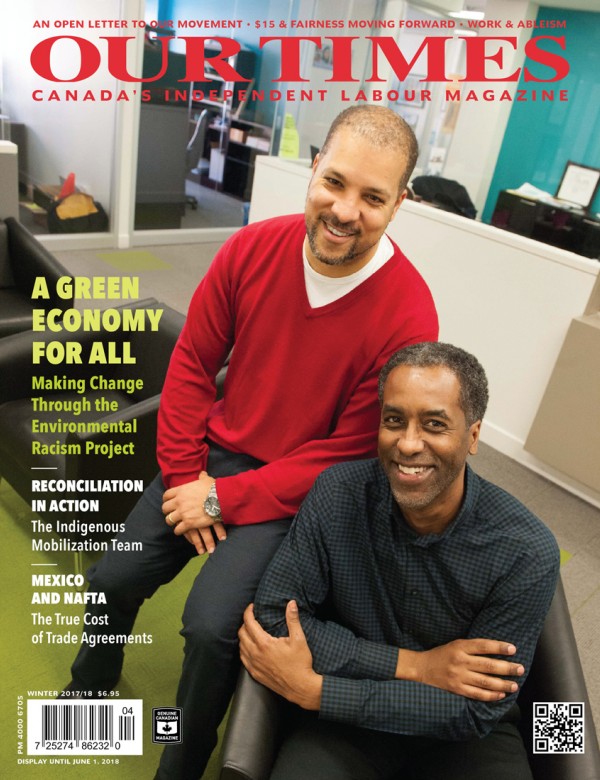 Winter 2017-18
Features
An Open Letter to our Movement

As we struggle to find solutions to the current crisis, a vision needs to arise of a powerful, effective, inclusive union movement.

Reconciliation in Action

The Indigenous Mobilization Team is something concrete and unique that's never been done in Canada by any union, says activist Darlene Kaboni.

The Environmental Racism Project is helping to equip Black and other racialized trade unionists and activists with the tools they need to influence the public-policy debate over climate change.

THE TRUE COST OF TRADE AGREEMENTS

Representatives of social movements speak of a real reign of terror Mexicans face day after day, one only exacerbated by NAFTA.
Departments
NOTES

Vancouver Women's March * Bob Haywood (1955-2018)

Bots for unions need to be thought through. NGOs are just a bit ahead of us on that contemplation curve.

OUR TIMES TALLY

Chance that a Canadian in the workforce between the ages of 25 and 54 has a full-time, full-year job: 1 in 2.

The largest city in the world to provide fare-free transit is Estonia's capital, Tallinn, and results are in.

$15 & Fairness Moving Forward

wo countries, until recently, witnessed massive increases in national minimum wages. Looking at their experiences offers insights.

Employment & Ableism

We are not the problem, and neither is the minimum wage. But some critics used disabled people to make a shameful and disgusting argument against raising the minimum wage.

FERNIE AT WAR: 1914-1919

Wayne Norton's book is a fine example of how labour
and popular history can be presented in an accessible and highly readable manner.

UNIONS AND THE CITY: NEGOTIATING URBAN CHANGE

Editor Ian MacDonald has framed these stories of building better cities with a clear analysis of unions and the dialectics of renewal.

Don't believe Trudeau's hype: free trade agreements have nothing to do with an open, welcoming society.