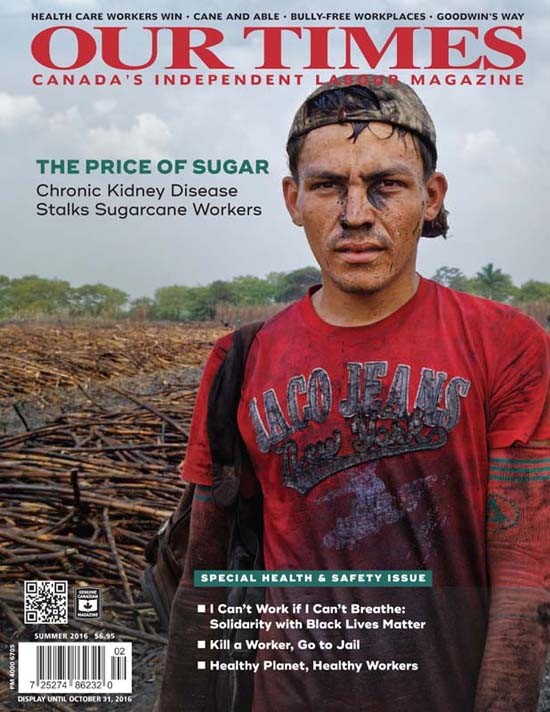 Summer 2016
Features
KILL A WORKER, GO TO JAIL

Migrant workers and the Westray Bill: the scaffolding deaths revisited.

After working for seven years in the fields of Chichigalpa, Nicaragua, Roberto Valdivia developed a disease that is killing tens of thousands of sugarcane workers there.

As the Black Lives Matter movement rises, Canada's labour movement needs to get on board. Here's why.
Departments
NOTES

Pride at Work * Remembering Carole Pearson * BC Health Care Workers Win * Austerity vs. Just Transition First Nations Water Workers * Bully-free Workplaces Fight for 15 While Singing

When a meeting costs a worker more time than it takes them to commute from one Tuesday job to another, we need to think virtual.

OUR TIMES TALLY

Chance that a death in a Canadian workplace results from a disease caused by exposure to asbestos: 1 in 3

Here's how the labour movement can lead the fight against both unemployment and catastrophic climate change.

THERE'S JUST ONE WINNIE

When I got the email inviting me to a retirement party for Winnie Ng, I couldn't believe it.

CANE AND ABLE

My cane transforms people. They feel obliged to explain incredibly obvious things to me, and they often speak slowly and loudly, in very simple sentences.

FUTURE DISCONTINUED

No other generation in Canadian history has experienced so much underemployment.

POETRY

Filmmaker Neil Vokey meets the residents of Cumberland, BC, and finds their passion echoes that of legendary union organizer, Ginger Goodwin.

TRUMBO

Trumbo validates the courageous struggles of a voice almost silenced by McCarthyism in the 1940s and '50s.

JOKERS TO THE RIGHT

With the right wing becoming increasingly clownish, it's time we learned more lessons from, ahem, Archie Bunker.