History is no dust-covered textbook on a shelf, or controversial public monument. The Toronto Workers' History Project began from this premise, and an inquiring email to the project's eventual president.
"I taught working-class history for years at York University, and I had written on those subjects. I had also done some public history: I helped to start the Workers Arts and Heritage Centre in Hamilton," says author, retired professor and well-known social and labour historian Craig Heron. "I was always interested in the public history of workers' history."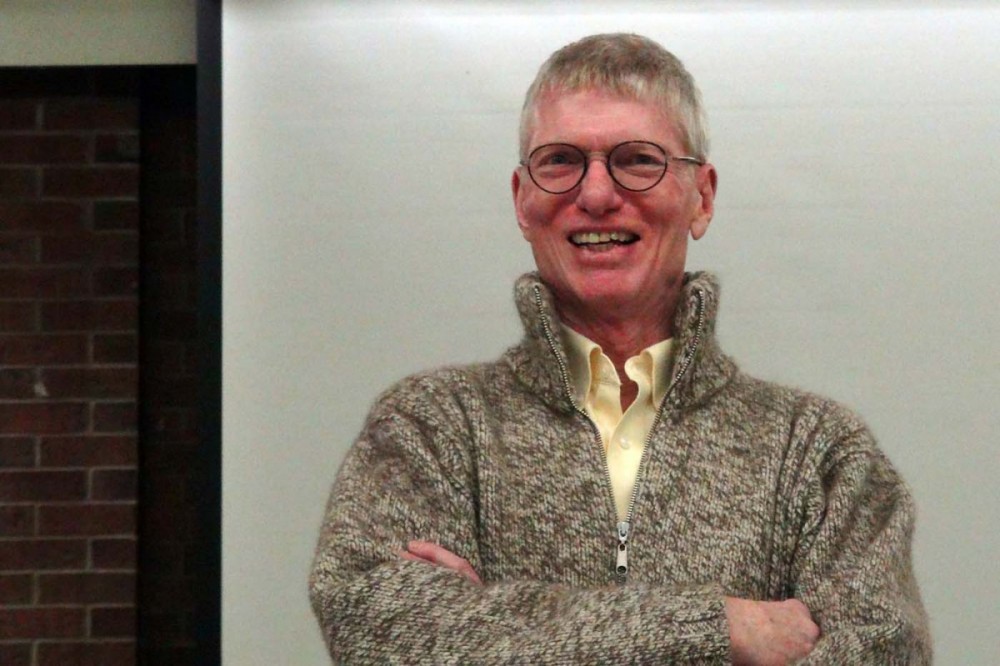 Five years ago, a labour activist contacted Heron with a familiar request: "We're celebrating the 145th anniversary of the Toronto & York Region Labour Council and we need some pictures." That's when the historian thought to himself, "How many times has this happened? Instead of reinventing the wheel, why isn't there some central place people can approach for this kind of information?"
When museums and civic events commemorate Canada's formative years, the lives and contributions of the country's true builders are still usually left out. Wanting to connect a wider audience to these lesser-known stories, Heron began formulating the idea of what would become the Toronto Workers' History Project (TWHP).
"Within a couple of months, after I'd been mulling this over, I contacted my old friend David Kidd, who is still on the executive. I had known him for years," says Heron. Kidd was then a union officer with Canadian Union of Public Employees (CUPE) Local 79, the Municipal Workers of Toronto. "He was a very active unionist, but he was also keenly interested in workers' history."
Over coffee, "We decided that the time was right, that there was an interest in this."
The History Project is Born
Two initial public meetings brought "an amazing turnout," recalls Heron. "Not to downplay the natural enthusiasm, but we also tapped into a sort of generational thing, where a number of people are coming to the end of their professional careers, their occupational life, and are starting to look back, and are much more temperamentally interested, I guess, in pursuing what it all meant, what the history behind what they did was all about." Those first two meetings led to the decision to set up working groups that convened over the summer. By fall, says Heron, "we set the whole process in motion with the creation of an executive."
The TWHP attracted diverse members and contributors from the very start.
Labour activist Frank Saptel tells Our Times that he was drawn to the History Project because of its inclusive point of view. "I'm not a historian, but my interest is that people of colour's and other marginalized people's histories are also documented. With that in mind, Craig had asked me to be part of the founding of the project."
Saptel, who arrived in Toronto by way of growing up in Pakistan and Montreal, was intrigued by the TWHP and encouraged by its founders. "Craig and I didn't know each other so well. We would see each other at events — it's a small universe that some of us orbit. I knew David Kidd because he used to give lectures, workshops, on history for the Labour Education Centre, in Toronto." Saptel says the primary purpose of those workshops was "to provide a basic education to newcomers in Canada, and to provide them with our workers' history, our version of history, our analysis."
He explains that it was another local project, the creation of a walking labour map of Toronto, that eventually led to his involvement with the TWHP. "What a few of us from the various people of colour communities noticed was, there was not as much history of workers of colour on that map. I hasten to add, it was a fabulous map and quite a seminal map, in many ways. I don't think that had ever been done in Toronto."
Talks around creating a similar map showing racialized workers' contributions "never got off the ground," but these conversations led to Kidd connecting Saptel with the fledgling TWHP, where Saptel remains on the executive board.
"There were about four members of an eight- or nine-member executive who were under age 35, and at least half of the executive were people of colour, including Frank," recalls Heron. "So, from the beginning, we tapped into that; and it's hard not to, in a city like Toronto." The History Project had to begin in collaboration with racialized workers and storytellers, and to continue to meaningfully engage them. Not doing so, "was a risk all along. Coming from a university setting, I'm very conscious of that," says the retired professor.
"Most of my academic friends showed some sort of academic interest and had participated as voices at different points along the way when we had particular events, but I would say that the great number of people who had shown up for meetings and were actively involved have not come from that world; they're working people, primarily with union backgrounds but from many backgrounds. It's quite a diverse crowd. It's quite impressive that way."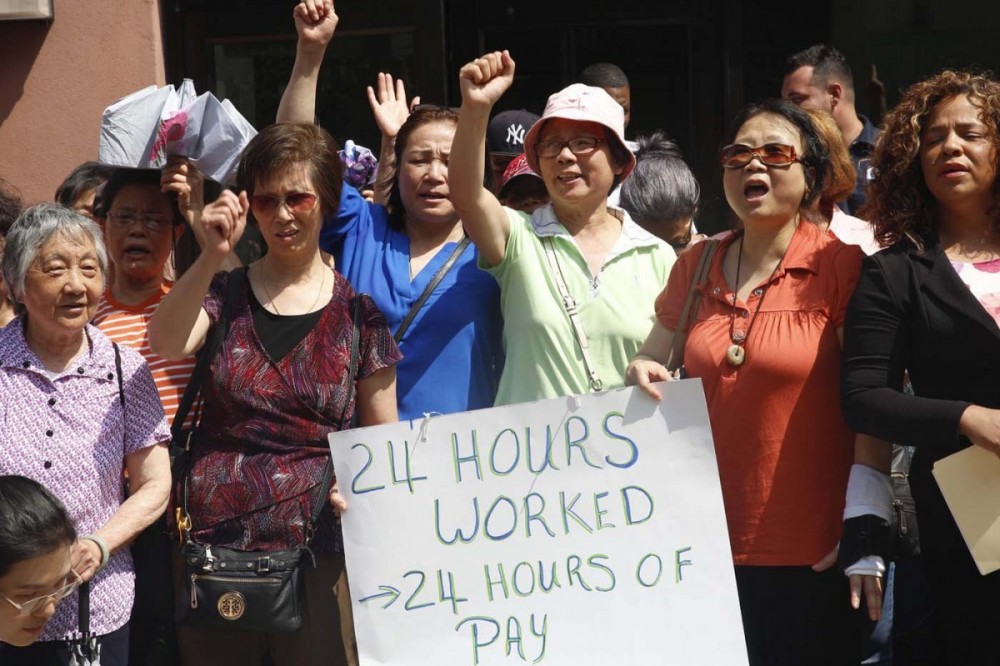 The list of topics covered by TWHP presentations is extensive. These began in September 2016, with the talk "A Workers' History of Cecil Street." In October of that same year, "we had people come to talk about the Museum of the Ward, in the old downtown area," shares Heron. A presentation on Portuguese-Canadian workers' history followed in November and, in December 2016, another on the history of occupational health and safety. From then, Heron says, "we were reaching out to what was topical, like just after the election of the Ford government, we decided to do something on the Days of Action [union-led mass protests, held across Ontario in 1998, against the neoliberal policies of former Conservative Premier Mike Harris.]."
What Makes a Topic a Good Choice?
What makes a topic a good choice for a TWHP presentation? "From the beginning, we've had a commitment to a broad range of understandings of what a worker is, not just someone who happens to have a union card, not just someone who happens to be male and white, and all those kinds of limitations that have often entered into what people think is the labour movement," replies Heron. "So, it's workers' history in the broadest sense."
The History Project's board generally considers a list of presentation possibilities at each monthly meeting, and Heron's knowledge base always comes in handy. "When he suggests a topic, he's often already got in mind who could speak to it, because he's so well acquainted with the labour history scene in Toronto, and who's working on what," Saptel explains. "He's supervised so many dissertations, he's really, really got his finger on the pulse of what's going on academically, but also in terms of popular history. Generally, topics are scheduled four to six months in advance, and if anything goes wrong, we just switch things around and make it work."
Before COVID-19 interrupted, Saptel was organizing some upcoming presentations. "The plan was to do a panel on taxi drivers in Toronto; that was something I was going to coordinate," he says. Saptel is now moving forward on coordinating a presentation on and by Chinese-Canadian workers in Toronto. There is "such a long and storied history of Chinese workers in Canada overall," he says.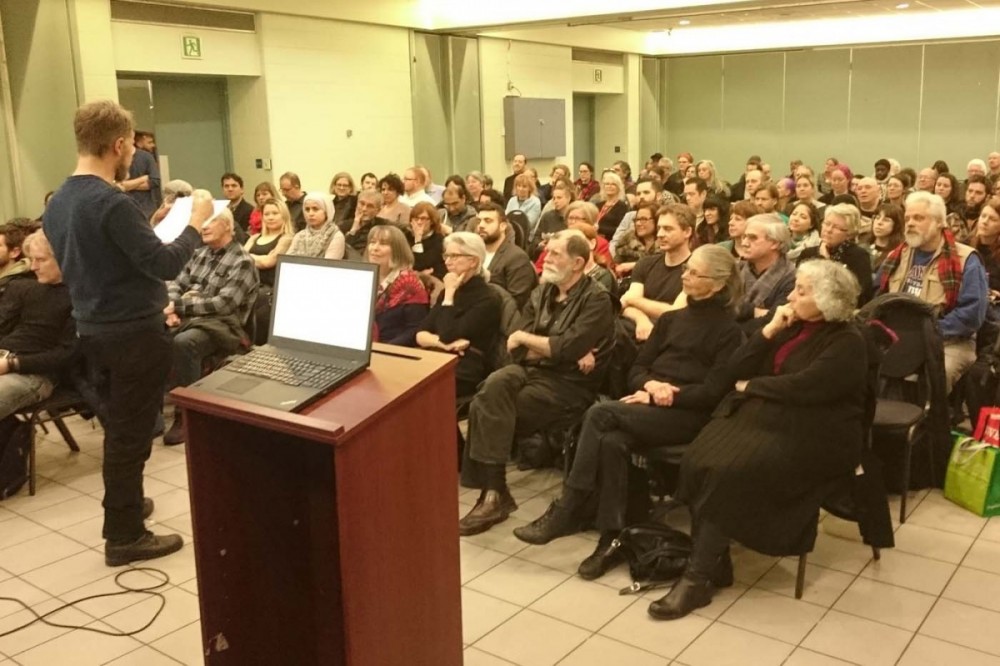 "We had a presentation on sex workers; that was organized by Ed Dunsworth; he's our recording secretary for the History Project. We did Japanese-Canadians — that was just a fabulous presentation," continues Saptel. "We did Kensington Market; that was one of our best-attended. The Steelworkers' Hall is just literally almost across the street from Kensington Market, so that was just situational perfection."
Situational perfection, in more ways than one. "We're extremely lucky that the Toronto and Area Steelworkers' Council lets us meet in their hall, the Steelworkers' Hall in Toronto, without charge. That made a huge difference," says Heron. "If we had to raise the money to rent a place every month, that would be a different kettle of fish."
Adding to the richness of its public presentations, a theatre group developed within the TWHP which sometimes contributes short theatre performances on the night's theme. Heron notes that an oral history project was also underway before the pandemic delayed plans.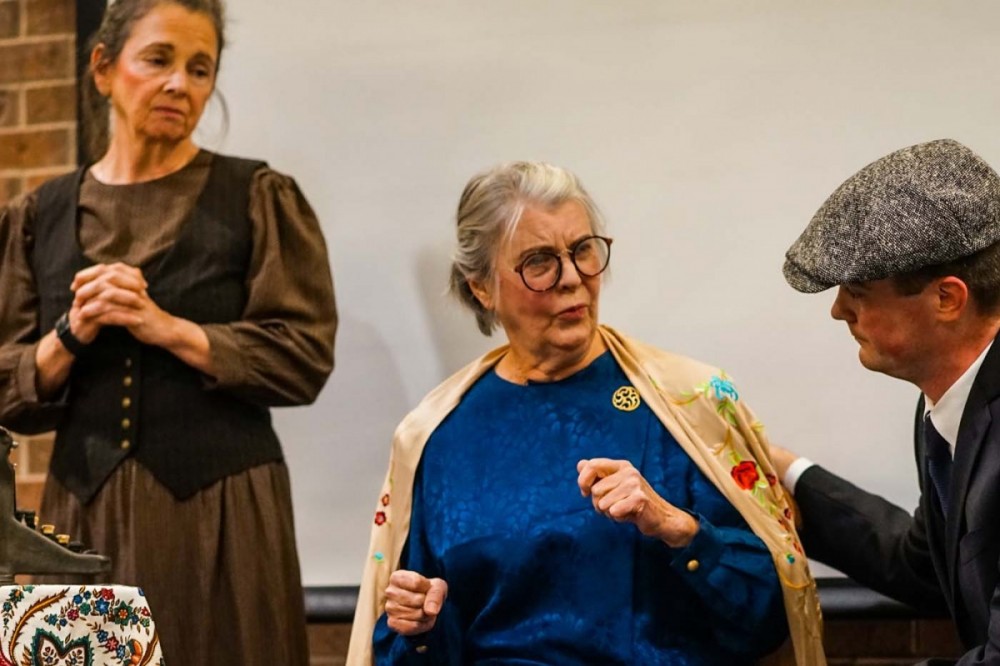 The founder wants the History Project to serve as a template for others. "There are people around the labour movement in every city who are interested in what's gone on before them," advises Heron, who would like to see more groups act to preserve this distinct form of cultural knowledge. "There are projects, like the TWHP's Oral History Project. We've had walking tours; we've shown films; we've had book launches — a whole range of things that you can do in any city. In Toronto, it's large and has lots of people to draw on, but what we've created is a model that could really work elsewhere."
Workers Built the City
Why preserve workers' history? Heron is clear that it affects the future on many levels. "It reminds people they have always made history. They didn't govern countries necessarily; occasionally they had access to power. But their contributions to the society we live in now are incredibly important. In material ways — obviously they built the cities and made the products and maintained the services — but beyond that, there was an injection of policy ideas that very often came from the labour movement.
"Nobody else fought for shorter working hours except the organized working class. There's lots of other kinds of social policy, like unemployment insurance and so on, which really owes its existence to the organization and agitation that went on for long periods of time."
When Saptel streams TWHP presentations via Facebook Live, he notes, "There are people from around the world who will pop in for a little while, just because the topic piques their interest." He says his own activism is powered by both his identity as a person of colour ("one of the darker South Asians") and "an innate sense of justice.
"I'm a member of the Asian Canadian Labour Alliance, the Coalition of Black Trade Unionists, the Latin American Trade Unionists Coalition, and a host of others." For him, the TWHP defines the city's past in a way that just makes sense: "I think the role that it plays is that it . . . demystifies history. History, for some people, is kind of like poetry: It's very rarified, it's for somebody else — it's not for me, it's not accessible to me."
The TWHP's emerging Oral History Project is meant to become a resource making little-heard histories accessible. "When you go up to somebody who's an older person who's been an activist, they don't see themselves as worthy of documenting," shares Saptel. "You ask them, 'Can I do an interview with you?' and then you go ahead and do the interview, and then, all of a sudden, they understand their role in what they did. Their role in those events, when they were active. And they understand what history means; and history does mean, as Howard Zinn said, 'the people's point of view.' It's not the official or academic point of view only, that sort of purview. History is us — it's all the stories. And I think that's the major thing that the Workers' History Project does."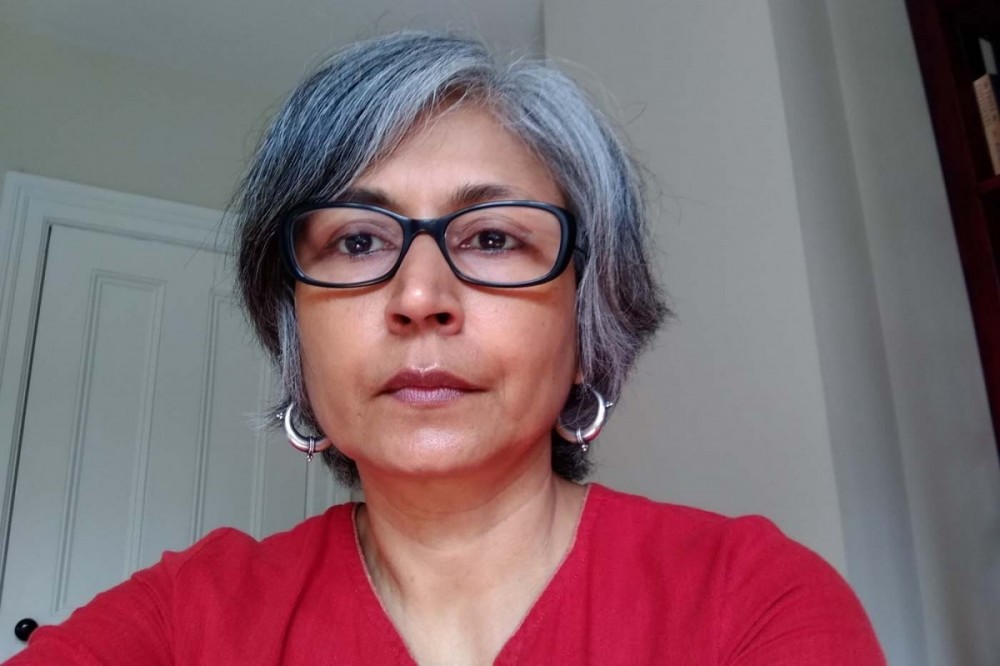 Aparna Sundar volunteers with the Oral History Project. She says, initially, "I had been really interested in the idea of trying to record some histories, especially of immigrant activists, not necessarily labour activists, but activists who have been active in different areas. So, I thought about doing that just on my own, then I saw this project and I thought this might be something I could learn about or do with them." She attended a couple of TWHP meetings during the period when the committee was being formed, and was motivated to join.
"I had been living in India for two years before this happened," says the sessional instructor, a political scientist by training. She was, she explains "doing some work, more of an academic project, looking at changes in a neighbourhood." While collecting "oral histories and talking to labour and women's activists in the neighbourhood, I just kind of started really enjoying it. I had done that earlier as well, for my own research."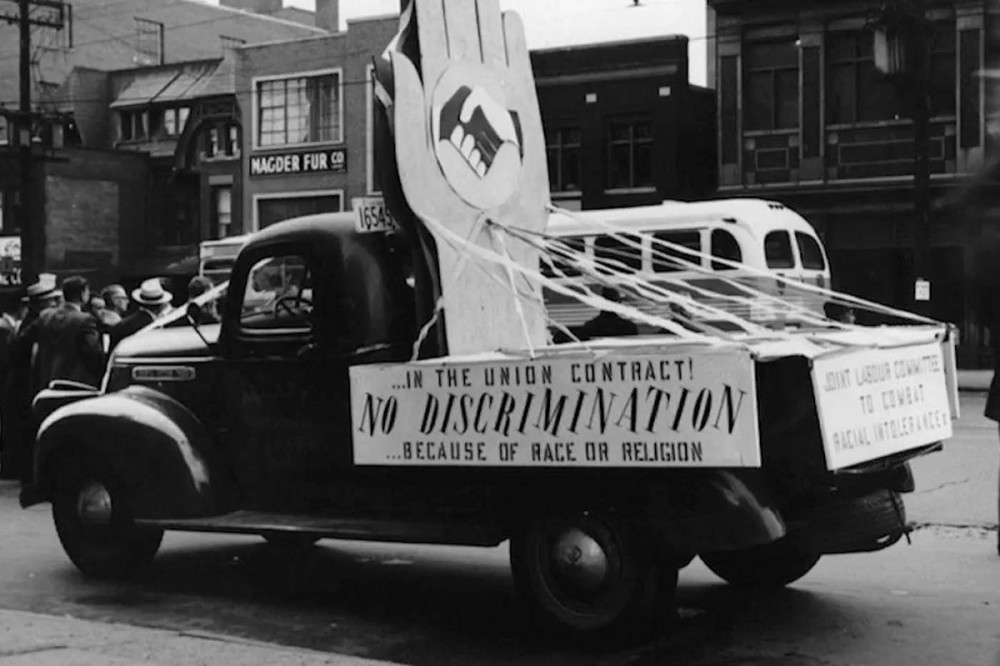 Sundar realized she wanted to preserve untold stories for future audiences. "I thought that would be interesting to do for Toronto. There were a couple of people I know, older immigrant activists, whose stories I really wanted to have recorded," she explains. "One of them is a Sri Lankan activist. He was very active there, but had to leave in the '80s because he was facing death threats. Ever since he's come here, he's been active in all kinds of things, anti-globalization to labour.
"His was one example where I thought that there's so much that people learn from the kinds of struggles they're engaged in and the politics that they're doing in other parts of the world where they come from, their beliefs and values and framing. Their thinking is shaped by that. They come here and they bring that here. I was curious as to what they brought and how they applied that to the place that they found here." A taxi driver was also on her list of prospective interviewees for the History Project.
Sundar has previously looked at social movements, fish-worker and informal-sector organizing in India, sometimes from what she calls an ethnographic perspective. "A lot of that had been based on oral histories with people in the fishery, looking at how things had changed, what issues they had mobilized and organized around."
Now, although she has limited time to commit to the TWHP, she is passionate about its cause. "It's a personal interest in wanting to record the stories of people who have been active in struggles for social justice. They're not always the best-known people, so their stories may not get automatically recorded and told. They are extremely interesting, and we all have a lot to learn from them. Specifically through the Toronto Workers' History Project, I also found out we don't know enough about how this city itself is shaped by the activism of a whole range of different kinds of people."
Shapers and Makers with Stories to Tell
Sundar observes that "we don't really have a sense of how other kinds of people, especially racialized people, have contributed to making the city, to improving life in the city and taking on different kinds of issues, to actually claiming space in the city, claiming space on the streets." There is also a sense that immigrants, particularly recent immigrants from the Global South, should be quietly grateful to be in Canada. This can silence them and inhibit their activism, which she considers a loss to everyone. "They're active shapers and makers of the places they live in, and they give a lot to it, putting their lives at risk sometimes, facing imprisonment."
Awareness of racialized and immigrant worker' stories enriches us all — it benefits those who may be hearing certain stories from and about their own community for the first time, it forges greater solidarity with and insight into the lives of others; and ideally, it opens eyes and minds that were once closed. "I'm a cisgender male but women's history is my history; I'm not Black, but Black history is my history," explains Saptel. "We're all connected. What African-Canadians did paved the way to the freedoms that I have, and people don't understand that. The job of history is not just to regurgitate facts about things that happened some time ago — it's to draw out the relevance, to connect those past events to today."
Melissa Keith is a former radio broadcaster and an award-winning freelance journalist. She lives in Lower Sackville, Nova Scotia.