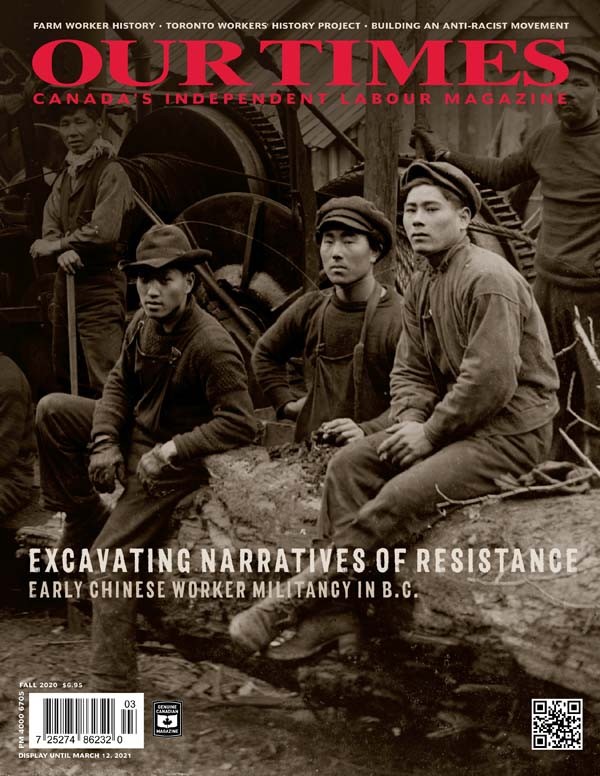 Fall 2020
Features
Excavating Narratives of Resistance

Early Chinese Worker Militancy in BC

That day in 1878, the entire Chinese community in Victoria went on strike. Every shop closed its doors, and all 200 Chinese domestic workers stayed home. No shirts were ironed, no shoes polished, no meals prepared.

The Toronto Workers' History Project

"History is us," says Frank Saptel. "It's our stories." Wanting to connect a wider audience to the lesser-known stories of Canada led to the creation of this fascinating project.

Farm Workers, Past Policies & the Present Pandemic

Historical processes that built on a "legacy of slavery and indentureship" still enable the conditions migrant workers are dealing with today.
Departments
UPFRONT

Cambie Ruling Victory * Union Humanity Fund Outreach * Changing Work for Good * Corrections * Letters * Online at Our Times

OUR TIMES TALLY

Total wealth amassed by the top twenty billionaires in Canada since the beginning of the COVID pandemic: $37

Bargaining for the Common Good

Bargaining for the Common Good's mapping tool helps workers coordinate strikes across workplaces, employers and industries to maximize their power.

Union Hubs & Back-Up PLans

Sometimes all the bad guys need to know is that the world is watching, that someone is shining a light into their dark corner.

Building an Anti-Racist Labour Movement

"My hope is that we start putting humanity first and start seeing each other as human beings," says Unifor's Christine Maclin.

Mistake Proof

To outsiders, this job wore sequins. It dazzled me, too — only 22 and working on Parliament Hill!

Do Androids Dream of Electric Cars?

Will the future of transport be decided democratically by local residents, or by shareholders and a handful of CEOs in San Francisco?

Kamala Harris and teh AShes of Empire

Harris' personal history reflects the global dislocations of the late 20th century far more than it reflects the nativist turn in the U.S.