Coming from different countries and cultural contexts, and representing two different moments in time, two films released this year — Pride, from England, and Cart, from South Korea — both show, in wonderful ways, the overwhelming power of solidarity. Both films played at the Toronto International Film Festival this September, and both will interest Our Times' readers. They follow in the footsteps of hits like Made in Dagenham to show that popular film can be union-friendly.
Pride has its most direct ancestry in films like Made in Dagenham and Billy Elliot, which were feel-good stories about serious topics (sexual discrimination and stereotyping). Pride covers the true story of queer activists in London who formed the group Lesbians and Gays Support the Miners (LGSM) in 1984 to show solidarity with a group of miners on strike.
In the film, the group is formed after Mark Ashton (Ben Schnetzer) watches television footage of police attacking striking miners, and makes the connection between the beatings the miners are suffering and those that he and his fellow queer activists have faced from the police.
Mark and his friends found LGSM and begin to raise money. When they try to donate it to the National Union of Mineworkers, no one will return their calls. So, instead, they decide to donate the funds directly to a specific village involved in the strike. And where do they look to find a village surrounded by coal mines? As Welsh exile Gethin (Andrew Scott) points out: Wales, of course.
Pride is not a saccharine story about two vastly different groups learning to accept each other's differences. There is a bit of that, but it's always handled with humour, making the exchanges charming, not cloying. More importantly, it shows what can happen when two groups with a common enemy connect with each other, and their individual members are inspired in ways that weren't possible before. As a result, Pride stands out as a completely inspirational and moving film.
LEADING THE CHARM CHARGE
Pride is full of brilliant performances. Schnetzer as Mark Ashton is a revelation. He captures Ashton's passion and charisma and makes it clear why the rest of the group follows him and why the miners are charmed by him. Dominic West also stands out as Jonathan, Gethin's partner. Slightly older than the rest of the group, Jonathan leads the charm charge by teaching the village's young men how to flirt with women, and the women how to dance (his hilarious extended dance scene is not to be missed!).
Faye Marsay is great as the brassy Steph. Paddy Constantin gives a sensitive performance as Dai, the village member who travels to London to accept LGSM's donation. But one of my favourite performances is Jessica Gunning as Sian, a shy Welsh woman who comes into her own through being involved in the strike and being inspired by LGSM's activism. Gunning fills the role with a warmth and intelligence that makes it impossible not to fall in love with her character and, indeed, the audience at TIFF broke into cheers when the epilogue titles revealed that Sian went back to school and became the first female to be elected to the Welsh parliament.
Pride is a smart and honest film in that it doesn't shy away from the homophobia on the part of the miners and the National Union of Mineworkers, or from the classism and preconceived notions the London-based LGSM members carry about the small-town miners.
Pride doesn't smooth over all the rough edges. Several residents of the village are never won over by the charming LGSM members, and the LGSM people face criticism from queer activists in London for focusing on miners when men elsewhere are dying by the thousands of AIDS.
The film opens with Pete Seeger singing "Solidarity Forever" and closes with scenes from the first-ever Gay Pride march that the National Union of Mineworkers participated in, set to Billy Bragg's "There is Power in a Union." Indeed, Pride is all about the power of solidarity and unions.
Cart takes place in a more contemporary setting than Pride, but it also makes a strong argument for the importance of unions and the way they facilitate solidarity.
CONTRACT WORKERS FIGHT BACK
Cart follows a group of workers at a big-box store in Seoul. The company decides to save money by laying off all of their contract staff, even though some have worked for years for the company and put in massive amounts of overtime on the promise that they would get permanent status "very soon." The women (all the contract employees in this store are women) decide they will not take this unfair treatment anymore, and they form a union to fight against the wrongful dismissal.
The union is led by three women: Sun-hee (Yum Jung-ah) is a mother of two who is given the Employee of the Month award for her willingness to work constant overtime, and for the lack of complaints on her record. Hae-mee (Moon Jeong-hee), a single mother whose work record is more spotty, routinely feels ashamed that she must say no to overtime hours so she can pick her son up from day care. Soon-rae (Kim Young-ae) is a cantankerous older janitor nearing retirement.
The three women sign up their co-workers to the union and organize a strike and occupation of the store when management refuses to meet with them. Inspired by the women's bravery, permanent staff member Dong-jun (Kim Gang-woo) founds a union among the permanent staff and joins in solidarity with the striking contract staff.
Although it is a fiction film, Cart documents a very real move towards contract labour in South Korea that mirrors a similar trend in North America. The struggles the characters face are true to life. Hae-mee's backstory reflects the great loss she endures: After sacrificing her personal well-being to be a "good employee" and do the massive amount of overtime she is asked to do while pregnant, she suffers a miscarriage.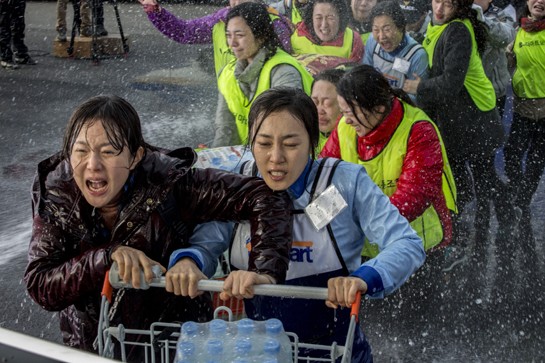 All the characters are completely loyal to the corporation at the outset, going above and beyond the call of duty and doing more than they are paid to do. Yet, their loyalty is betrayed by the employer, who never gives them the promised permanent status, and who tries to jettison them the second the company has financial issues.
The characters who stand up for themselves in Cart seem especially brave, since they exist not in the industrial setting of Pride but, rather, in the world of customer service, where corporate culture insists shoppers be treated like royalty. The women succeed in the company by being self-effacing and subservient to customers, and are often humiliated by them.
In one heartbreaking scene, Hae-mee accuses a customer of stealing and is forced by her manager to literally beg for forgiveness — on bended knee. For the workers to be in a work environment like this and still stand up for themselves (so they can continue to provide a high level of customer service) is amazing.
As with Pride, the performances in Cart are excellent. Yum Jung-ah as Sun-hee gives a stellar performance showing how anguished Sun-hee feels about trying to fulfil her duties as a mother and model employee — two roles that often conflict. Kim Young-ae has great timing and her grumpy turn as Soon-rae had the audience laughing.
POPULAR APPEAL A POWERFUL TOOL
Where Pride delves into issues of homophobia and classism, Cart exposes the underlying sexism in the gendered nature of contract work in South Korea. The women are told things like, "You're only working for pocket change, you have a husband to support you," and are rarely treated as the professionals they are. Management underestimates the women's commitment to the cause of a better workplace, assuming they will just get bored and go back to their husbands.
Cart has very slick production values and paints in broad strokes. But those factors are what make it so successful. At its heart, it tells a deeply moving story of a group of exploited women who, through their union and the support they give each other, are able to see their own self-worth and to fight for their rights and the rights of others.
One important feature these two films share is their popular-appeal approach to storytelling. Both films feature stars from their respective countries in order to draw in a large audience: Pride stars well-known British actors Bill Nighy, Imelda Staunton, and Dominic West, while Cart marks the film debut of South Korean pop star D.O. as the older of Sun-hee's children, who resents the time his mother devotes to the strike. Both films balance their serious and urgent messages with humour.
The goal seems to be to appeal to the widest audience possible, in order to spread a message about the importance of solidarity and about the positive role that unions play in social change. A large audience will definitely benefit from the message that working together makes us all stronger and that injustice can't persist when everyone stands up to it.
These movies are designed for everyone, because everyone needs to hear their messages
Rachel E. Beattie is a member of United Steelworkers Local 1998 who works in an audio-visual archive. She is Our Times' regular film reviewer.