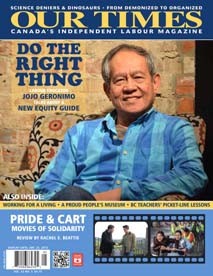 October-November 2014
Features
SCHOOLED IN SOLIDARITY

BC teachers, parents and students, together, did their best to defend quality public education. Taking stock of the teachers' strike.

"We need to intervene in our processes of organizing, collective bargaining and political action to make them equitable," says labour educator Jojo Geronimo. A conversation about a newly launched guide to strengthening equity, for union leaders and activists.

MOVING BEYOND DIVERSITY

An excerpt from Moving Beyond Diversity, Towards Inclusion and Equity: A Leader's Guide to Strengthen Unions

Being part of a union enriched my life, empowered me, and inspired me to believe there is a better way.

MUSEUM OF A PROUD PEOPLE

Not far from the cafés of St-Denis, in Montreal, you'll find a fascinating museum devoted to labour, working-class history and community activism. Its name is Ecomusée du Fier Monde.
Departments
NOTES

PSAC on Income-Splitting * CETA Threatens Workers * A Mother and Daughter Hello * UFCW Canada Denounces Bill 8 * Changing Work * 2015 AFL/CLC Winter School * Injuries Not Reported

OUR TIMES TALLY

Percentage of workers in Canada covered by a collective agreement: 32.

MAKING THUNDER & LISTENING WELL

Listen up to Leadnow and release a storm of posts with Thunderclap. Another knapsack full of online resources for union activists.

BUILDING SOLIDARITY IN THE NORTH

If we don't actively build solidarity between labour and Indigenous movements, corporate priorities will continue to forge deep divisions between us.

POETRY

DISPATCHES FROM THE WINNIPEG GENERAL STRIKE

Michael Dupuis' book Winnipeg's General Strike: Reports from the Front Lines uses the dispatches of 20 journalists to paint a picture of the 1919 general strike and how it was viewed.

Pride is a fabulous film about an unlikely collaboration between queer activists and coal miners in 1984 in Britain. Cart follows a group of contract workers at a big-box store in Seoul, South Korea. Both films celebrate the power of solidarity.

FROM DEMONIZED TO ORGANIZED

In her book From Demonized to Organized: Building the New Union Movement, Nora Loreto presents to her generation the value of unions and self-organizing in the workplace.

SCIENCE-DENIERS AND DINOSAURS

As climate-aware union activists, we need to spread the word that ignoring climate-change science, as some journalists do, is not acceptable.