Powering Up Our Post Office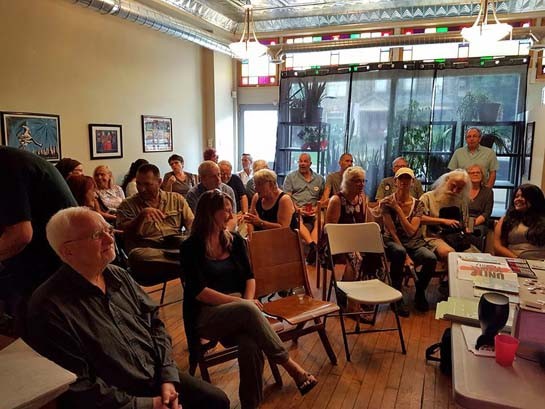 There are few words to describe, even for a writer, the feeling of checking your personal mailbox outside of your own front door and receiving happy mail.
Happy mail can be described as any mail that does not state you owe money and in turn, does not try to solicit your money.
As a person who has lived in and/or visited 13 countries across four continents, I appreciate a service that connects me to people and places I love. That's why when door-to-door mail delivery was compromised by community mailboxes and deemed outdated, I was outraged.
My relationship with postal workers changed, and I began talking more with the worker who regularly delivered mail to my door.
A MOVEMENT IS BORN
Living in London, Ontario, at the time, I quickly realized that others felt the same way. I witnessed the community come together to form People for Door-to-Door. From there, a movement was born and London was placed on the map for organizing one of the largest and most powerful Save Door-to-Door campaigns in the country.
Grassroots activists stopped at nothing to derail Canada Post's plans to erect community mailboxes in their neighbourhoods. From staging occupations to planting guerrilla gardens on would-be community-mailbox sites, those activists caught the nation's attention and inspired many communities to follow suit.
Working with allies across the country, they applied enough pressure not only to save door-to-door mail delivery, but also to give Stephen Harper his pink slip.
TAPPING CANADA POST'S FULL POTENTIAL
When I heard that Friends of Public Services, a grassroots organization formed by activists from across five major Canadian cities, was going to host an event in London all about delivering community power by tapping into Canada Post's full potential, I was intrigued.
It was also a treat that the venue would be one of my favourite independent bookstores in the city: Bread and Roses Books in Old East Village.
The quirky venue was packed and by the time Dru Oja Jay, Friends of Public Services representative and Montreal-based writer and organizer, began his presentation, there was standing room only.
Interactive, with great audiovisual components, the informal presentation made room for participant input, dialogue and questions.
Jay moved through the material with confidence, building on the case that Canada Post retail centres have the potential to be community hubs in both rural and urban settings. I mean, why NOT?
A CRITICAL POINT IN HISTORY
We are at a point in history where we must transform. Considering the economy, the environment, and new technology, surely we must change the way we do some things.
Unlike the proposed plans to cut the services Canada Post provides, the campaign, Delivering Community Power, gives us a vision of Canada Post re-invented in a modern, green, and revolutionary way.
Imagine electric-car charging stations at your local post office.
Imagine knowing that your postal worker can also check on your elderly relative.
Imagine your post office being where you access fresh local foods. Imagine secure, affordable postal banking.
Imagine our Canada Post — our publicly owned, self-sustaining service and asset — also leading the transition to green energy.
The potential is abundant, and participants at the event were excited. Dean Woronoski, president of London Local 566 of the Canadian Union of Postal Workers (CUPW), believes the campaign is inspiring in a number of ways: Postal hubs would be great for the local economy, he said, "and postal banking will generate the revenue to secure good postal jobs."
THE POTENTIAL TO REACH EVERY HOUSEHOLD IS OURS
Jay pointed out during the presentation that "Canada Post is the largest marketing network in the country" through direct mail. It has the potential to reach every household in Canada to promote the initiatives proposed by the Delivering Community Power campaign. And through its 6,200 commercial retail outlets, "the infrastructure is already there and that's a powerful thing."
Jay also put forth the especially inspiring idea that postal hubs give us a concentrated way to address the climate crisis, among many other issues.
Chris Stroud, owner of Bread and Roses Books, likewise believes postal hubs could contribute to profound socioeconomic change.
"Postal banking and supporting food delivery of fresh food across the country," he said, "could raise the standards of living for low-income communities."
Stroud recently helped launch London's MakerBus, a social enterprise designed to bridge the digital divide that exists in rural and urban communities, with a converted school bus serving as Canada's first makerspace and technology education classroom on wheels.
A POWERFUL ALTERNATIVE TO AUSTERITY
He feels the Delivering Community Power campaign offers a powerful alternative to "the neoliberal policies which have dogged Canadian politics in the last decade if not longer" and those who would like to see Canada Post privatized.
Stroud also feels the campaign event was a perfect fit for his store given the latter's focus on radical books and workshops that encourage a critical understanding of current political economy, culture and events.
I attend many events and often very little time and effort is given to allowing participants to strategize around the issues at hand. The organizers of this event, in contrast, devoted significant time after the presentation to participants creating strategies with their own federal ridings in mind. Out of that well-used time came real and concrete plans for moving forward.
Canada Post's management has put the community and its workers through so much uncertainty, but workers are resilient, especially when they have community support.
HERE'S HOW TO HELP
Here's how you can help with the campaign:
Educate workers on neoliberalism and how governments carry out austerity agendas.
Build solidarity for the proposal by having a presentation, providing materials and showing the campaign video. Or just show the video, to start.
Work towards expanding all public services.
Go to deliveringcommunitypower.ca and sign up for updates.
Postal workers and their community partners and allies are leading the drive to revitalize public services and make them powerfully responsive to the needs of communities across the country.
Canada Post has the potential to be about so much more than happy mail.
Mojdeh Cox is the national director of anti-racism and human rights at the Canadian Labour Congress. When she isn't smashing the patriarchy with her fellow trade unionists, she is an award-winning leader in community popular education specializing in design and facilitation of anti-racism and anti-oppression workshops.
Mojdeh lives in Ottawa with her partner and their four children.