Features
Our Spirits Cannot Be Stolen
Islamophobia is a Public Health Issue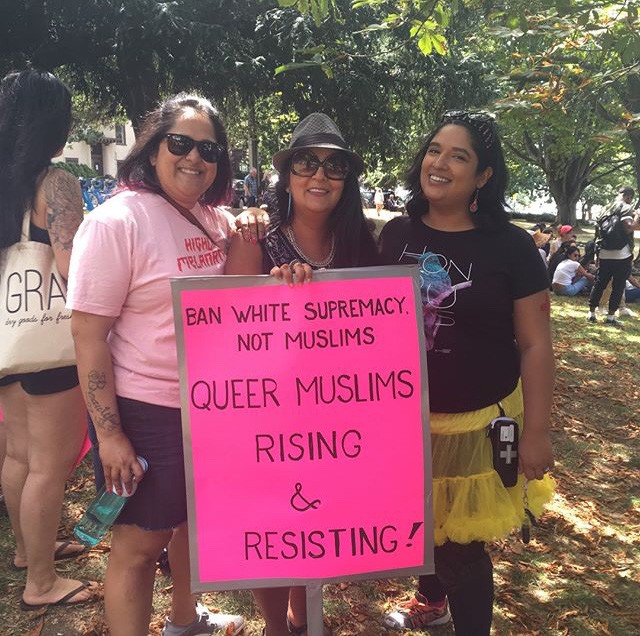 I originally wrote this piece shortly after Executive Order 13769, the Muslim ban, was first issued in January 2017 in the United States.
After hearing the recent news about 50 Muslim lives taken in an act of mass terror by a white supremacist in Christchurch, New Zealand, I found it hard to exhale. My body started to enter the same cycle of trauma I felt the day the ban was announced. The same cycle of trauma I felt when I heard about the Quebec mosque shooting. The same cycle of trauma every time I read mainstream media reports about drone attacks on Muslims in Somalia, Yemen, Pakistan, Afghanistan and other countries.
In the last few weeks, it's been deeply moving to witness solidarity from Māori communities, including Māori Muslims, in Christchurch and throughout Aotearoa (the Māori name for New Zealand). Islamophobic violence and the continued struggles and resistance of Māori communities against a colonial state are inextricably linked. I hope this serves as a reminder for many Muslims in Canada to continue to step up our efforts to support the struggles of Indigenous people here.
Through this time, as our communities grieve, my thoughts go out to other queer and trans Muslims who feel isolated from local mosques and communal gathering spaces. Processing massive violence like this while dealing with the ongoing loss of not being able to show up fully as ourselves in parts of our community further perpetuates cycles of trauma and structural Islamophobia. I hope this piece can serve as a humble offering and a place of momentary healing for those of us grieving on the margins.
In the summer of 2009, my father survived a heart attack at the Canada/U.S border after being pulled aside for questioning. While the border guards stood watching without any attempt to help, my mother resuscitated him. She had no first aid training. It was supposed to be a routine visit to the U.S as a Canadian citizen. This happened well before Trump came into power and followed 9/11. A lifetime of racial profiling and Islamophobia experienced by our family, much of it in Canada and the United States, had led to this moment.
Years later I am still unpacking the wide-ranging impacts of what happened. That night is embedded into my body, rewiring anxiety into everyday moments that should be mundane.
I lie awake all these nights
like you do
jump several miles when phones ring
in the middle of the night
re-live in every pixelated second
the day you went to the immigration building
Every time there is an incident of Islamophobia, no matter how small or large, the reverberations reach our families and communities. We are like trees with intertwined roots, sharing sustenance from the same earth. When one of us is harmed, the whole ecosystem suffers in ways that may not be immediately apparent.
We understand how oppression works at individual and systemic levels. Yet, when it comes to the impacts of Islamophobia, even as Muslims, we don't always make the connection between individual and much broader ways in which trauma is experienced in our bodies. I worry. Will collective trauma be the legacy left for future generations of Muslims?
Studies on the physical and mental health impacts of Islamophobia are growing in number but are still relatively few. Physical symptoms can include high blood pressure, chronic pain and heart issues. Mental health impacts such as PTSD, depression and anxiety attacks are common. There are a multitude of grave health risks for Muslims experiencing Islamophobia. Black Muslims, queer and trans Muslims as well as Muslim women and femmes are vulnerable, especially those living at some or all of these intersections.
Islamophobia needs to be recognized as a public health issue. Muslims are literally losing our lives to it. While working on legislation protecting us from Islamophobic hate crimes is crucial, we need to also focus on our physical, mental and spiritual health.
What would it look like to have these discussions integrated into a national healthcare framework in Canada? How could workplaces be safer for Muslims if unions helped raise awareness of Islamophobia as an occupational health and safety issue? What if social workers, doctors, employee assistance program coordinators and other care practitioners received training recognizing the specific ways in which trauma caused by Islamophobia impacts Muslims from various backgrounds and how it intersects with other forms of racism? What far-reaching results could support like this have in improving the health of Muslim communities?
Many other Muslim women, femmes and non-binary people I have spoken with in these recent months struggle with being caught up in a seemingly unending cycle of trauma. We gather over cups of chai and mehndi. Or at border rallies where we stay close to each other and avoid the washrooms because they are technically on the other side. We exchange stories about feelings of isolation, denial, grief and guilt. The desperate need to remain plugged into social media to keep informed, while knowing this is not good for our health. Feeling afraid to be in public or even in small groups of people, unable to eat or sleep properly.
We recognize the similar patterns of getting sick following horrific acts of Islamophobic violence, such as the white supremacist attack at the masjid in Quebec that took the deeply loved lives of Khaled Belkacemi, Azzedine Soufiane, Aboubaker Thabti, Abdelkrim Hassane, Mamadou Tanou Barry and Ibrahima Barry.
As Muslims, particularly as women, femmes and non-binary people, our bodies are sites of both trauma and resistance. Our DNA is imprinted with the resilience of our ancestors, especially the matriarchs.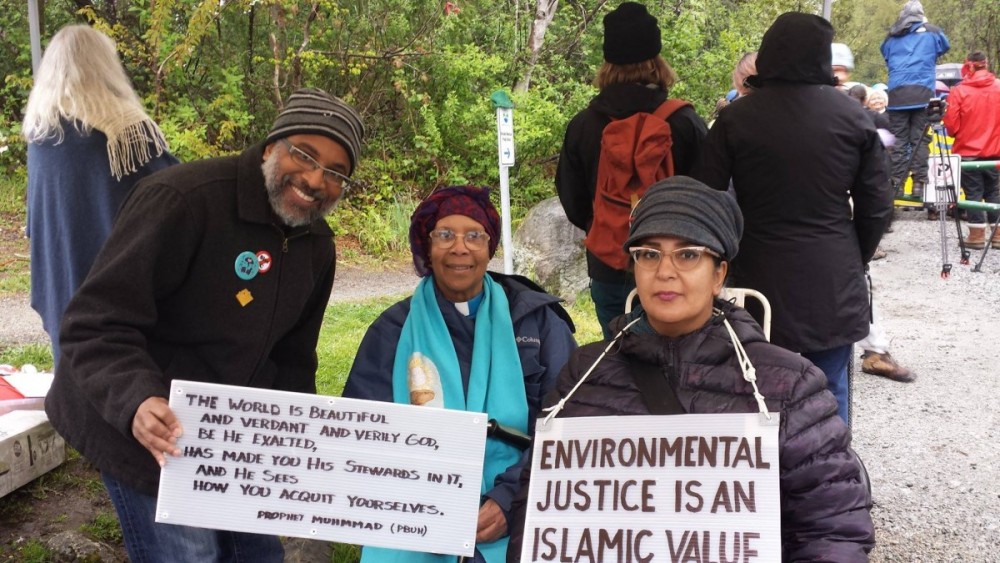 Yes, we grieve and rage. We also come together to conjure love and resistance. We create healing spaces for our communities. We organize direct actions, vigils, rallies, podcasts, zines, art shows, panels and whatever else it takes. We share poetry at borders that cannot steal our spirits, even after they attempt to stop our hearts. We check in on each other, creating circles of care both informally and formally. We walk each other to the bus and give each other rides. We feed each other meals and resilience. We are each other's safe zones and sanctuary. Side by side, we organize movements of necessary resistance and dream into reality the Muslim futures we want to see in this world.
this morning a father is rightfully accused
of being brown and daring to be alive
of being muslim and daring to breathe
of being a father and daring to love
this morning a daughter is born
this morning a daughter is born
this morning a daughter is born
she balls her fist
she balls her little brown fingers into a fist
she raises it in the air unafraid
lets it fall open
and gives birth to a revolution
Amal Rana is a queer Muslim educator, community organizer and Pushcart Prize nominated poet. Her work has been published and performed widely. Amal worked as a labour educator for public sector unions for over a decade. For the last several years, her work with Cambium Arts & Education has included providing deeply transformative Inclusion and anti-Oppression training, consulting services and keynote presentations to the labour movement, the not-for-profit sector, academic institutions, grassroots organizations and many others. She specializes in anti-Islamophobia education, amongst other topics. Find her at cambiumarts.com.
This commentary first appeared in the Spring 2017 issue of Our Times.
For more resources, please see the March 2019 Canadian Labour Congress report Islamophobia at Work: Challenges and Opportunities, which looks at the rise of Islamophobia in Canada and provides employers, trade unions and government with concrete recommendations for how to address it and create safer and more inclusive workplaces.