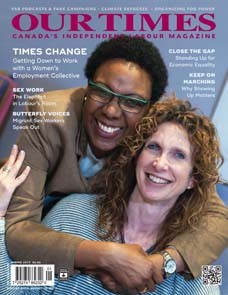 Spring 2017
Features
FIRST BREATHE, THEN PUSH

Now is the time to come together with empathy, with compassion, with love and respect.

Why Showing Up matters

Millions of us claimed the streets on January 21. Why did we do it? And what did it mean?

GETTING DOWN TO WORK WITH A WOMEN'S EMPLOYMENT COLLECTIVE

Inside Times Change — a Toronto collective that's been alive and thriving for over 35 years.

THE ELEPHANT IN LABOUR'S ROOM

Making the case for applying a labour rights model to sex work in Canada.

BUTTERFLY VOICES

Migrant sex workers share their stories, their dreams, and their wishes in their own words.

STANDING UP FOR ECONOMIC EQUALITY

Precarity deepens the gender pay gap: women make up 70 per cent of part-time workers.

A RADICAL CELEBRATION OF LABOUR

The Nova Scotian workforce is ever-evolving and the Mayworks Halifax Festival is evolving along with it.
Departments
NOTES

Women's Work Union Video * 4 Directions Arts Festival Fight For $15 & Fairness * Retail Action Network

FAB PODCASTS & FAKE CAMPAIGNS

You don't think fake campaigns exist in our trade union world? Think again.

OUR TIMES TALLY

Additional income attained by Canadian women each week from working in a unionized workplace: $574 million

Sanctuary cities can offer safety and security for those who may be forced to migrate due to catastrophic climate change.

POETRY

WHAT'S IN A NAME

Usually the question "Were you comfortable with that?" comes after the fact.

STEPPING BACK TO CREATE SPACE

I've lived half a century and only now am I getting a true understanding of how to step back to create space for others.

NO SHORTCUTS: ORGANIZING FOR POWER

Labour has been losing in recent years, argues Jane McAlevey, due to a failed theory of change.

BORDERS CANNOT STEAL OUR SPIRITS

We walk each other to the bus and give each other rides. We feed each other meals and resilience.