I put a candle on my porch the night of April 20 to join others across the country in honouring the 22 people who had been murdered in Nova Scotia. It seemed the least I could do — a small act of solidarity and love during a time when we cannot come together to comfort each other, to cry together, to give and receive supportive hugs.
It was a turbulent week, starting with shock and horror that magnified as the day unfolded and the extent of the carnage was revealed. Then frustration with the instinctual response of media outlets to interview people with loose connections to the killer and to trot out the inevitable "he was such a nice, quiet guy" trope. Then relief as conscious efforts were made to switch the focus away from the killer and onto the people who had died.
There must be a word out there to describe that feeling of frustration, mixed with despair, when one sees a reality that is only glaringly obvious to some — a reality that is unlikely to change, because the patterns behind it are systemic and so deeply ingrained. Whatever that word is, I know I wasn't alone in feeling it last week. When the news finally confirmed there was a connection between the mass murder and domestic violence, there was no smug satisfaction in being right.
Research has revealed that most mass shootings have a connection to domestic violence and misogyny. Last week was also the anniversary of the Toronto van murders, another act fueled by hatred of women. Yet when "senseless" acts of violence like this are committed, the go-to narrative in public discourse inevitably portrays the murderer as a nice, quiet guy, an upstanding citizen or some similar "everyday" kind of man. Or it zeroes in on his state of mind — on mental illness, on PTSD, or perhaps, in this case, the financial stress of the pandemic shut-down.
A male sense of entitlement
There's nothing senseless about these acts. For anyone familiar with the dynamics of domestic and sexual violence, where a sense of entitlement is used to justify exerting power and control, it makes perfect sense. Survivors know this. Advocates and experts on gender-based violence and femicide know this. Women know this. And quite frankly, we're tired of continually pointing out the obvious.
You can't change what you don't name. We must acknowledge the clear connection between these horrific acts of misogynist rage and the societal and cultural norms at the root of this behaviour — norms that support and perpetuate a sense of male entitlement; that reinforce toxic stereotypes about men, masculinity and relationships; that normalize sexism, violence and abuse.
We cannot see these murders in isolation, as "senseless" acts perpetrated by an unhinged individual. The reality is that COVID-19 is not the only pandemic that we are grappling with. The latest report of the Canadian Femicide Observatory revealed that a woman or girl was killed every three days in 2019. And these are just the incidents we know about.
The report calls femicide a "serious and persistent social, legal, public health, and human rights emergency." Again, this is not news to survivors, to people who work in the sector, and to women in general.
Some women affected more than others
Domestic and sexual violence can touch any woman, regardless of class, race, ability, sexuality, religion, culture or any other social identity — one in three women, in fact. Some groups of women are impacted disproportionately — either because they experience violence at much higher rates, like Indigenous women, young women, women with disabilities and trans women and non-binary folk, or because they face barriers to support and to accessing justice.
For Black and Indigenous women, refugees and migrant women and trans women, seeking the support of police or other systems may expose them to other forms of structural violence and discrimination. They may encounter difficulties being believed, may be criminalized themselves, may fear deportation, or may find themselves unable to access services in their language. Deaf women and women with disabilities may not have equitable access to shelters and services. Rural women have less access to services in their community. All of these (and more) barriers and impacts are compounded by the current pandemic and the requirement to shelter in place.
There's no quick fix, no one-size-fits-all approach to such a complex and multifaceted manifestation of gender inequality. Systemic problems require systemic solutions.
A national action plan
For many years, women's and anti-violence organizations and their allies have been calling for a national action plan on violence against women and girls. They've even drafted a blueprint for the federal government to use as a starting point. Hopes were high for the Liberal government to follow through on their election promise: funding and a process to develop a national action plan were to be part of this year's federal budget. . .and then COVID-19 happened.
It's a big job, requiring leadership, political will, time and resources. A challenging prospect in this political climate — even before COVID-19 we had a minority government plus a strong cadre of conservative provincial governments to contend with. It's not an easy time for feminist policy-making. But we won't make progress unless we push ahead, and take bold steps.
Piecemeal funding to women's shelters, training for judges and for law enforcement . . . these and other small efforts are important, but they need to be connected to a broader plan.
The root causes of violence against women
If done right, a national action plan would help ensure consistency across and within jurisdictions, and build a shared understanding of the root causes of violence against women, and a common approach to preventing and responding to violence.
It would establish clear standards and targets for progress. If done right, it would address the challenges facing those who are most vulnerable to and impacted by violence. It would complement the national action plan recommended by the National Inquiry on Missing and Murdered Indigenous Women and Girls (MMIWG).
Does the political will exist to move forward on such a complex yet essential project in the midst of a pandemic, with the country shut down? It's up to all of us to make sure it does.
Systemic solutions can also come from our own actions and shifts in attitudes.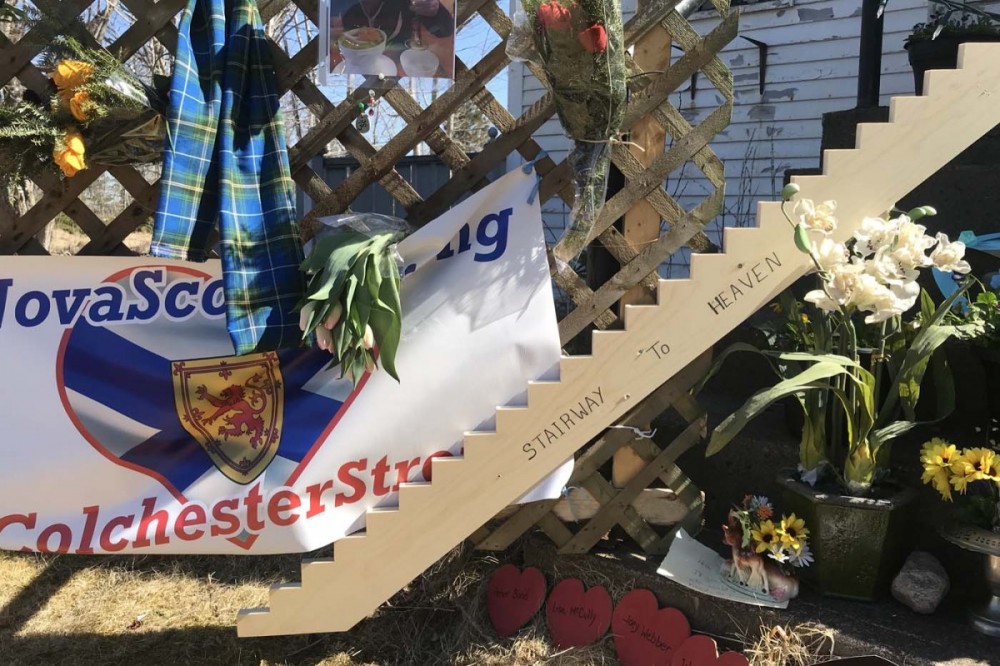 Finally, a few days after the mass shooting, coverage of the Nova Scotia tragedy started to turn toward the clear connection to misogynist violence, with articles describing a series of red flags in the perpetrator's behaviour.
Domestic homicides should be preventable, because they're predictable. But so many of us sit with our discomfort, our concerns about friends, family members or co-workers. It's not our business. She'd reach out if she needed help. It can't be that bad, or she'd leave him. It's not physical violence – she doesn't have bruises. They just have a stormy relationship. He's going through a rough time; she just needs to be patient.
Domestic violence feeds on silence
The thing is, domestic violence feeds on silence. Silence keeps the target of abuse isolated, allowing the abuser to maintain power and control. Silence keeps friends, family and co-workers isolated with our concerns, powerless to act because we just don't know what we can do to help, or we might worry about putting ourselves at risk if we say something.
Domestic violence is not just a private matter. It affects everyone — and as we saw last week in Nova Scotia, the consequences of silence can be fatal.
Of course, it's easy to recognize the red flags and the risk factors in the wake of an incident. Still, we can all benefit from making an effort to learn more about the dynamics of domestic violence, the warning signs and risk factors.
In the labour movement, more unions and workplaces are raising awareness about how domestic violence manifests in a workplace context. Acting on the data gleaned from the Canadian Labour Congress/Western University survey on how domestic violence impacts one's work and workplace, unions have brought the issue to the bargaining table. They have also pushed for legislative changes to recognize domestic violence as a workplace hazard and have won job-protected, paid domestic violence leave.
The momentum has been incredible. I can't think of another union campaign that got results so rapidly — within five years, we went from a research report to changing legislation in every jurisdiction in Canada.
But when you think about it, most of us know someone who's experienced domestic violence. One third of us are that someone. We know and work with perpetrators, too, and some of us are those someones.
That's why it's so important that we empower ourselves with knowledge and suppress our impulse to mind our own business. The labour movement has developed an extensive training program to help union representatives and members learn to recognize and respond to domestic violence when it comes to work. If you don't have a union, there are many other excellent sources of information and training, like Western University's Neighbours, Friends and Family initiative.
If you're really not sure what to do, or you want advice about how to approach a person in your life that you are worried about, visit Sheltersafe.ca and reach out to your local shelter organization.
A caring conversation can open a door
Sometimes, a caring conversation can open a door to support for a woman who's experiencing domestic violence. A simple "I'm worried about you. Are you OK?" can make a difference, if we're willing to push through our discomfort and say something. The best thing we can do is be there to listen, without judgement, and help someone connect with local resources and experts. It may be they decide not to leave – since leaving may actually put them more at risk — but they can work with a shelter organization on safety planning and get other forms of support.
Helping and supporting survivors must be at the core of any political and personal efforts to address domestic and sexual violence. But does it change the behaviour, or break down the systems that enable it?
Ultimately, the elimination of misogynist violence depends on the willingness of men to disrupt stereotypes, to define and model healthier ideas about masculinity, to actively support gender equality, to take responsibility for their behaviour and to hold each other accountable.
Domestic violence and misogyny can seem like overwhelming challenges, impossible to shift, much less eliminate. It's easy to justify inaction in the face of such a massive task. It's comfortable. But it's not safe.
Let's turn our rage and sorrow into action. Get informed. Interrupt isolation. Challenge the norms that perpetuate misogyny and abuse. Demand better from decision-makers. It won't be easy, but with each small step we get closer and closer to the change we need.
Vicky Smallman is National Director, Women's and Human Rights for the Canadian Labour Congress.