Go Vote, For Ontario's Sake!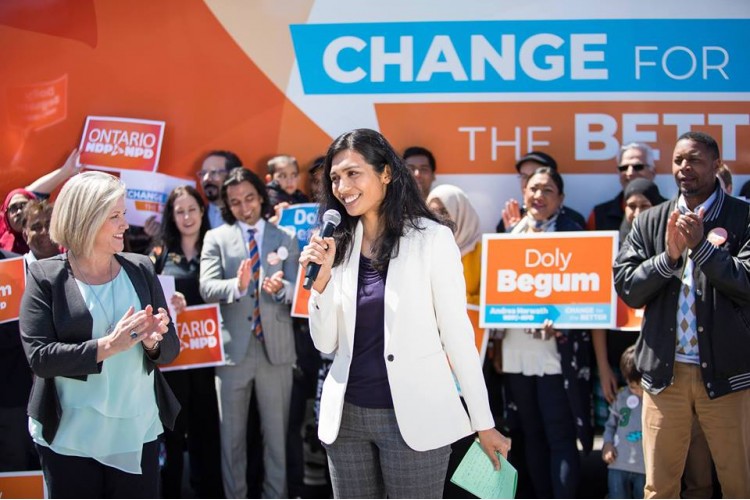 These days, I wake up anxiously and look at the media headlines, and at the polls, and then in greater detail at the stories of the day. The NDP could be on the verge of a historic breakthrough in Ontario; the Liberal vote is collapsing like a soufflé that's sat on the counter too long and the Progressive Conservatives, led as they are by Doug Ford, rival Donald Trump's Make America Great Again(ers).

Back in April, despite all the sordid revelations about Patrick Brown and his alleged behaviour toward young and vulnerable women, voters in Ontario seemed so desperate to find an alternative to Kathleen Wynne's Liberals that they were supporting the Conservatives in droves.

But then came the campaign: and since 2011, no one can deny that campaigns matter. And this one has been mattering! So much has happened during the last few weeks that it's easy to forget how the campaign started. Who remembers that the very first leaders' debate began with the Tories hiring actors (and at less than minimum wage ) to play supporters in Toronto? It's hard to imagine that we were all outraged by that when there was so much worse to come.

Consider, if you will, that with less than a week to go until election day in Ontario, the Conservatives haven't bothered to put out a properly costed election platform. That says a lot about the disdain with which they treat voters.

But let's be honest: there's a lot of disdain to go around. Every day, or so it seems, another prominent mainstream media personality (or some fringe element like the None of the Above party) announces that they have no faith in electoral politics and holds forth about how to spoil your ballot.

Let me be as clear as I can be in response to this:

If, in this election — polarized as it has become between Doug Ford, a popular right-wing purveyor of tax cuts and illusionary efficiencies and the NDP with its clearly progressive platform — you are pontificating about how electoral politics does not really matter, then you will be culpable should Ford and his corrupt gang of wretches (sexists, racists, Islamophobes, Jordan Peterson fans, homophobes, vote-buyers and vote-sellers) win.

There are times when one could make the argument that there's not much to choose from between the so-called left option of the NDP and the so-called centre-left of the Liberals. There are two-party provinces where the NDP occupies the left and some other party occupies the right. But not this time and not in this province. Anyone who wants to make the case that Wynne's Liberals belong on the centre-left lost that argument when the desperate Liberals began to attack the union movement.

In the final debate, Wynne's only real attack on Andrea Horwath was about the NDP's principled stand against legislating striking workers back to work. Wynne was outraged that the Ontario NDP refused unanimous consent to Liberal legislation that would have forced striking teaching assistants and contract faculty at York University back to work.
DELIBERATE SET-UP
This was a deliberate set-up for the election: CUPE (Canadian Union of Public Employees) Local 3903 at York has been on the picket line for months. The Liberals waited until the last sitting day of the Ontario Legislature to try to legislate because they knew the NDP would block it. It was a Machiavellian move.

The Liberals are pursuing a scorched-earth policy here: they know they can't win, but still would rather deliver a win to the Ford-led Conservatives. Their divisive ploy here is to peel off enough non-unionized workers from the NDP by stoking anger against unions and unionized workers.

Their latest ad capitalizes on the same theme of the NDP's "ideological" opposition to strike-breaking. This shameful attack on workers' organizations demonstrates what some of us (who didn't grow up in strategic-voting unions) have always suspected: the Liberals are not on our side.

And they cannot win. There are only a few days left to go and every poll and every trend in the province has the Liberals going down to a handful of seats. In most of the provinces, a vote for the Liberals will elect Conservatives. We don't know that voting for the NDP will stop the Conservatives but it's the best shot we have: this election will likely result in a majority government. The question that remains is whether it will be a Conservative or an NDP majority.

This election was always going to be terrible for the Liberals. Voters have been chomping at the bit to throw them out. But Doug Ford and his party have plumbed the depths of chicanery and the swamps of corruption; they have been staggeringly mean-spirited and are just plain incompetent. His behaviour in the debates was appalling: he was yelly, and had nothing of substance to offer beyond tax cuts for the wealthy.
THE LINES ARE DRAWN: GO VOTE
The lines are drawn starkly in this election. After the election, there will be a lot of time for criticism and self-criticism. We can debate among ourselves about how to hold an NDP government to account. We can make plans to keep up the public pressure on government to do what's right for the many. But that's on June 8th. From now to June 7th, we need to do whatever it takes to make sure that the NDP wins. Because if they do not form government, Doug Ford will. And for the most vulnerable among us, including those with precarious status, a Ford government may well be, if not literally a question of life or death, at least a question of life or living hell.

Remember the Harris years? I do. I remember the turmoil and abject terror of the vulnerable, the poor, the sick, and the unemployed — of anyone who needed support but instead got workfare and derision from their government. Ontario, let's not live through that nightmare again.
Archana Rampure now lives and works in Ottawa. She was born in India, lived with her parents in Saudi Arabia and in the United Arab Emirates and immigrated to Canada as a teenager.