BREAKING BREAD & MOVEMENT-BUILDING
Gogi Bhandal & the Annual Brampton IWD Brunch
"I want to help people who look like me. I always tell women, get involved in the labour movement. We'll make space for you." So says labour activist Gogi Bhandal who, on Sunday March 1, came together in sisterhood and solidarity with over 500 women in Brampton, Ontario's Starlight Grand Convention Centre for an annual brunch celebrating International Women's Day. Now in its eighth year, the brunch draws people from all over Peel region to honour the work of women, the advances they've made in the workplace and in society, and to discuss what still needs to be done.
"This event," Bhandal explains, "is about building the women's movement and building community, because women play a huge part in community building."
Attendees include union members and non-unionized workers. Unions buy tables, send workers to participate and sometimes donate tables to shelters or community organizations. The majority of attendees are racialized women. The day gives them an opportunity to learn more about labour and shows them firsthand what unions can do for a community, beyond what you see in news headlines.
Labour and Community, Together
"Folks, you know, they think that labour is all about strikes," Bhandal says. "So they don't know what labour does in the community. So this event is about showcasing what we do. We do a lot for our community, and this is one of [those things]."
The event includes a raffle, a 50/50 draw and a live auction, with all proceeds donated to women's organizations in the Greater Toronto Area. Each year since its inception in 2012, the IWD brunch has raised more money for the community than it did the year before. In 2018, $36,000 was raised, and in 2019, $40,000.
This year, $32,000 in ceremonial cheques was presented at the event to four community organizations serving women and youth in the GTA: Interim Place, Armagh House, Brampton Queen Street Youth Shelter, and Hope 24/7. Bhandal estimates that once all donations as well as proceeds from the raffles and auctions are counted, the event will once again have raised even more than it did the previous year.
Donated auction items included a Maple Leafs jersey signed by Mitch Marner, a pair of Blue Jays season tickets and Pandora jewellery.
Attendees included the Mayor of Caledon, the Mayor of Mississauga, a representative from the Brampton Mayor's office and keynote speaker Jan Simpson, president of the Canadian Union of Postal Workers (CUPW) and the first racialized woman to lead a national union in Canada.
From the choice of keynote speaker to the venue itself, inclusivity is an important theme of the IWD brunch. "We always give jobs to new sisters on the committee to practise their leadership skills and public-speaking skills," Bhandal says. The venue is always wheelchair accessible. "We have to make space, you know, especially for women, racialized women, Indigenous women, women with disabilities, to unite."
Men have also always been welcome at the brunch, Bhandal explains. "Because we want them to be part of the movement, and help us bring the change that we want, right?" Though, at the first brunch, men cooked and served food to the women attendees.
An Ontario regional representative with the Canadian Labour Congress and long-time labour activist in Peel region, Bhandal gathered a committee to plan the first brunch after she was inspired by the documentary We are Wisconsin, which tells the story of people who came together to resist a bill jeopardizing workers' rights and public debate in the United States.
"I learned that when people come together," she says, "they can make a difference."
The Power of Collective Action
Bhandal is no stranger to the power of collective action. Her father was a union activist in her native India and was employed by public works in the state of Punjab. "Because of his activism in the union, we went through some rough times because he lost his job," she says.
Bhandal watched the documentary about Wisconsin, formulated her idea and went to Sarju Motilal, president at the time of the Peel Regional Labour Council (formerly known as Brampton-Mississauga & District Labour Council). He said though he didn't have the capacity to put the event together without a full-time president, Bhandal had free rein to do so. "Sister, be my guest," he told her in January of 2012. Two short months later, Bhandal had gathered a committee and put together the first event, which had 370 attendees.
Bhandal says when people ask her how she does it she replies, "I say it's not me. It's all the women, all of us. It's our work, not my work."
Making a Difference
When asked how it feels as a racialized woman and an immigrant, empowered by her union, to be bringing other women, especially racialized women, together and enabling them in turn to be empowered by the labour movement, Bhandal's passion shines through. "You won't believe how I feel," she says. "I feel empowered by those women, myself. I admire their courage. I admire their commitment to me when I said, 'I want you to come,' and they came. So I'm very proud of myself, that I'm able to make a difference. So that's the purpose of my life." She adds, "I have devoted my entire life for the betterment of the working class. And I will continue doing that."
This sentiment is evidenced by Bhandal's commitment to the event. One president of a local had been able to find only three women to attend last year's brunch. Bhandal, at the president's request, attended a meeting at the local and spoke to members. The next Sunday, eight women came to the brunch.
"A lot of members feel that unions, you know, I'm talking about members who are disconnected, they feel that, 'oh, what is my union doing for me, right?' Because they don't get opportunities to see what union is all about. So this is when they come and they learn about the struggles we face. We do talk about, you know, what's going on. And we do talk about women's accomplishments. At the same time, the challenges still remain."
Bhandal immigrated to Canada in 1977 and within a week had a job as a packer in a furniture factory. "I came with union values in my blood," she says. It was a union shop (the former Upholsterers International Union of North America or UIUNA) and she soon became the departmental steward, then the chief shop steward. In the mid-'80s, her union merged with the United Steelworkers, after UIUNA members decided they needed a more progressive union, according to Bhandal. In 1986 she became local president.
As president she went through two strikes, and then in 1989 her employer, Biltrite Upholstering Company, went bankrupt. Bhandal obtained government funding to run an action centre for the unemployed workers and together with the local's vice-president she arranged workshops and training for them.
Because of that experience, Bhandal gained a network of community advocates and government contacts. She was soon hired by the Ministry of Labour to do outreach during the 1990s recession. Then she was hired by COSTI Immigrant Services to work as a counsellor.
Shortly after, she decided to pursue a Human Services and Counselling Diploma at George Brown College. "I felt I needed proper skills and a proper education to do that job," she says. At the same time that she was completing her work placement for that diploma, the Brampton-Mississauga & District Labour Council, (now the Peel Region Labour Council), received funding from the federal government to set up an action centre for the unemployed. USW, her former union at Biltrite Upholstering, submitted her name, and she was hired in 1994 as a counsellor.
Life Experience Counts
"I enjoyed working as a counsellor because I had life experience. I was displaced at one time. And I knew the hardships I faced, and the displaced workers faced due to the [Biltrite] plant closure." Bhandal again felt she needed more education to equip her for this role, so she pursued a Diploma in Crisis Intervention part time at Humber College and took further courses at Sheridan College in case management.
Bhandal describes her many skills and experiences in the context of her journey as a worker and a labour activist. Every diploma, every milestone, is tied to one of her experiences in labour. Just like the MCs at the IWD brunch, Bhandal was once given the opportunity to MC a labour convention and that taught her the necessary public-speaking skills.
"I owe a lot to my union," she says. "Wherever I am today, I owe it to them." Due to funding cuts, Bhandal lost her job at the action centre in 2004. She started at the Canadian Labour Congress (CLC), working on a climate project called the One-Tonne Challenge, and is now a CLC Ontario representative.
"I love the job I'm doing," she says. "I love the labour movement I belong to. It's in my blood. I like to give hope to people. I think that's what the brunch is all about. Women come, they learn, they network and they share their stories. They share their challenges with each other."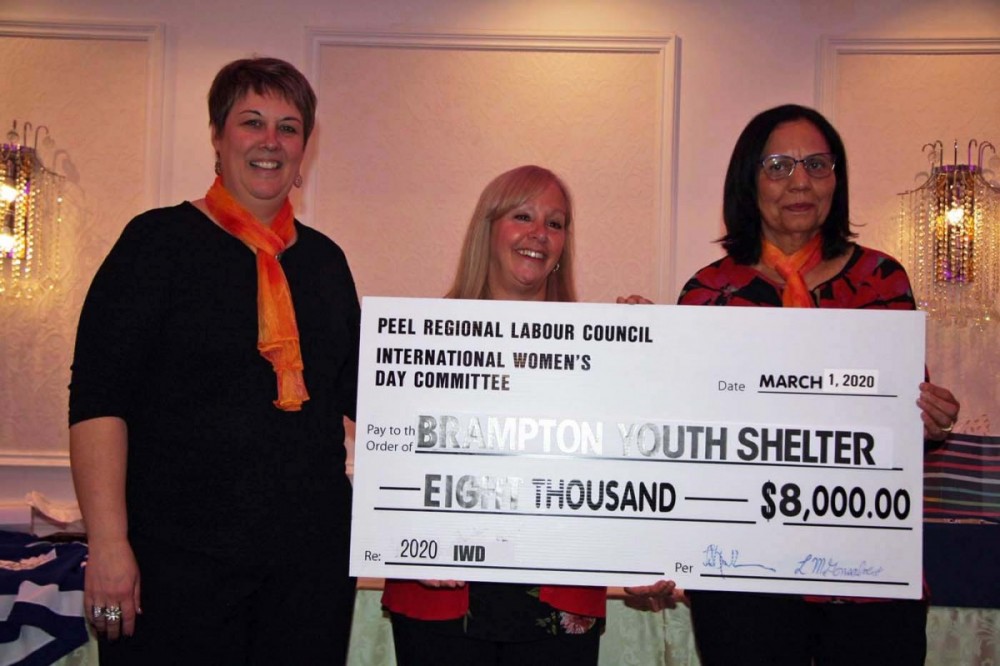 When asked about barriers she has encountered in her own experience, Bhandal is staunchly action-oriented. "It wasn't easy," she says about being in a leadership role in the '80s. "But nothing is easy in this world. People in my factory said, 'What is this East Indian woman going to do for us', things like that. But I believe in never giving up. I tell people to never give up."
Bhandal says when racialized women have said to her, "the union doesn't listen to us," she tells them, "the union is you."
In 2014, Brampton-based Punjabi Community Health Services gave Bhandal a Women in Action award. "We are making progress," Bhandal says, "but not as much, you know, as we should. We're still far behind. It was my hope in the '80s, the '90s, that by the time my kids grew up, things will have changed. They haven't changed."
A veteran of Ontario labour and an activist to this day, Gogi Bhandal is a powerhouse. She is brimming with decades of interesting stories about labour, about race, about the women's movement. And she is not stopping. She recently joined Mississauga's Peel Halton Workforce Development Group as a mentor for struggling workers.
"Our Peel region is full of racialized people, and the workplaces are full of racialized people. But you don't see them at the head tables. Very few. Those who are sitting at the head table, they are not having fun. I just want to bring the women out and have them just enjoy themselves for the day. And raise awareness about our issues. What we have accomplished as women and what we haven't accomplished."
Haseena Manek is an Ottawa-based labour journalist, and Our Times' Online Community and Outreach Coordinator. Follow her on Twitter here.