Abandoned and Disposable
An Agricultural Worker Speaks Out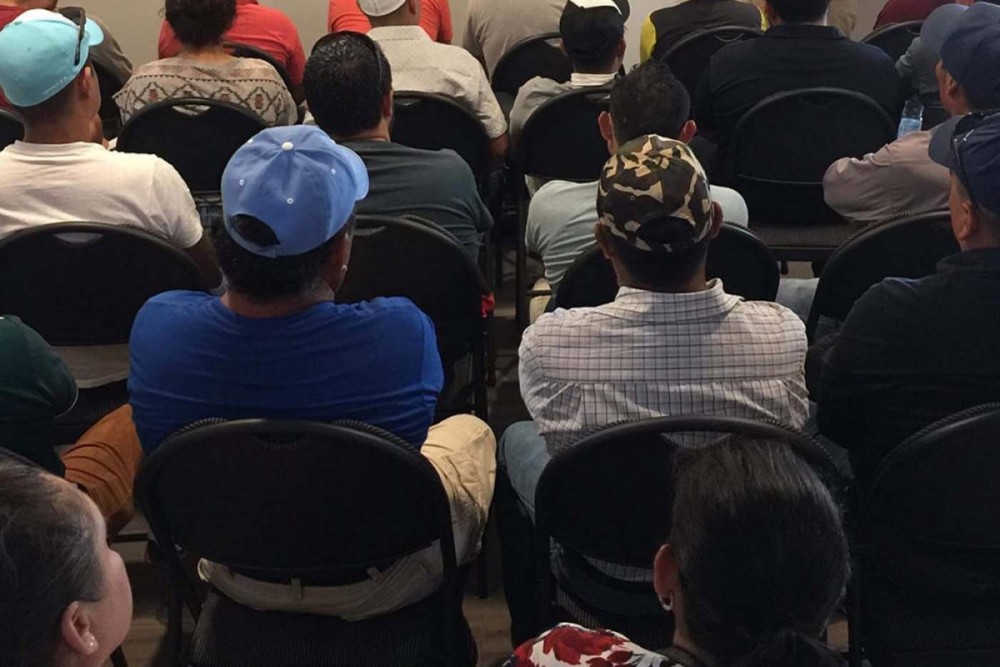 "We feel discriminated [against], abandoned and disposable. For the company, [it's] very easy to get rid of us, but at the end we don't get any information, nothing," says Tony, whose name has been changed to protect his identity. Tony is a migrant agricultural worker at Highline Mushrooms, in Leamington, Ontario.
Like other workers across Canada and around the world during the COVID-19 pandemic, Highline employees continue to go to work to provide an essential service while so many other people safely work from home. Highline has facilities in three locations across the province — Leamington, Kingsville and Wellington — and is the largest mushroom grower in Canada.
Tony sat down with Our Times to detail, through a translator, his experiences and those of his co-workers at Highline during the COVID-19 pandemic.
In early April, according to Tony, each worker at the Leamington facility where he works was given a disposable mask by the employer and told to use it for 15 days. The masks quickly became dirty and damaged, so the workers were given reusable cloth masks. Tony says he and the others knew the original masks were insufficient, but "we don't have any options. We know it's wrong."
Previously, workers were bussed to work from their shared accommodations. Tony says the buses were so packed that some workers often had to stand for the duration of the trip. In mid-April, the employer began sending taxis to pick up the workers and transport them, four to a cab, to the facility, as an alternative to the overcrowded buses.
Tony knows of two Highline workers who have tested positive for COVID-19. They have been told to self-quarantine at home, as have other workers who are showing symptoms of the virus. These workers are still living with the others, who still continue to go to work. Eight to 12 workers sleep in each house, and the kitchen, bathrooms and laundry areas of these homes are common spaces.
"I'm scared of contracting the virus at Highline," says Tony. When "we learned that two workers contracted the virus, we [told] the supervisor we would like to see social distancing. But the supervisor told us that is not possible."
He knows of 10 workers who are self-quarantining because they are showing symptoms of COVID-19. Santiago Escobar, a national representative with UFCW Canada, the United Food and Commercial Workers, estimates that the number of self-quarantining workers at Highline is probably closer to 30 or 40.
When asked if workers were given a reason why further physical distancing measures are not possible, Tony says "No, they didn't provide any information, we don't get any information at all. So we were told, just keep working."
At the time of writing, neither Tony nor Escobar could confirm if those workers in self-isolation are being paid. What they do know is that workers have been instructed to call in sick and leave a message if they are feeling unwell. "But," says Escobar, "I've seen a lot, that if they do that, for some reason the recording and the call doesn't show up, meaning that you have not justified a day off, meaning that, you can be fired. So this is why they don't like to call this number, because it's kind of a trap."
Some distancing measures were put in place at the facility in mid-April. Tony notes that "Four days ago, when we were having lunch, they started to make sure that we are distancing from one another."
While he maintains it is possible to practise physical distancing during some activities, he points out that "because we work in a line, and we have to package very fast, they put us closer, so we can package faster. When we work, we cannot distance from one another."
Workers also are not able to wash their hands as much as needed. Though there is a washroom available by the lunchroom, Tony says it's not easy to visit the washroom throughout the work day. "You can go once, but if you go twice [it's] very likely that the supervisor will call you out."
Immediate supervisors are now the only connection workers have to their employer. The Highland office – previously open for workers to come in with questions or to visit Human Resources — is now closed to them. "The supervisor told us that we cannot go to the office. So we gave a complaint with the supervisor, but the supervisor told us if you keep complaining, you're going to be suspended, meaning you're gonna be punished with no work for a couple of days."
According to Escobar, agricultural workers being suspended for a few days without pay is an "unfortunately common practice across Ontario."
UFCW Canada has tried to organize Highline employees in the past. "We have a long history with Highline," says Escobar. In 1995, they successfully unionized workers at a Leamington facility. But since agricultural workers fall under the Agricultural Employees Protection Act, versus the Labour Relations Act, they don't have the right to collective bargaining. The union brought the fight all the way to the Supreme Court of Canada, but a full 16 years later, in 2011, the Court ruled against agricultural workers' right to bargain.
"We feel sad because we don't have any protections nor union representation," says Tony. "And we approached the supervisor and the supervisor told us 'better to be quiet and don't complain. So otherwise we will send you back to your country,' If we are too pushy they're gonna get mad."
The stark inequalities that exist in our world are only highlighted by the ongoing COVID-19 pandemic, and while Tony's anecdotes reflect his own experiences, it's critical that Canadians recognize just how precarious the lives of migrant agricultural workers in Ontario are. The workplace regulations, healthy-and-safety measures and benefits they lack every day are needed now more than ever.
Tony says he came forward in hopes that the "government will hear about these injustices and will implement proper measures and stop these injustices."
"We would like to be acknowledged and recognized as frontline workers," he says, "because we are here working and sacrificing our lives to put food on your table."
_______________________________
Ed. Note: UFCW Canada, the Agriculture Workers Alliance and community allies have achieved pay protection and EI eligibility for migrant and temporary foreign workers who are laid off, ill, or have to quarantine due to COVID-19.
Haseena Manek is an Ottawa-based labour journalist, and Our Times' Online Community and Outreach Coordinator. Follow her on Twitter here.