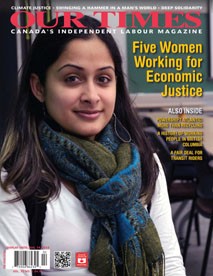 Volume 33, Number 2
Features
A FAIR DEAL FOR TRANSIT RIDERS

A campaign called "Sardines" is fighting for lower fares and pushing Ontario's government to provide regular operational funding to the TTC, Toronto's public
transportation system.

"Raising the minimum wage is about giving families an opportunity to live in dignity," says Jane-Finch community resident Leticia Ama Boahen. Five activists from Toronto's most disenfranchised communities speak out about the struggle for economic justice.

MORE THAN RECYCLING

"There's a relationship between how they dispose of garbage and how they treat us like garbage," said spoken-word poet El Jones at the recent PowerShift Atlantic conference, in Halifax. Workshops included the role of race and class in environmental work.

WORKING PEOPLE: A B.C. LABOUR HISTORY FILM

"When I was a teacher, my students couldn't see themselves in the history texts," says Ken Novakowski, retired social studies teacher and past president of the BC Teachers' Federation. "They didn't relate to politicians and industrial barons. But, today, they can see their parents and grandparents in Working People: A History of Labour in British Columbia.
Departments
LETTERS

Hope and Joy * Sister MacNeil Inspires Optimism * We Need to Fight Back

NOTES

CLC Convention * Progress Summit * Our Times Online: Metro Vancouver Alliance * 2,000 Facebook Friends * Stop the Killing * Our Times' New Website

OUR TIMES TALLY

Number of children around the world engaged in work that threatens their health and safety: 85 million

Unlike a TV advert, a tweetfest allows you to interact with supporters, opponents and, most importantly, the undecided.

If we are going to survive, we must decrease our carbon consumption immediately. The first instalment in a new series on work in a warming world.

THANK YOU TO 2013 DONORS

A big thank you from Our Times' staff and advisory board to everyone who donated to Our Times' 2013 fundraising drive.

POETRY

JOURNEYWOMAN

A Red Seal carpenter reviews Kate Braid's story about her years swinging a hammer in a man's world.

DEEP SOLIDARITY

If we don't start organizing together, far more effectively, the contemptuous rich, in solidarity with each other, will continue to come out on top.