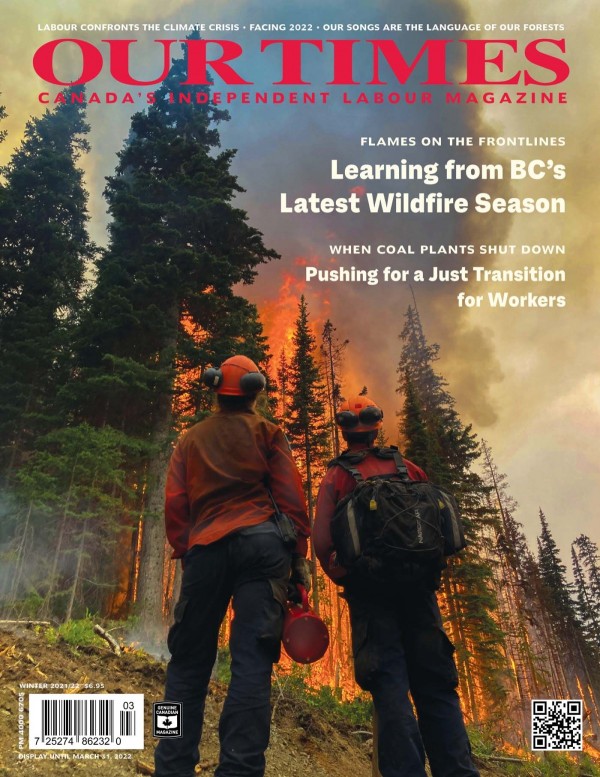 Winter 2021-2022
Features
Our Songs Are the Language of Our Forests

I feel completely underwhelmed and concerned by the outcomes of COP26, knowing the deal struck is weak and full of loopholes for corporations to continue business as usual.

For six weeks there was no real daylight, says Joanne Hammond. "On the ground, Firekeepers were able to share their services and knowledge with the BC Wildfire Service firefighters."

"I remember the first time we jumped," says smoke-jumper Ingrid Pond. "I thought 'nope I'm not doing this today.' But the training is impressive."

PUSHING FOR A JUST TRANSITION FOR WORKERS

Looking at just transition and whether workers' interests were taken into consideration when coal plants were phased out in Alberta, Ontario and Australia.
Departments
UPFRONT

Climate and Just Transition Forum • On Journalist Robert Devet's Passing • British Columbia's Untold Stories • 10 Paid Sick Days • A Letter to Our Times' Webhead • The Tally Will Return

LABOUR CONFRONTS THE CLIMATE CRISIS

Hosted by the Ontario Federation of Labour, an online conference allowed trade unionists to explore the unique role unions can play in shaping climate action.

DAYANISMA & DISCOVERIES IN DUBLIN

Have a look at the websites of the major Brazilian unions. Are they unions or political parties? Or both?

5822 parked cars

A LETTER TO OUR LABOUR MOVEMENT ABOUT ADA'ITSX/FAIRY CREEK

Forestry workers are played off against Indigenous and environmental activists by the very corporations that profit from their exploitation.

TAKE THE MATH PROFICIENCY TEST OUT OF THE EQUATION

Ontario's math proficiency test for teachers imposes needless barriers. That's just one reason why it's got to go.

THE ART OF RUNNING AN EMPTY LIBRARY

Our tallest student had lots of fun teasing me by poking his head over the partition, reminding me of a mischievous giraffe.

OUR CLIMATE, OUR STORIES

Full of climate anxiety, devotion to the Earth, hope for the future, and calls to action, Our Climate, Our Stories is a collection of young voices refusing apathy in the face of the climate crisis. Bea, whose story "It's Our Blood" is excerpted in this issue, is one such voice.

FACING 2022

We will not see far-reaching and profound changes from this government unless we — the people of Canada — force them into climate action.