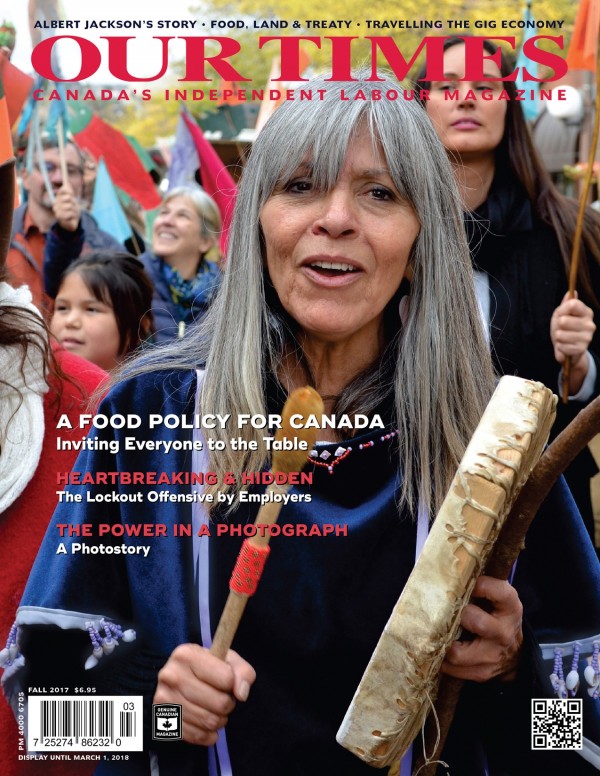 Fall 2017
Features
ON PENSION PLANS AND PJS

Fewer than 40 per cent of working people in Canada have workplace pension plans. A lot more needs to be done for everyone to have a secure retirement.

A FOOD POLICY FOR CANADA

Food is an issue that leaves no one untouched. Who eats, and what they consume, is a highly political subject: why a national food strategy, not stopgap measures, is essential.

THE POWER IN A PHOTOGRAPH

Taking up a position with a camera means taking up a political position. It means choosing which side you're on.

THE LOCKOUT OFFENSIVE BY EMPLOYERS

More and more, employers are using lockouts to enforce concessions and weaken unions.
Departments
NOTES

Yolanda McClean Wins Award * Chinatown and Strathcona * BC Labour History Bronzed

Amazon's "Workampers" program takes the exploitation a step further by recruiting American seniors who are destitute in retirement.

THREE ISLANDS AND A SACRED OBLIGATION

One only has to look at Ottawa's Chaudiére Falls to observe how easily Canada disregards its sacred obligations.

Travelling the Gig Economy

After years of visualizing travel destinations and planning potential routes, the stars had aligned to live out the "digital nomad's" life.

The test of human rights is actually when we are forced to confront the humanity of people who are most unlike us.

POETRY

A historical retelling that transcends time, this storybook is a must-read, for children and adults alike.

THE STORY OF ALBERT JACKSON

FOOD, LAND AND TREATY

Indigenous women's knowledge and experience must be central to any decolonization process with settler-society.