Social (justice!) Media
The week I start trying to speak with labour movement folks using social media in their work, no one is taking my calls. I try not to take it personally. After all, the Occupy Wall Street movement has just begun fanning out across Canada and my social media experts are very, very busy.

Take Jason Mann. A director at the B.C. Federation of Labour, the 27-year-old social media guru (as more than one of my interviewees called him) posted a statement of support for the global Occupy Movement to the federation's website, taking care to make it easy to share on Facebook and other social media sites. The day before the Vancouver occupation began, he released a set of short, designed-for-Twitter statements about the relevance of the occupation to the labour movement, along with messages of support.

"They became the dominant conversation on Twitter at the Occupy Vancouver hashsite," says Mann. (Note to newbies: a "hashsite" is a website that aggregates Twitter comments on a particular topic.)

Although Mann is a social media campaign coordinator at the BCFL, he is not a trained computer guy. Rather, he picked up his social media skills as an online marketer before becoming a union activist and organizer. At the federation, he began applying the always-evolving tactics of social media to engage non-union workers, and then as a campaigns organizer.

SO MUCH TO LEARN

Kyle Buott, the 23-year-old president of the Halifax-Dartmouth and District Labour Council (and recently elected secretary-treasurer of the Nova Scotia Federation of Labour) is proud of his labour council's new website, which reflects the best recent thinking on how to present information and engage users online.
The home page is very busy, but it's not overwhelming. Increasingly, web designers have found ways to present information in neat, visually appealing blocks that feel natural to scan. The most important information is logically placed and your eyes easily gravitate to the right content at the right time. (See for yourself at halifaxlabour.ca.)
This website quickly reveals the essential role social media and online technologies can play in the labour movement. It's hard to imagine another way to so quickly access and absorb key information about the labour council, to receive a persuasive argument in favour of the labour movement's work in the region, and to find immediate, simple next steps of engagement that you're enticed to take. There is simply no way to click away from the site without having learned something and without having, in some way, connected to the council's work.
"One of the reasons we're playing a bigger role in social media is that the average age of our delegates has dropped from 55-60 to 30-35. It's been a dramatic shift," Buott says.
Preethy Sivakumar, a 28-year-old organizer and communications officer at the Toronto & York Region Labour Council, concurs, saying that social media makes us that much more accessible to a different generation of labour activists." Still, she expresses caution about relying heavily on social media to reach and engage with union members and the community. "It doesn't replace how we have conversations in our workplaces and communities," she warns.
It's easy to see how the excitement around the new social media tools could lead organizers to neglect the hard but rewarding work of knocking on doors and meeting workers face to face in favour of tweets and "Like" buttons. Still, everyone I spoke with stressed that social media tools do not replace traditional ways of organizing and mobilizing.
Like Buott, Sivakumar grew up with social media and the technologies that support them, although she maintains that people of all ages use the tools now. In fact, Sivakumar says, active users of the labour council's Facebook page, the ones who frequently post comments, are not necessarily young. Indeed, while social media might have started with digital-savvy teens and 20-year-olds, it is an ever-expanding aspect of popular culture that now includes grandmothers and grandfathers being Facebook "friends" with their grandkids. The average age of Facebook users is now about 38 in the U.S., and, in Canada, the 45-54-year-old age group is the fastest-growing category of Facebook user. Social media is becoming a mainstream activity.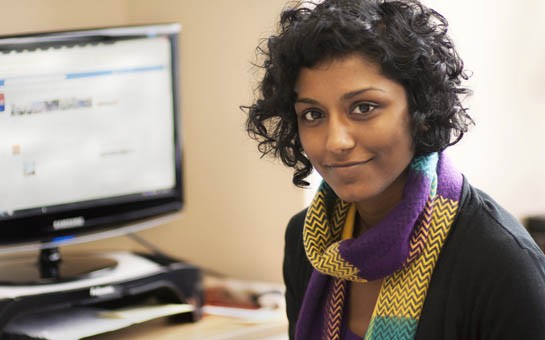 And just as social media--a sometimes dizzying range of applications and technologies, including well-known ones like Facebook, Twitter and YouTube--has penetrated ever-more deeply the way Canadians communicate (at least the majority with mobile phones and Internet access), so, too, has the labour movement been gradually drawn into its embrace.
TOOLS OF THE TRADE
"People are calling them 'social network tools,' but that's not what I want," says Frank Saptel, the 51-one-year-old founder of the Canadian Labour International Film Festival (CLiFF), who is also a director of
Our Times
. "I want social justice networking tools. The context is the labour movement: it is about social justice, social consciousness." Saptel, a sparklingly resourceful social media user who loves to try everything out, says the film festival, now in its third year, has thrived thanks largely to the promotional power of social media. A communications representative with the International Association of Machinists and Aerospace Workers (IAMAW), he teaches members of his union how to take advantage of the new tools to organize in innovative ways.
So, while the message of mobilizing for change is what it's always been, the dazzling and quickly changing range of social and new media tools is something else, and it has become very apparent that the labour movement has to get on board. "I think we always have to be on the lookout. We need to be resourceful. If there's something we need, we need to find the social media tool to fulfill that need," says Saptel.
"If you don't understand it now, you're not going to be able to engage people," says Holly Page, equity and human rights officer for the B.C. Government and Service Employees' Union (BCGEU), and an enthusiastic social media user and trainer. "If you're an activist and you're rejecting social media, you're missing out on information." Not that Page's 1,183 (including me, now) Facebook friends are in any danger of that. Nor are the 1,000 members of CLiFF's Facebook group, or the 1,216 followers of the Ontario Federation of Labour's Twitter feed (@OntarioLabour).
"It is a way to have a conversation in a different way," says Lana Payne, president of the Newfoundland and Labrador Federation of Labour. "It's also a way to find new activists."
Of course, it's not the only way. "I can't say it's replaced everything else," Payne says. "Not every local president is on social media. This is in addition--and it's a very effective way to mobilize."
A few years ago, it was a little exotic to have a decent webpage. Now, unions and other labour organizations are investing in highly functional, interactive websites; ongoing information sharing, 140 characters at a time, on Twitter; videos on websites and uploaded to YouTube; and Facebook pages, updated daily.
"I think they're different tools," says Payne of the popular Twitter and Facebook, which, in practice, are often linked, with Twitter posts appearing on people's Facebook pages. Page, however, keeps them separate. "Twitter is involved in event planning. Or when travelling, when I need to get information out quickly. All reporters are on Twitter, so it's also a way to connect with and engage the media." During the last federal election, Payne was able to follow the federal leaders' debate on Twitter, and then make her own thoughts public on the same platform.
While there are social networking options, such as Unionbook, a social network for trade unionists, most of the Canadians I spoke to rely on the original Facebook site to connect to members and potential members.
"People want to know the basics," Page says. In the past three years, she has offered well-attended social-media-specific workshops four or five times a year and has included a social media component in all campaigns courses that she offers to members through her union's summer Women's Institute.
John MacDonald, chairperson of Canadian Auto Workers (CAW) Local 222's education committee, in Oshawa, Ontario, has been busy building members' online skills, too. "We ran three courses from the Canadian Labour Congress on things like building web pages, using Blogger and WordPress, and embedding code for videos on YouTube. The response has been fantastic," he says. And what he teaches, his students then share with others. "They're creating pages where other young workers can come to have a conversation."
MacDonald is a Canadian correspondent with LabourStart (see LabourStart.org), a news and campaigning website for the international trade union movement. The tagline for their November 2011 conference, in Istanbul, was: "From social networks to social revolutions."
MOBILIZING
The potential for using social media to improve on the results of organizing and mobilizing efforts is still largely unproven, although there are plenty of promising cases, such as that of an affiliate local of the Newfoundland and Labrador Federation of Labour, which set up a closed (invitation-only membership) Facebook group during a strike.
"It was an amazing way of communicating during the strike," says NLFL president Payne. But, even better, group members continue to use the Facebook group to communicate with each other as a local, using it to quietly share everything from information about shift changes to rally announcements. Payne herself also uses social media to advertise, and increase participation in, campaigns such as the May Day Coalition to save the Rescue Centre in Newfoundland and Labrador. Holly Page does the same. "I use my network to find speakers for conferences. I use it if we're planning a rally or event, and to educate people about the labour movement. It allows me, as a union person, to have intimate conversations with thousands of potential members."
Increasingly, the value of social media can actually be measured. For instance, the Halifax-Dartmouth and District Labour Council uses Klout, a tool that measures social influence across the web to track usage. Klout uses a variety of algorithms to analyze usage data from Facebook, Twitter, Foursquare, LinkedIn and YouTube accounts, with the goal of measuring "influence." The Halifax-Dartmouth and District Labour Council's score has been moving steadily up, as have re-tweets of Tweets, and Facebook "likes"--for example, around the labour council's announcement of their unanimous endorsement of the Occupy Nova Scotia movement.
TELLING OUR OWN STORIES
The ability to have conversations with, mobilize, and engage people are all great motivators for the labour movement to use social media. Another great reason for bringing social media into every aspect of labour communications is its ability to circumvent that most frustrating of audiences--the mainstream press. At last, there is a way to communicate with the public without the distortions and omissions of the corporate-owned press, and without press releases and press conferences. "It's an effective way of forming our own message," says John MacDonald. "You can read about it right from the workers themselves."
Indeed, for the labour movement, social media isn't just about social interaction and engagement. "One of the things that has been recognized in the labour movement is the importance of being able to tell our story ourselves," explains Preethy Sivakumar. "There are problems with relying on corporate media, and we don't want to do that any more."
But it's probably the first time that, for the labour movement, "don't want" can translate into "aren't going to." At the anti-service-cuts Rally for Toronto on October 26, for example, there was essentially no mainstream, traditional media coverage of what was an important event for the labour movement in the city. Even the often reliable
Toronto Star
didn't mention the event. So, says Sivakumar, "we did our own videos, which we're going to be putting up on YouTube soon. And we loaded photos up to our rally Facebook page and connected it to our own Facebook page and our website." The Toronto & York Region Labour Council was pleased to see that one video, which was made on the super-cheap, went viral, with re-posts all over Facebook. "There were no worries about distribution," Sivkumar says, with dry understatement.
Likewise, with most reporters having a Twitter presence, being active on Twitter becomes a way, between newsworthy events or articles, to interact with them and educate them about labour issues. Social media in general is a powerful way to access alternative views. "There are incredible things being written, great analyses being done, and now it's being posted on Facebook," enthuses Payne, a self-confessed "policy wonk." Still, no one is just giving up on the mainstream media altogether. Without exception, everyone I spoke with saw "telling our own stories" as just one exciting new tool in the box.
BEING HELD TO ACCOUNT
And then there's the fact that having conversations has got to be a two-way street. "If you're posting articles, you have to allow for interactivity. You have to be prepared for it. You've opened yourself up to the world," warns Holly Page. Your Twitter followers can comment back to you. Facebook pages and discussion forums garner reams of comments, and any visit to the comments field following a controversial news article reveals just how easy it is to attract virulently negative commentators.
"I think the beauty of social media is that it enables a conversation. And you can't be afraid of it. In my view, it's part of my accountability," says Payne. It allows for interaction, and feedback is a good thing. "After all," says Mann, "if you write an opinion editorial, someone might write a letter to the editor and object to what you said. But it's not a reason not to engage in the debate."
The fruits of taking that risk can be sweet. At 7.20 a.m. on August 22, 2011, Page heard that NDP federal leader Jack Layton had died. By 9.30 she had created a Facebook page announcing a little candlelight vigil she thought it would be nice to hold at the Vancouver Art Gallery near her, so that people could meet and grieve together. It was a personal initiative that she didn't expect to be a big deal. By 11 a.m., 15 people said they'd come. Then the NDP communications department called to say they'd been getting media calls about her event.
By the evening, when Page set out for her vigil at 7.30 p.m. in the pouring rain, almost 1,000 people had "liked" her page. Different people volunteered to bring things like a tent, candles, flowers, a giant sign. In the end, over 1,000 people showed up, in real life, in response to her impromptu, virtual call. "If there was no social media, that wouldn't have happened." says Page. "Social media is about openness. And community. And participation. It's getting people to go places."
And people do come. In the summer of 2011, Jason Mann conducted an online social media boot camp on behalf of the B.C. Federation of Labour, to help prepare B.C. workers for a possible election. Although the context for the course was a local issue (a campaign about B.C.'s referendum on the HST), to the federation's surprise, more than 2,500 union activists and communicators signed up, with only about half of them hailing from B.C. Almost everyone who registered finished the essential introductory modules, and some 50-75 per cent got all the way through the course's six modules (it really was a boot camp!).
The phenomenal scale of the response points to the hunger, across Canada, among union members and organizations for help in getting a handle on this exploding, vital field of communication, and finding ways to leverage social media's constantly evolving tools to advance the labour movement's goals. Demand really is, as Mann found, exceeding supply. "There's a lot of folks in the labour movement who would like to get into new media," he says. "It's about giving easy-to-use tools to union members so they can engage friends and co-workers. It's about giving power to individual union members."
Funny, but right on: the networking, mobilizing, organizing, engaging power of social media stems from very personal, individual relationships forged one at a time.
"We asked the question: 'What if we could have 25 to 100 contacts, a group of people who had the confidence to get engaged,'" Mann says. Member by member, person by person, through the boot camp and beyond, across Canada, that group is growing fast.
"I'm always chatting people up about politics and the labour movement and I guess I see using social media as an extension of that," says Mann. "I can just reach more people." A pause. Then the unpretentious guru adds, "People are starting to see what's possible."
Carlyn Zwarenstein is a Toronto-based writer specializing in social justice, science and literature. She also helps non-profit organizations tell their stories in clear writing through her freelance company Bleeding Heart Communications. You can still watch the course videos from the BCFL's New Media Bootcamp for Union Activists.
For a brief lesson in how to encourage members to use social media, see Frank Saptel's commentary "With the Click of a Thumb," in Our Times print magazine Vol.30 No.5.