Features
Return to Sender
Fighting the Plan to End Door-to-Door Delivery
Frances Maher enjoys being a letter carrier. "I love the people and I take great pride in my work."
The Victoria, BC, postal worker says, "I had a lady give me a hug today. She was in her 70s and was very upset. We had been talking about the new community mailboxes."
In December 2013, Canada Post announced it was ending door-to-door mail delivery across Canada. Canadians receiving this service would be required to collect their mail from a community mailbox (CMB) instead.
Results of a recent survey posted by the Canadian Union of Postal Workers (CUPW) indicate Maher's customer is not alone. Many people are upset. A Stratcom survey conducted in April 2014 shows 60 per cent of respondents oppose Canada Post's plan to end door-to-door delivery.

"She said it was a Canadian tradition to have the post office deliver mail to our homes," Maher continues. "She's the one who needed the hug — not me!"
Fewer services, more spin
Canada Post's change in service was introduced as part of its five-point action plan, ostensibly to restore Canada Post's financial sustainability by 2019.

The plan includes raising the price of postage, expanding postal franchises, streamlining operations, addressing the cost of labour and phasing out home delivery.
"Once fully implemented, four of the plan's initiatives are expected to contribute an estimated $700 million to $900 million a year to the Corporation's bottom line," states a Canada Post news release.
It will also make Canada the first country among the G20 without any door-to-door mail delivery.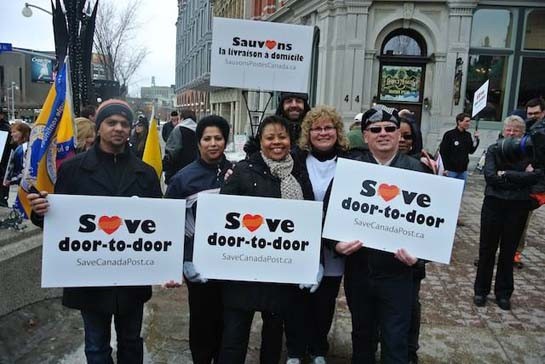 Projections way off
"There's a lot of misinformation out there," says Mike Evard, CUPW national director for the Central Region. "The main premise behind the implementation of this policy was a loss of revenue. Canada Post told the Conference Board (an independent economic 'think tank') that it projects a loss of a billion dollars by 2020 unless changes are made.

"However, its projection was based upon losing $250 million in 2012 — but the corporation actually made a $54 million profit that year. Their figures are off by $300 million. If their projections are off so dramatically, how accurate are their estimated losses for 2020?"

The Canada Post Corporation Act, which was passed into legislation in October 1981, eliminated the Post Office Department and transferred responsibility of mail delivery to a Crown corporation that was required to maintain "financial security and independence."
Letters are not the only mail
CUPW Victoria Local president Janet Barney says, "Canada Post is not mandated to make a profit; it is only required to be self-sufficient and provide good customer service and improve labour relations. Canada Post currently pays its labour costs — wages, uniforms, vehicles — and still pays dividends to the federal government. It doesn't need saving."

A Canada Post news release states, "With the increasing use of digital communication and the historic decline of letter mail volumes, Canada Post has begun to post significant financial losses." It says letter mail volume has decreased from five billion in 2006 to four billion in 2012.

"Letter mail volumes are down but parcel volumes are going through the roof," says Barney, a part-time letter carrier. "Young people aren't writing letters, but they are ordering things online."

She questions the Crown corporation's claim that it is running at a loss. "Canada Post has been profitable for 17 of the past 18 years," says Barney. "Online shopping is bringing us business. A lot of people still mail out cheques for payments instead of using a credit card. Small businesses still send invoices by mail."

John Bail, CUPW national director for the Pacific Region, says, "Canada Post used to lose $350 million a year in the early '80s, and uprooted itself to where it was making a profit for the last 17 years. If they wreck it — reduce the service, increase the cost — somehow that's good for the consumer?"
Bigger routes, longer days
The loss of home delivery will also have an impact on letter carriers' jobs. Maher figures that with mail being delivered to community mailboxes instead of individual homes and businesses, a worker could expect his or her workload to at least double. Instead of two routes, there could be the equivalent of four or five routes. Instead of delivering mail for 500 households, she says, it could be "a thousand, or thousands."

She predicts the routes will be bigger and the days longer, and the result will be more work-related injuries. "The changes will affect current letter carriers because we'll have less time for walking. We'll be getting in and out of our trucks all day, putting strain on our backs and necks."

Barney concurs. "With 1,000 calls (points of delivery), and parcel volumes increasing, there will be more injuries at work. Canada Post says there will be 10 to 20 parcels a day but the reality is more like 50 parcels, plus the letter mail."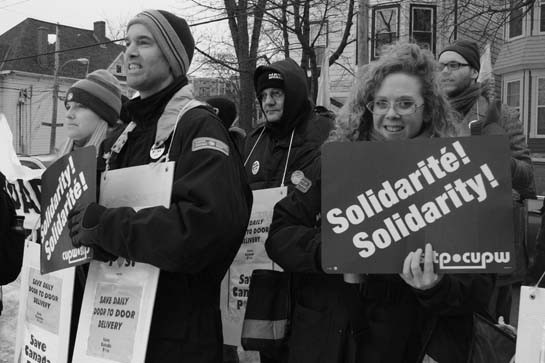 Canada Post says community mailbox service will be cheaper for the corporation and it will also provide customers with "security and convenience." With individual locked compartments, "Mail won't accumulate at the front door or sit in an unlocked mailbox." It is also "accessible 24/7."

Mail thieves seem to have found this convenient as well. Nowhere more so than in BC. A CBC investigation, "Are Canada Post's community mailboxes really safe?," revealed that Canada Post had reported 4,880 incidents involving vandalism, arson, or mail theft, the majority committed in the Lower Mainland around Vancouver, between 2008 and 2013.

Last year the Langley Times published articles headlined, "Mailbox Theft Rampant in Langley" and "ID Theft Becoming Big Concern for Langley RCMP." It reported police were contacting between 300 and 500 households "where the homeowner may have been a victim of identity theft through mail theft."

Once mail thieves get someone's personal information, they can open bank accounts, take out loans, and apply for credit cards in the victim's name.
Boxes in ditches
A mail thief needs to pry open only one community mailbox, critics say, to access the mail of 30 or so residences. Christmas and income tax times are peak periods for theft: the former likely to yield cash, gift cards and presents; the latter, T4s and other sensitive personal information ideal for identity theft. Bank statements and credit cards are sought after year-round.

Sometimes, the entire community mailbox disappears. "In one case, just before Christmas, thieves stole the entire CMB, containing mail for Lana Popham, BC member of the legislative assembly. They took the whole thing right off the cement slab and it was later found in a ditch in Langford," says Barney.

Popham's constituency assistant, Samuel Godfrey, says, "There was a whole street of residents affected. Our concern is, with less and less door-to-door delivery, mail theft is going to become a bigger problem."

"It only takes two guys with a pick-up truck to steal one," Barney explains, "and then they can rifle through the mail at their leisure. Canada Post switched to having the CMBs bolted down to a cement pad, but thieves just unbolted them."

She says a lot of community mailboxes are in unlit areas where no one is around. "If you have a letter slot in your front door, someone has to break into your house to steal the mail."
Seniors left in the cold
In a submission to Canada Post Corporation's Strategic Review, Bail says, "If Canada Post had diverted the half-a-billion dollars in payments to the Government of Canada, these customers could have service provided to their door and most of the market in mail theft would disappear."

Councillor Judy Brownoff, who represents the District of Saanich, calls community mailboxes "a goldmine for thieves." Saanich, the most populous municipality on Vancouver Island, borders the city of Victoria.

Brownoff is co-chair of the Age-Friendly Communities in Canada reference group. Four of the five "oldest" communities in Canada are in BC, and three of those are on Vancouver Island, according to the latest census.

Brownoff encounters many seniors when she goes door-knocking in Saanich. Despite the current popularity of electronic communications, she says, "Seniors are very worried about ID theft, as they prefer to get things mailed."

Lola-Dawn Fennell, manager of the Prince George Council of Seniors, told the CBC, "Many seniors living on their own have difficulties getting around. Seniors tend to rely more on mail delivery for bills, magazines, and other communications because they aren't as computer savvy as younger age groups."

At an emergency parliamentary committee called last December following Canada Post's surprise announcement, the corporation's president and chief executive officer, Deepak Chopra, was grilled by members of Parliament. Asked about the hardship created by plans to cancel home mail delivery, Chopra brushed aside the matter, saying seniors had told Canada Post they wanted more exercise and fresh air.

In a report by Sian Griffiths in The Guardian, about Newfoundland's Labrador City ("In winter — which lasts for eight months of the year — temperatures drop below -30 C and snow settles two metres high"), Mayor Karen Oldford argues that, even if elderly and disabled people can get to the outdoor mailboxes, they will need to battle through the snow.

She said using email as an excuse to cancel home deliveries in remote areas was nonsense. "There is still no broadband access in our communities," she said.

In Ontario, the City of Brantford Council sent a letter to Prime Minister Harper, Federal Transport Minister Lisa Raitt and Canada Post CEO Chopra emphasizing the City's opposition to the elimination of door-to-door postal delivery. Brantford has an aging population that is expected to more than double, "growing from 19,000 in 2007 to close to 40,000 people in 2031," the letter states, and "this phase-out is contrary to the global initiative of communities providing Age-Friendly Cities for their aging populations."
Municipalities on alert
According to CUPW, "To date, 78 municipalities — close to 30 per cent of the population — have passed resolutions or sent letters in support of door-to-door delivery, opposing the cuts, or asking for a halt to delivery cuts until there is proper consultation.

"In addition, seven municipal bodies or organizations have voiced concerns, including the Federation of Canadian Municipalities Big City Mayors' Caucus, representing 22 of the largest cities in Canada and 65 per cent of the country's population."

If Canada Post is actually losing money and facing a billion-dollar deficit in five years, as it claims, critics say the corporation should be expanding services and increasing revenue instead of cutting services and the number of employees.

One of the long-held proposals for added income is a return to postal banking services.

For 100 years, from Confederation to 1968, Canada had a Post Office Savings Bank. At its height in 1908, the bank had $47.5 million in assets (one billion dollars in today's values).

A Canadian Centre for Policy Alternatives report, Why Canada Needs Postal Banking, by John Anderson, points out that in the past 20 years there has been a decline in the number of bank, and credit union, branch offices, with a 26 per cent decline occurring between 1990 and 2002. Anderson says the time is ripe to revisit this option, since banking services are needed "especially in rural areas" and would breathe new life into Canada Post.

The CCPA study notes that between three and eight per cent of Canadians do not have a bank account. In an op-ed piece, Larry Rousseau, a regional executive vice-president with the Public Service Alliance of Canada, says, "Taking the low end of that range, that comes out to close to a million people. This is ultimately not surprising given that some 1,700 bank branches in Canada closed between 1990 and 2012, many in rural and low-income areas."

He notes a corresponding increase in the growth of "fringe financial institutions like payday lenders," who charge high interest rates. Also, of 615 First Nation communities in Canada, only 54 have on-reserve bank, or credit union, branches.
Postal banking worldwide
Postal banking services are available in China, the United Kingdom, France, Italy, Switzerland and New Zealand.

The Japan Post Bank, the biggest of postal banks, has assets of C$2.15 trillion. France's Banque Postale also sells insurance and is listed among the top 50 safest banks, reports Anderson. In Switzerland, the post office handles mortgages and loans.

Early this year, CUPW learned Canada Post had commissioned a four-year study on postal banking from the Conference Board of Canada (Chopra is a member of the Conference Board). A copy of The Future of Postal Services in Canada was obtained by a reporter through an Access to Information request, but "701 of the 811 pages were redacted" (blurred out).

CUPW 1st national vice-president Gayle Bossenberry has been corresponding with Canada Post CEO Chopra, asking for a copy of the report, and demanding to know why, since the available portions of the study indicate postal banking is a "win-win strategy," Canada Post is not following through.

She has also been asking why the report is being kept secret.

Chopra responded to her query about postal banking, saying: "We do not believe it would be wise to shift our focus and allocate much-needed resources to creating a business from scratch and to do so in a highly competitive and crowded sector in which we have little experience."
Implementation without consultation
Meanwhile, across Canada municipalities are reacting to the news from Canada Post and demanding consultation in the maintenance and placement of community mailboxes, since there was no consultation prior to the decision being made. Some communities are straight-out opposed but others want input, at least, on where the mailboxes will go, and who will be responsible for lighting, repairs, and clean-up, among other issues.
In April, Vancouver park board commissioner Constance Barnes, in a pre-emptive move, put forward a motion (which passed, four votes to two) to let Canada Post know the boxes would not be permitted in the city's green spaces.

"I bet you anything they're going to look at that little pocket park and go: 'There's a good spot for one of these boxes,'" Barnes told the CBC's Rick Cluff.

But, under the Canada Post Corporations Act 1983-09-29, Canada Post can put its mail receptacles anywhere it wants on public land. This means parks, schools, government offices and roadsides are all up for grabs as possible sites.
Public spaces, private interests
The regulations regarding mail receptacles state: "The Corporation may install, erect or relocate or cause to be installed, erected or relocated in any public place, including a public roadway, any receptacle or device to be used for the collection, delivery or storage of mail."

Brownoff admits she was shocked to learn the District has no say with Canada Post.

When Canada Post began to "roll out" community mailboxes in the 1980s, she says, Saanich created its own four-point plan for the post office, including the directive of "no more than 38 boxes at a site." However, over the years, Canada Post has added additional mail boxes at some locations, exceeding this limit.

"Historically, Canada Post would notify us, but they are not required to do so. They don't have to ask."
Downloading duties
"And who's going to be responsible for maintaining those boxes and keeping them clean?" Bail wants to know. "Who's going to deal with the parking problems and theft problems, and whose police force is going to pay for the investigations? What this is, is a downloading of costs and infrastructure onto the municipalities from the federal government."

Brownoff has the same concerns. She says Canada Post's Delivery Planning Standards manual is vague on the issue of who is responsible for decisions on land-use, lighting, pedestrian safety, sidewalks and mailbox maintenance.

As an example, in the 1980s, Brownoff recalls, "One of these boxes went in a spot that backs onto a park. There was no streetlight or sidewalk and people complained to council that they didn't feel safe going there to pick up their mail. So the municipality installed a light and sidewalk."

A letter from the Federation of Canadian Municipalities tells Canada Post its one-size-fits-all approach to implementation will not work and cities and communities across the country need to be consulted individually on land-use planning, service delivery and right-of-way management: "Municipalities must not inherit the mandate in maintaining federally-owned community mailbox sites without compensation and there must be a partnership with Canada Post in providing this."
Backdoor privatization
John Bail and Mike Evard are not alone in their belief that the Stephen Harper government is determined to privatize Canada Post.

With opposition growing to Canada Post's plan to eliminate home mail delivery, Evard hopes door-to-door delivery will be a key election issue in 2015. "With the work we are doing, we hope the campaign will be successful," he says.

"Harper makes it no secret that he doesn't like CUPW. Once the post office is privatized, big companies will deal with major centres, which are the lucrative markets. What about rural service and small towns? What happens to them and the universal aspect of postal service?"

Bail says, "When they've totally demolished the structure of Canada Post and all the infrastructure we own and have paid for, companies like Pitney Bowes will pick it up and run away with it. They'll just get rid of Canada Post and give it to their friends."

Perhaps not coincidentally, Canada Post CEO Chopra was previously president and chief executive officer of Pitney Bowes Canada and Latin America, and the company does run post offices in other countries.

Brownoff says, "If Canada Post is privatized, then all those 'free' public lands with boxes will fall to the private owner, and we will have created private business operations on public land (without compensation) and impacted the 'competitive' edge allowed in the business environment."

She wonders if Canada Post's management thought through the ramifications of their decision. "I think it's going to cost them way more than they think."
The Hospital Employees' Union is the health care services division of the Canadian Union of Public Employees. There are many more coalitions, labour councils, and unions than mentioned in this article that are active in similar campaigns across Canada, including the Toronto and York Region Labour Council, and the Canadian Labour Congress.)
Carole Pearson is a Victoria-based freelance writer who specializes in labour, human rights and the environment.