COVID Chronicles
A Working People's Living History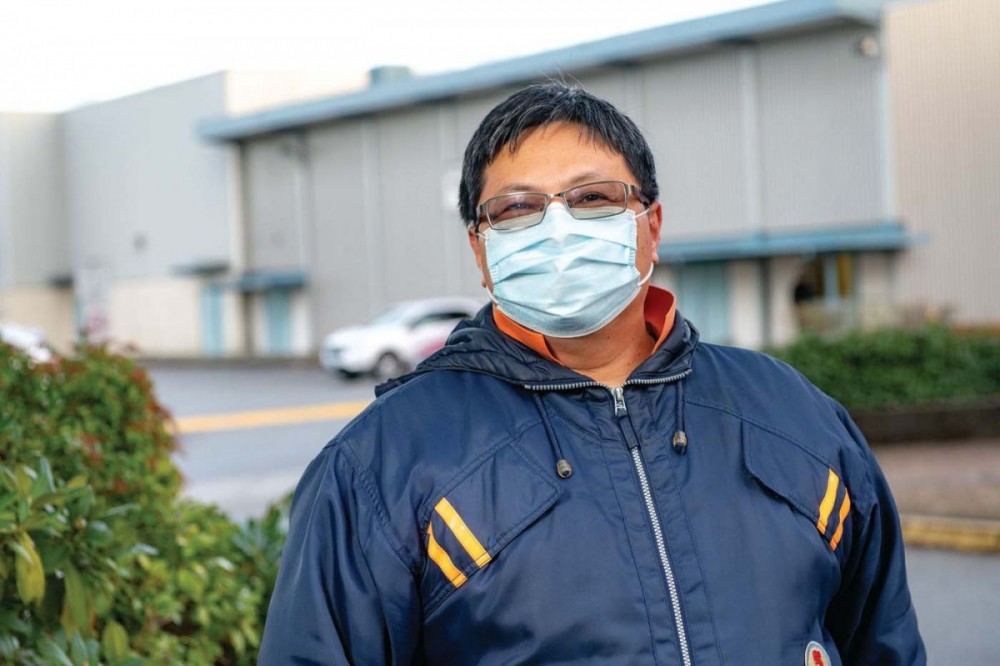 "As I have a compromised immune issue, the realization of the pandemic hit home hard. I stayed home and isolated until it was time to get essential supplies. It was eerily quiet in town and unusual to see no stores open or cars on the road." — C.M., Social Worker, British Columbia Government and Service Employees' Union (BCGEU)/ BCLHC survey
Canadians on the job during the COVID-19 pandemic are facing risks that workers faced a century ago when the Spanish flu swept the globe — but this time working people are telling their stories and people are listening, including volunteers at the BC Labour Heritage Centre (BCLHC) in Vancouver.
"It sets you to thinking about your own history," says Marie Decaire, a member of the centre's board who recently retired from her job at the Community Savings Credit Union. "My mother was born in the Kootenays around the time of the flu outbreak. She never mentioned the Spanish flu when I was growing up. And I never asked."
Lasting from February 1918 to April 1920, the 1918 flu pandemic infected 500 million people, about a third of the world's population at the time. Last year, Decaire researched Vancouver newspapers published in 1918 and she noticed how workers' lives were rarely mentioned. She didn't want the same thing to happen to workers and their experiences during the COVID-19 pandemic, and so she proposed an oral history project called "COVID Chronicles: Labour's Story."
"Workers' voices need to be heard," she says. "When I proposed the idea of collecting COVID stories, everyone loved it."
Decaire heads the COVID Chronicles project committee, set up a month after the provincial government instigated a lockdown on March 17, 2020. By July, committee members were busy recording video interviews with trade union leaders and collecting online surveys filled out by frontline workers in union and non-union jobs. Since then, they have also been gathering photographs, union newsletters, newspaper clippings and artifacts, including signage and masks with union logos. The digitized collection will be archived at Simon Fraser University.
"It's a gift for historians a hundred years from now," Decaire says.
So what are BC's workers saying?
"The right to refuse unsafe work has never been emphasized more," Decaire observes, based on her interviews with construction workers. "There isn't time to butt heads. Workers need to be safe and the industry needs to be saved. The pandemic has been the glue that keeps us together."
Employees in all occupations can contact the WorkSafeBC Prevention Information Line if they are at risk, Decaire points out. About 300 inspectors are available to visit work sites across the province.
"Just being careful. Sanitize, washing hands, socially distancing. Crew meetings in the open air, time machine disabled, masks for everyone, respirators given to all employees. — J.L., Forestry Worker, United Steelworkers Local 1-1937/ BCLHC survey
Al Phillips, president of the BC Building Trades Council, appreciates the centre's efforts to capture pandemic stories, especially since construction workers were declared an essential service when the lockdown began. "The reaction from our members was mixed," he says about the designation, which affected 35,000 workers in 25 local unions. "Some were glad to have the work, others not so much," because of the extra risk involved.
A few mega-projects were shut down or scaled back, but the majority of BC construction workers remained on the job. So far, few outbreaks have occurred at work sites. "We're all on the same page," Phillips says. "There's a COVID plan."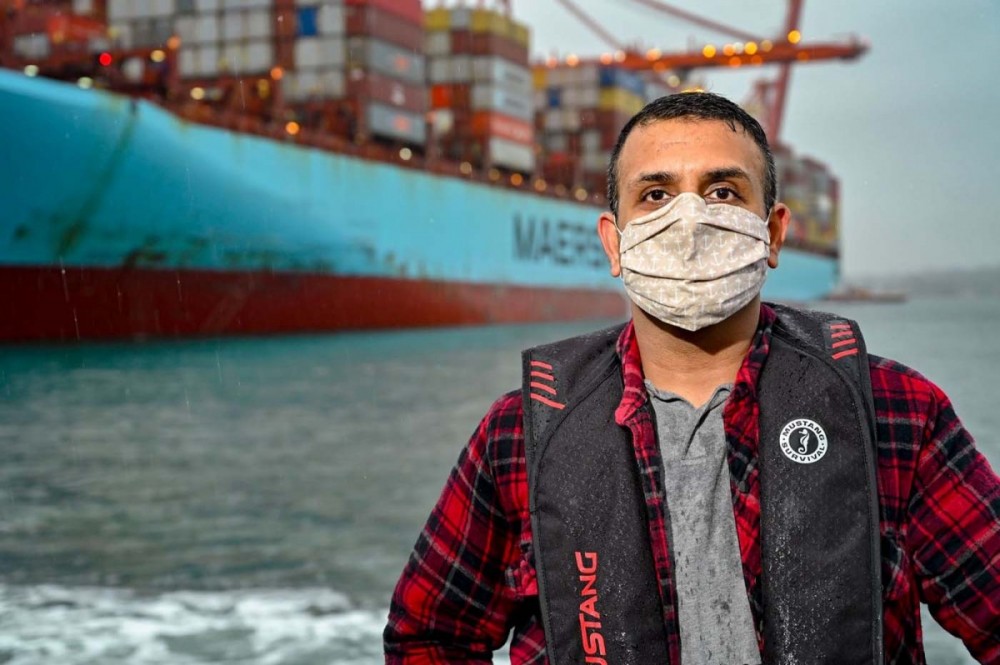 Workers entering a site must fill out the usual COVID checklist of four questions: do you have any symptoms; have you been in contact with anyone with COVID-19; have you contracted COVID-19; have you been out of the country? Unclean portable toilets and the absence of hand-washing stations have always been problems, especially at non-union construction sites. Almost overnight, Phillips says, these issues became much more serious. By the third week of March, about a third of WorkSafeBC officers were assigned to construction sites.
By November only two claims had been received from construction workers diagnosed with COVID-19: an employee at the Liquefied Natural Gas (LNG) project site in Kitimat, and another at a building site in downtown Vancouver. As of the second week of January 2021, WorkSafeBC had received 26 COVID-related claims from workers in the construction sector (both union and non-union).
In the meantime, Phillips finds himself working in front of a computer screen most of the time, conducting virtual meetings, many of which are connected to bargaining and grievance handling. He credits his staff for implementing tech changes that allow members to have online access to services. Phillips also commends rank-and-file members. "I have to emphasize how much credit the people on the job should have for facing the fear of getting the infection."
"Working in long-term care, the mental stress is affecting everyone — residents, family and staff. [I am] dealing with staff shortage and staff feeling overwhelmed and mentally drained with daily changes and restrictions. Residents' behaviours increasing [because of] not being able to see family and being segregated from other residents." — D.G., Healthcare Worker, Hospital Employees' Union (HEU)/ BCLHC survey
Prior to the pandemic, Aliya Griffin held two part-time jobs in the performing arts: Front of House Manager at Vancouver Civic Theatres, and Tour Manager at Green Thumb Theatre. When Vancouver Civic Theatres closed due to the lockdown, Griffin was laid off after 17 years of employment, as were other auxiliary employees, all members of Canadian Union of Public Employees (CUPE) Local 15. As Front of House Manager, Griffin handled patron services and concerns, and liaised with other staff.
"Thankfully, my other part-time job, at a not-for-profit theatre company, was able to continue," Griffin wrote in the Labour Heritage Centre's survey. "I'm doing all right for now, and I know I'm luckier than many people, but the uncertainty is stressful."
"I'm on the administrative side," says Griffin in a follow-up interview with Our Times about the part-time work she retained as Tour Manager at Green Thumb Theatre. "I have friends on the performance side and their gigs are all gone. There is a pivot to the virtual world, but even then there are issues like [competing with] Netflix and TV. There is a power in live performance. How do you make it work in the virtual world?"
ABOVE (left to right): Mike Dawe, Sarah Ramsey, Gurpreet Johal, members of Ambulance Paramedics of BC, CUPE Local 873.
Griffin says she and other office employees stayed on salary at Green Thumb Theatre despite the cancellation of the theatre season and school tours. The theatre has adapted, offering virtual events and small, outdoor productions at which people can follow the health protocols and keep their distance.
"I'm able to make ends meet," says Griffin about her part-time work. "I am making more than I would on CERB, but not enough to have savings." The Canada Emergency Response Benefit was a lifesaver for many of her colleagues. She says those unable to collect unemployment insurance after the CERB payments ended have found service and retail jobs to make ends meet.
Griffin is also the founder and artistic director of The Troika Collective, a local troupe on hold since the pandemic began. In pre-pandemic times, the artists created and performed stories with Eastern European themes. In 2018, they provided live entertainment for the BC Labour Heritage Centre's walking tour on the 35th anniversary of Operation Solidarity, the largest political protest in BC's history.
Live theatre performances are happening around the city with limited audiences, coupled with live streaming, but, says Griffin, "it's just not working. I can understand people are scared to come out."
As for Griffin's former job at Vancouver Civic Theatres, CUPE Local 15 was able to negotiate a letter of agreement ensuring that auxiliary employee lay-offs were considered temporary, and not permanent. "I hope when it is over, audiences will come back in full force to support us," she says. Meanwhile, pandemic conditions in Vancouver continue through the winter months. "I would ask people to keep the performing arts in mind, whether it is the symphony or theatre," Griffin says. "Keep in touch and support their digital efforts."
"Once we were back [at school] on June 1, it was [about] learning the shortfalls at the different high schools I was called out to daily. Some were good in following guidelines. Some not so much." — V.W., Teacher on call, BC Teachers' Federation (BCTF)/ BCLHC survey
"I appreciate the time taken by the Labour Heritage Centre to record this living history so we don't see it as a blur," says Kim Novak, president of the United Food and Commercial Workers Local 1518 (UFCW 1518). More than half the local's 20,000 members are grocery-chain employees. "When the province went into lockdown," Novak says, "protocols for food-processing workers and store clerks were changing hourly."
Grocery clerks were designated essential and began receiving an extra $2 an hour "pandemic pay." "Customers are telling our members they are grateful for their work," Novak says. "There's been a new recognition." But this "hero" status hasn't held up, with employers dropping the pandemic pay in May 2020. UFCW 1518 has joined other unions, demanding the $2 bonus be restored. To date, this demand has not been met. However, UFCW 1518 was able to negotiate an additional $2 an hour "hazard pay" until January 1, 2021, in their first contract at Clarity Cannabis, a Vancouver dispensary organized during the pandemic.
Early on, the union also ensured plexiglass was installed between the clerks and customers, overcrowding was prevented and social distancing enforced. Unfortunately, these vital protocols have also led to increased abuse from customers, Novak says. "A trust is violated when people come through the doors and don't wear a mask. And this has an impact. Wearing a mask, social distancing and shopping in small groups potentially saves lives."
Only 17 per cent of BC's private sector employees — retail clerks included — are unionized, compared to 77 per cent in the public sector. "When workers don't have advocates, there is additional stress," Novak points out. "The weight is all on the workers to enforce the protocols."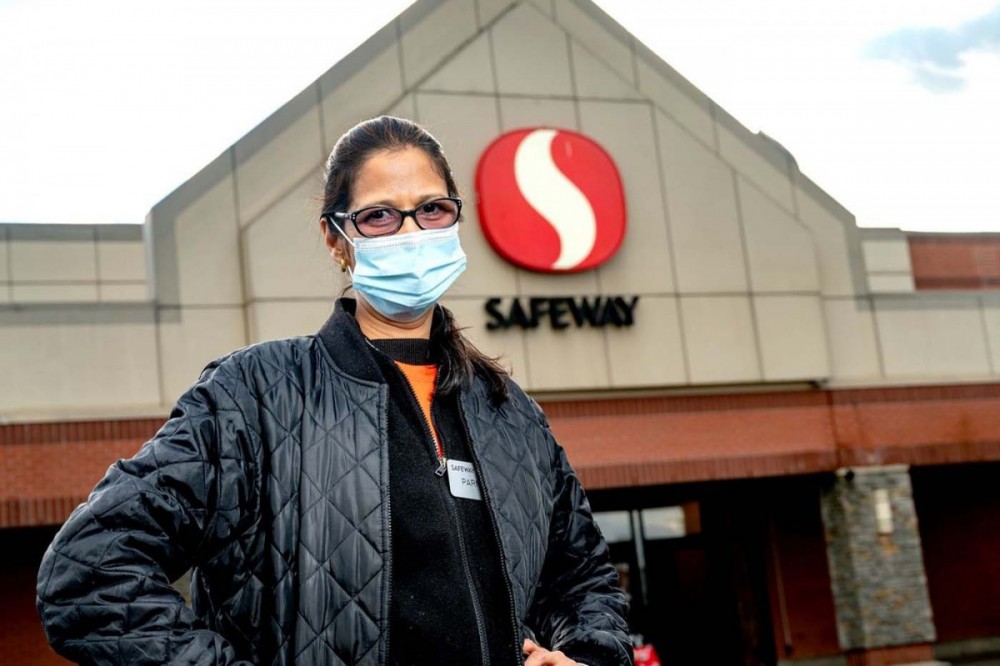 The pandemic has been a wake-up call for some of these non-union workers. "We can't do face-to-face organizing," Novak says, "but we are finding new methods to reach out." In 2020, UFCW 1518 organized employees at five coffee shops and at Clarity Cannabis, in Vancouver. Despite the uncertain future of movie houses, Cineplex Cinemas employees in Coquitlam are negotiating a first contract and, at the time of this writing, were in mediation.
Forty per cent of UFCW 1518 members are under 30 years of age, Novak says, and many don't stay at the job for long. "We want our values as an organization to be in line with theirs, whether it is climate change, the increase in forest fires or COVID."
Stewards have gained a greater appreciation from their fellow workers during the pandemic, Novak reports, and online steward-training workshops are popular. "The workshops bring people together. They can support each other and network. It's the workers themselves who have the solutions and can build support."
Novak predicts that when UFCW 1518 members look back on the pandemic, a positive view will prevail. "Frontline workers stood up and stuck together, and we got through it."
"I worked around the clock for the first several weeks helping members and employers. [I was] close to burn-out and then not allowed to socialize to ease the work pressures. Felt very isolated at the beginning and realized how I need to be around people." — S.C., Municipal Employee, CUPE/ BCLHC survey
The Labour Heritage Centre has truly seized the moment with its COVID Chronicles project, collecting first-hand accounts from BC's working people about what it has been like to work through a pandemic. Their words will go down in history.
"The stories show what it takes for lab technicians to continually test a large population," Decaire says of the project she helped start, "and the risks [facing] grocery store clerks and the workers who keep the transportation routes going. It's an encouraging tale of what people can do when we work together."
* * * * * * * * *
Sidebar: Solidarity on the Seven Seas
The pandemic has played havoc with the working lives of seafarers on foreign-flagged ships, according to Peter Lahay, Canadian Coordinator of the International Transport Workers Federation (ITF).
"Crew members are contacting us here in Canada and saying 'help us get off the ships because we're trapped,'" he says, in an interview with the BC Labour Heritage Centre's COVID Chronicles project. "They haven't even come ashore because they're afraid to catch COVID."
Crew members typically sign nine-month work contracts, going ashore for breaks at ports of call. But the global pandemic has dramatically changed their working life.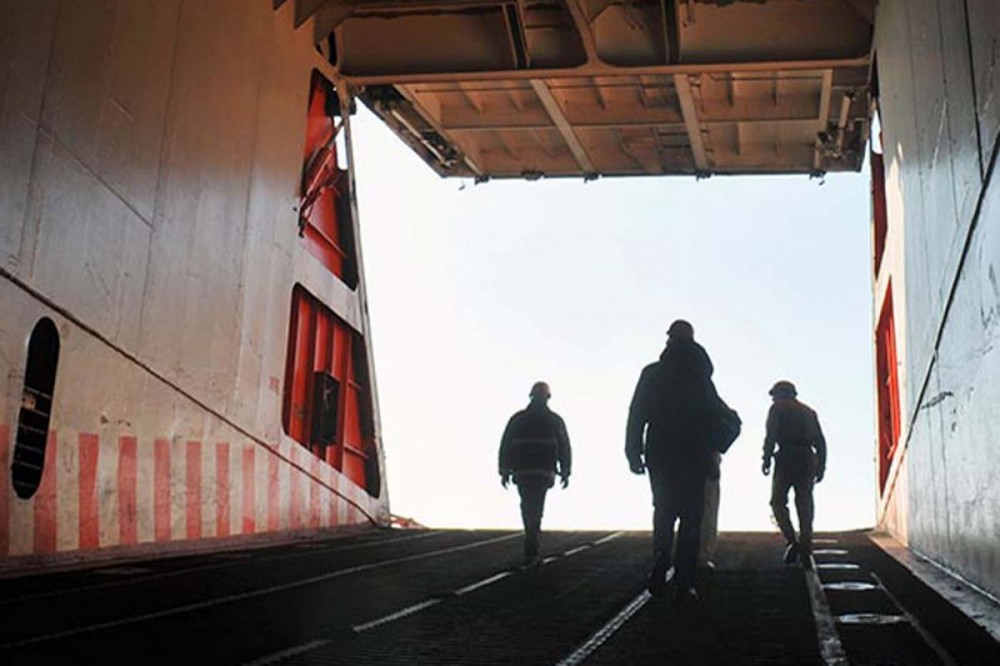 "Some haven't been ashore in six or seven months," Lahay says. "What do you think that will be doing to the psychology, the fatigue, the willingness to live, of these people?"
Lahay, with 27 years of union experience under his belt, works out of the Labour Maritime Centre in Vancouver. Thanks to his efforts during the pandemic, seafarers in Canada have been declared essential workers and are exempt from the two-week quarantine rule — if they can get off a vessel.
Lahay says the public can be assured seafarers are tested prior to boarding a ship and, once on-board, they follow strict protocols. Ships entering Canada must send a pre-arrival report to Transport Canada and the Public Health Agency of Canada (PHAC). According to Lahay, "Out of the many thousands of ships into BC since the pandemic, there have been five reported cases. These crew are taken off and put into government-monitored isolation and should they require medical assistance, that is provided."
Lahay has also ensured replacement crews from other countries have online access to visa applications. But he says much more needs to be done to help the many seafarers who can't get home.
"I'm starting to think about what's going to happen to this generation, to seafarers that are caught out on these ships now," Lahay says. "They're going to be like our grandfathers that came home from the war. And they won't talk about it . . . because the things that they must be going through on board in terms of their mental wellness are just absolutely overwhelming." — J.N.