Climate/Justice
Recharging A Dying Province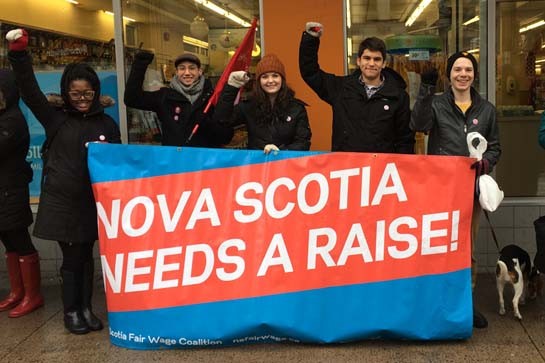 Nova Scotia is starting to feel like a dying province. It's not just the struggling economy though. Nova Scotia has long been a have-not province, well before the federal government introduced equalization payments in 1957.
Equalization was a way to even out the country, redistributing wealth from the richer provinces to the poorer ones. In fact, the objective of equalization was to help with the perennial problems of low growth and high out-migration in Atlantic Canada.
For Maritimers, the choice has always been this: if you wanted a job with decent pay, or a lucrative career, then you followed the well-travelled road to Upper Canada.
But, if you were able to endure periods of uncertainty and underemployment, you remained, and enjoyed working and living in close-knit, thriving communities. Now even that option seems to be disappearing.
Income rates have stagnated for the last 30 years. Unemployment ranges from seven per cent in Halifax to 18.9 per cent in Cape Breton. Many new jobs are non-unionized and offer only part-time hours and low wages.
The answer? Nova Scotia could recharge its economy by switching to renewable energy and by investing in low-carbon jobs that offer living wages.
Until that happens, there's little incentive to look for work here.
As a result, people are leaving the province in greater numbers than ever before. Every year, Nova Scotia suffers a net loss of 1,300 people under the age of the 30. In fact, the province's population has been in decline since 2011.
It's an odd contradiction, since Nova Scotia's 11 universities attract thousands of young people every year from elsewhere.
In 2014/2015, 50 per cent of the province's 44,037 university students came from other provinces or countries. Few of them stay.
At most, some stick it out for a couple of years after graduation, enduring constant unemployment, or precarious work with the third-lowest wages in the country, after Nunavut and New Brunswick.
The exodus of young people is causing a profound shift in demographics. Already, Nova Scotia has a disproportionate number of seniors. By 2036, a quarter of Nova Scotia's population will be over 65.
At a time when the population faces greater demand for health care, that sharp decline in the tax base has many worried.
In 2014, a provincial commission studying economic and demographic trends released a report titled Now or Never: An Urgent Call to Action for Nova Scotians.
The report argued for a bold vision on how to build a new economy and turn the province around. Despite the rhetoric, there has been little action to stem the flow of young people heading west.
Nova Scotia's history is rife with handouts to foreign corporations, particularly extractive industries. The province's current Liberal government has continued that trend, betting on fossil fuel projects to create jobs and keep young people at home.
In the last 12 months alone, the Liberal government has approved re-opening a coal mine, and the construction of a $4-billion liquefied natural gas plant. The joint Canada-Nova Scotia Offshore Petroleum Board granted exploratory drilling permits to Shell Canada. (Shell's permits allowed 21 days to cap an underwater oil blowout in the rich marine habitat. After public outrage, that timeline was reduced to 14 days, still a long way from the 24 hours that the U.S. requires for drilling off Alaska.)
These new infrastructure projects will create very few jobs and little of the revenue will stay in the province. Plus, they will handcuff the economy to fossil fuels for generations.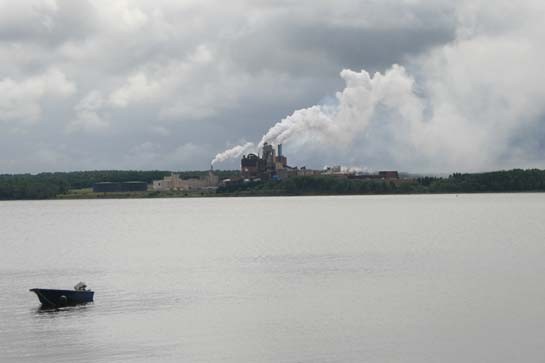 If we really wanted to stop Nova Scotia's population from shrinking, we would invest in renewable energy. Investing in renewables creates three times more jobs than extractive industries.
Or we would invest in job sectors that provide a public good and are already low carbon, like education and health care. As two of the most unionized sectors, these areas of work provide workers with stable employment, decent benefits, and living wages.
Or, if we really wanted to be bold, we would invest in renewables and public services, both at the same time.
On February 29, Leap Day, the Canadian Union of Postal Workers (CUPW), along with Naomi Klein and allies,launched an ambitious proposal to redesign Canada Post as renewable-powered hubs for social and environmental innovation.
On top of postal banking, Canada Post's fleet of vehicles would be converted to run on electricity. Letter carriers, while en route, would check on often isolated seniors (as they do already) and deliver medications or even fresh produce from local farms.
Post offices, all 6,300 of them across the country, would be outfitted with solar panels and charging stations for electric cars. They would also offer micro-loans for new businesses and offer shared community space.
It's a bold new vision and one that should encourage all governments to rethink the role of public institutions. Instead of the endless race to cut spending and make public services more "efficient," what if we expanded them in order to actually enrich communities and to lead the switch to renewable energy?
What if Nova Scotia re-fitted its over 100 nursing homes with solar panels and day-care centres?
What if every elementary and high school generated its own power through locally produced and publicly owned wind turbines and geothermal heat pumps?
What if each school also had a small farm that contributed fresh produce for students and for sale at local markets? This could also support young people in rural areas who want to start farms or value-added projects, like wineries or cheese production.
Such projects would provide a massive boost to local employment, while improving the quality of life for communities. They would require even greater public spending, but that could come from ending some of the many corporate handouts.
What if, instead of subsidizing foreign-owned pulp and paper companies, the province built social housing and became a leader in green building technology?
What if, instead of giving millions in tax rebates to big banks like RBC, that money was used to fund a renewable and affordable transit system to connect isolated towns and cities?
Few young people want to leave Nova Scotia, but they often have little choice. If politicians continue to cater to foreign fossil fuel companies and to cut social services, nothing will change.
Fortunately, there is no shortage of ideas. All they require is the political will to break with the long tradition of looking to outside corporations to come and save us.
They require us to look beyond a dying fossil fuel industry, and to imagine new ways of living and working together.
James Hutt is a labour organizer, writer, and climate activist on unceded Algonquin Anishinaabe territory (Ottawa).