Features
Black Votes Matter
Bringing Real Democracy to the Ballot Box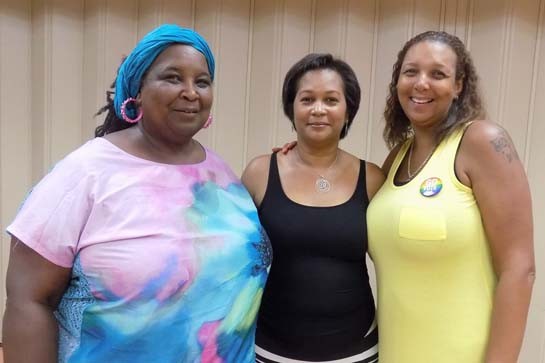 In 2011, Elections Canada submitted three questions to the May National Labour Force Survey. The questions were designed to find out one thing: why did citizens not exercise their right to vote in that year's federal election?
Twenty-eight per cent of survey respondents said they were just "not interested in voting" — the most common reason given. They also felt their vote would have made no difference to the election results.
Another 23 per cent of those polled said they were "too busy," with family, work or school obligations, and could not find the time to get to the polls.
The responses seem glib, the attitudes behind them a case of the clichéd voter apathy we repeatedly hear about, until one begins to unpack them.
2011 was the year of the infamous Robocall Scandal, when people living in 247 of 308 electoral ridings received fraudulent phone messages, many about bogus changes to the location of their polling stations.
Citizens can perhaps be forgiven their cynicism when outright fraud clouds an election, but there are other reasons why casting a ballot may not be as simple as it seems.
As I sit down to write this article, a YouTube video titled "Alabama Passes Voter ID Law, Then Closes ID Offices in Black Counties" appears in my social media feed.
But this is Canada. Insidious changes to legislation, coupled with machinations that target already vulnerable voters, all in order to consolidate the power of a particular party? No.
Here, we pass things like the Fair Elections Act.
**************************
Christopher Wilson could be discouraged about Canada's upcoming election, but he is not. Member at large on the international board of the Coalition of Black Trade Unionists, Wilson is one of the driving forces behind the Black Votes Matter campaign.
Launched in April of this year at the second African Canadian Summit, Black votes Matter is a joint effort for justice.
The African Canadian Legal Clinic, the Coalition of Black Trade Unionists, and Midaynta Community Services are all involved; as are the Ontario Federation of Labour and the Canadian Labour Congress.
"The campaign started off early with this question: Do Black votes matter?" Wilson tells Our Times. He mentions Share magazine, and an August article, in which Dr. Ajamu Nangwaya questioned whether engaging in electoral politics can ever create real change for the African Canadian community.
"You don't want to take for granted that electoral politics is the sole means of creating change," says Wilson.
"Nangwaya made the argument — different people have different perspectives — that it's action, through the street and through demonstrations, that gives the community a more effective voice than casting a ballot does."
But rejecting the electoral process because of its past failures or its persistent structural inadequacies is not the answer for everyone. The October 19 federal election is days away, and the activists behind the Black Votes Matter campaign believe that, just as every action counts, every vote counts.
With this in mind, they've been gathering input from members of the Black community, connecting with people both online and through sessions held in cities around Canada, and spreading the word about the campaign.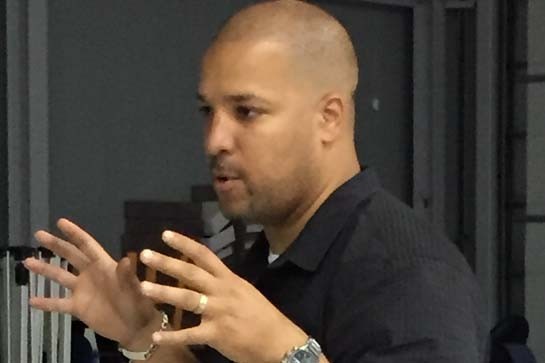 "Our community is facing concerns that are unique to our experience," explains Wilson. "That's part of the basis upon which the Black Votes Matter campaign was framed. So, in our sessions, we raised this initial question: How is electoral politics relevant to our community?
"It's well documented that there's a significant under-representation of voters of African descent, in proportion to our population — so, why is that happening?"
Session participants have raised additional questions like, "What are the barriers to participation in federal electoral politics?" and "How can those barriers be overcome?"
There's no question: the predominance of older, white, male candidates is discouraging to a diverse range of Canadian electors.
Will this narrow batch of would-be leaders pay more than lip service to the concerns of constituents with lives and backgrounds different from their own? Or will income-splitting and tax-free savings accounts remain the main agenda, gambits to lure affluent voters, even as many racialized Canadians are trapped in precarious work?
Starting out, the Black Votes Matter campaign's scope was wide. During the first stage of the campaign, before the election was officially called, "the idea was to have these strategy sessions open to the community." Wilson says. "We wanted to speak with the broader voice of the community, rather than the sole voice of trade unionists."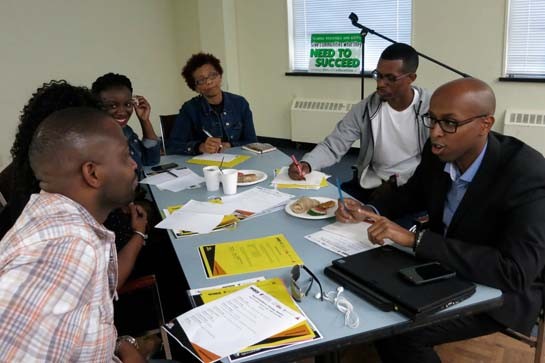 But "Harper's so-called Fair Elections Act, which in our view is anything but fair," says Wilson, necessitated taking a two-stage approach.
In May, when the majority Conservative government pushed Bill C-23, also known as the Fair Elections Act, through parliament, many spoke out against it. They saw it as an affront to democracy and a strategy aimed at further disenfranchising citizens already at the margins — a cynical attempt to consolidate the power of a political party.
More complex rules around what constitutes proper identification on election day, Elections Canada being barred from urging citizens to vote, the ceiling being raised on what political parties can spend in elections that go more than 37 days — these are just some of the changes set out in the Act.
"Because of the so-called Fair Election rules, we had to be more focused on our audience, which was our own members," says Wilson, referring to stage two of the campaign. "But," he adds, "we never close the door to family or relatives who want to come and sit in on the discussions."
What the CBTU activist found personally empowering about the sessions "was that feedback wasn't restricted to what the current parties are talking about." He says, "It was more talking about, 'What is our community talking about?'"
A recent YouTube video posted on the group's Facebook page showcases those concerns, and they are decidedly different from those the party leaders focused on during the televised election debates.
"Some of the issues covered included the All Black Lives Matter movement," Wilson notes. "State-sanctioned violence is a pressing issue and has been going on in both the U.S. and in Canada — the extra-judicial killing of people of African descent."
"The other issue that came up was 'carding.'" Carding, when people are stopped at random and required to produce identification to police, on demand and without being given any clear reason why, and the targeting of young Black men with the practice, has received much greater media coverage than another topic that Wilson calls equally, or even more, important: Mass incarceration.
"There's a grossly disproportionate representation of people of African descent incarcerated, which has a profound impact not just upon the people in jail, but on the people they're connected to, including their families." Wilson says, "Under Harper, these rates have increased significantly."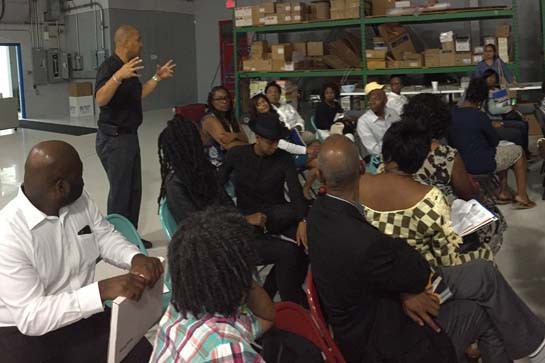 Remember those Canadians who were "too busy to vote" in May 2011? Black Votes Matters consultations revealed just how difficult it can be for some workers to exercise their rights. Think bosses who threaten politically active employees, who may not allow them to leave the workplace to even get to the voting place, people who may have no means of transportation there.
"The vast majority of people of African descent in this country are workers and the Harper government has been very clear — he has a war against labour, in terms of the various pieces of legislation he's introduced."
Defending quality, unionized jobs and public services ranging from Canada Post's door-to-door delivery to various services provided by CUPW members was also high on the agenda, in recognition of the federal Conservatives' restrictions on collective bargaining and the right to strike.
The predicament of migrant workers also matters: "The reality is, a significant number of migrant workers are racialized, many come from Caribbean countries, and they come here under working conditions that are unbelievably exploitative, including being denied access to basic labour rights, and this issue is just not being talked about," Wilson argues.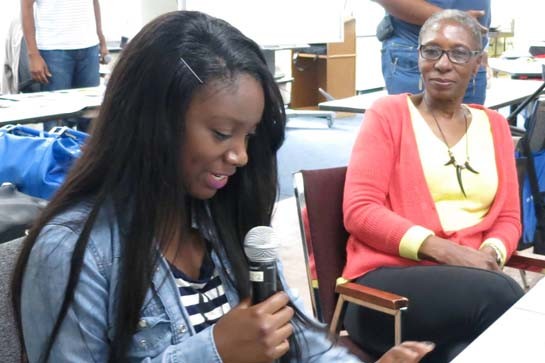 At the sessions, people also repeatedly brought up fair wages and the battle for a $15 national minimum wage.
"A significant number of people of African descent, racialized workers, are working in precarious, low-wage jobs," adds Wilson. "Our community talked about what fair wages would look like" at both the national and provincial levels.
Child care, health care, and the Syrian refugee crisis also figured high on the list of participants' priorities.
The fact that diverse Black electors were able to share their views made the Black Votes Matter meetings rewarding, says the PSAC member.
"What was exciting about this campaign was that there was a conscious effort to reach outside of Toronto, to Ottawa and Halifax, with some assistance from the Canadian Labour Congress."
Social media has proved a boon to Black Votes Matter, so much so that Wilson declares "That has been the most successful for us."
Meetings are vital, but Facebook and YouTube have amplified their reach: "In total when you combine all the sessions, about 200 people attended," he says. In contrast, "when we went through social media, we reached over 10,000 people."
He tells Our Times that campaign organizers devised a Facebook report card, assessing the platforms of the federal parties. "It's still going through social media now. It's up to 1,400 people and 64 shares, and it continues to circulate." A French version has just been released.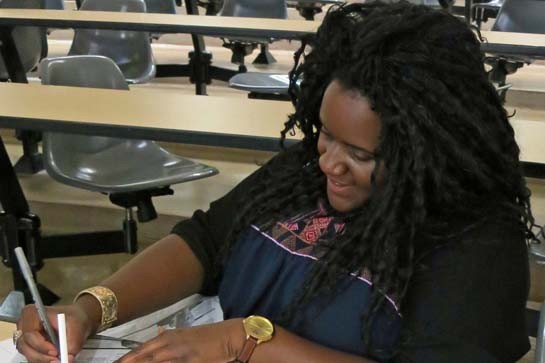 "Where I see engagement within our community, based on this campaign, is at the candidate level," continues Wilson.
"Are there candidates we believe are running in ridings where we can make a difference, who are speaking about the issues that we care about?"
In the context of Scarborough North, an Ontario riding where he notes that a full 90 per cent of electors are racialized, there is reason to believe that one's ballot truly makes a difference.
"The NDP candidate there, Rathika Sitsabaiesan, actually attended one of our Coalition of Black Trade Unionists meetings. There were about 50 people there, and she came in person and talked about issues that were relevant to our community, so the connection was there," says Wilson.
He also points out that it was Sitsabaiesan who passed a private members' bill around the elimination of child poverty.
Elections Canada's website states, in a rather self-assured tone, that "By the 1963 general election, held on October 8 that year, the last traces of racial and religious discrimination had been expunged from the law governing the federal franchise."
Maybe so, but that hasn't removed the informal barriers to racialized communities voting.
"At a minimum, you would expect that the candidates reflect the demographics of the voters," sighs Wilson.
"If you drill down further to say 'let's examine the distribution of power,' that's even dramatically less representative, in terms of direct access to political power and decision-making."

The implicit message is that politics is for white-collar white men and that racialized people are powerless. "People say, 'What is this system I'm legitimating through my participation, if it doesn't reflect me and give voice to my concerns?'"
A close look at the history of the vote, found on the Elections Canada website, gives pause when considering Wilson's comment. In 1936, the Independent MP for Comox-Alberni, A.W Neill, who opposed allowing Japanese Canadians the right to vote, said, "This is a white man's country, and we want it left a white man's country."
Another video just appeared in my social media feed. Alabama? No. Canada.
Every vote counts.
Melissa Keith is a former radio broadcaster and an award-winning freelance journalist. She lives in Lower Sackville, Nova Scotia.