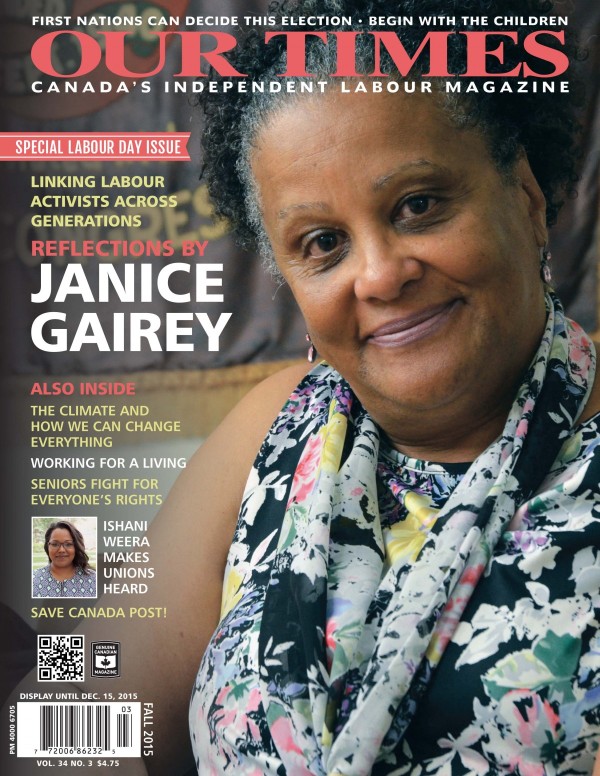 Fall 2015
Features
Alison Acker has been to jail for justice. Today the eighty-seven year old and other seniors like her continue to fight on behalf of us all.

"There was a time when you felt like you had to assimilate to survive," says Janice Gairey, whose father was barred from his union because of the colour of his skin. The labour and community activist reflects on the past, present and future of Canada's labour movement.

SPREADING THE WORD

Alberta-based social media maverick Ishani Weera is intent on making unions heard.

TAKING A NEW ROUTE

Trade unionist Jeff Callaghan places the blame for the cuts to our postal service squarely upon the Prime Minister's Office.

HOW WE CAN CHANGE EVERYTHING

Naomi Klein has said she is not an activist. Rather, her work is about seeing patterns. A gathering she convened at the University of Toronto made it clear that a new pattern of coalition building has emerged.

TELEPHONE SALES & BINGO CARDS

"Use that sexy voice," my team leader joked with me.

ROAD CASES & WRESTLING RINGS

Every stagehand loves pipe and drape. All that fabric really ties the showroom together.
Departments
NOTES

Labour Film Festival Time * Part-Time Workers Triumph * Work, Climate Change and Gender * New Employees' Questions * Did You Help Crack Bell? * Black Votes Matter

On his way to the Education International World Congress in Ottawa in July, Esmail Abdi was arrested. Thoughts on the Canadian campaign to have him freed.

OUR TIMES TALLY

Number of eligible voters in Canada who did not vote in the 2011 federal election: 9,434,184.

THE POPE, THE PLANET AND THE POOR

The Pope is bringing popular movements together to help save the planet from a system that doesn't care.

First Nations, Métis and the urban Indigenous population have the numbers to deliver the margin of victory in many ridings. And we are organizing.

BEGIN WITH THE CHILDREN

Whether you have young children or not, child care is your issue.

COYOTE HOLES

REMEMBERING SALT

Labour historian and filmmaker Ron Verzuh rekindles resistance with Joe Hill's Secret Canadian Hideout and Remembering Salt.

WHY I JOINED TEAM MULCAIR

We should not be fooled into thinking that terrorists are on the verge of blowing up our hallowed hockey arenas and legislatures.