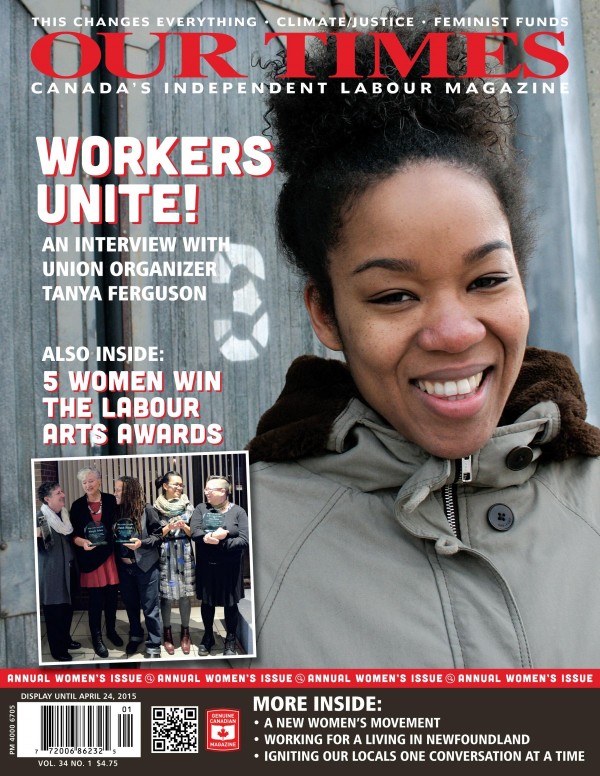 March-April 2015
Features
THE NEW MISOGYNY

At the dawn of the 21st century, misogyny and inequity are on the rise. It's time for a new women's movement.

"When they're not being treated respectfully at work, that's when people want to organize and stick together," says union organizer Tanya Ferguson.

"Union music is about the right of us, as working people, to have decent housing, jobs, food and working conditions," says musician and singer/songwriter Faith Nolan, one of five winners of the latest Min Sook Lee Labour Arts Awards.

ONE CONVERSATION AT A TIME

We want local activists to feel confident when they reach out to union members. It's a lot to ask our already harried volunteers that they make the time and effort to truly understand members' concerns. Here's a talker's toolkit and some more great ideas along with it.

PIPE DREAMS AND PASSIONS

I was only nine when my teacher introduced me to creative writing. Thirty-two years later, I am now a paid, published author.
Departments
NOTES

Sisters in the Trades * Promoting Local Labour History * Unions Matter * Compensation for Rana Plaza Victims * West Coast Women Leaders

FEMINIST FUNDS & TURKERS' GUILDS

Ever try to find a link or a comment that you're sure you posted on a social network and have your words disappear without a trace? Could be those content scrubbers on the job.

OUR TIMES TALLY

Rank of Rwanda among countries that have the highest percentage of women in their national parliaments: 1
Rank of Canada: 61

NICARAGUA WITHOUT WOUNDS

The construction of a giant canal through Nicaragua threatens both the environment and the people.

WORKING THE SKY

UNION

SHIFT

THIS CHANGES EVERYTHING

Naomi Klein makes a confession in her book This Changes Everything. At one time she, too, tried her best to avoid thinking about climate change.

BEING A BETTER ALLY

There are no alliances without humility, and there is no growth without changing unhelpful or damaging behaviours.