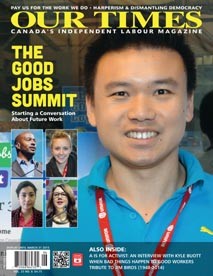 2014/2015
Features
WHEN BAD THINGS HAPPEN TO GOOD WORKERS

A legal advocacy project in BC helps non-unionized workers fight unjust employment practices.

THE GOOD JOBS SUMMIT

The recent summit in Toronto launched a conversation about where good jobs will come from for the next generation. It brought together an unusual mix that included students, labour leaders, business leaders, community activists, and politicians. Here's what four young participants had to say about what a good job means to them.

"We have to work to change the world we live in, as a way of building a bigger vision and a better society," says Kyle Buott, president of the Halifax-Dartmouth & District Labour Council, and secretary-treasurer of the Nova Scotia Federation of Labour.

TRIBUTE TO JIM BIROS (1948-2014)

With the death of Jim Biros on September 19, 2014, at the age of 66, Canada lost a fierce partisan of the arts.
Departments
NOTES

Min Sook Lee Awards * Buy Bottles Not Cans * Stop Privatizing Health Care * Songs of Work and Protest * Online at Our Times * We Deliver Canada * BC Labour History Plaques * PSAC Ontario's Young Worker Committee

GOLD FARMS & THE SUM OF STARBUCKS

More rants and raves about online resources for union activists by Our Times' resident webhead.

MAKING ALLIANCES

Knocking down the barriers to building solidarity between unions and community groups.

My response to the governor of the Bank of Canada, who believes jobless youth should work for free.

POETRY

HARPERISM & DISMANTLING DEMOCRACY

In his new book, Harperism, Donald Gutstein gives a chilling account of how Stephen Harper has changed our country.

UNIONS MEET WORKER CO-OPS

I believe the labour movement needs to actively embrace worker co-ops. I know I have.