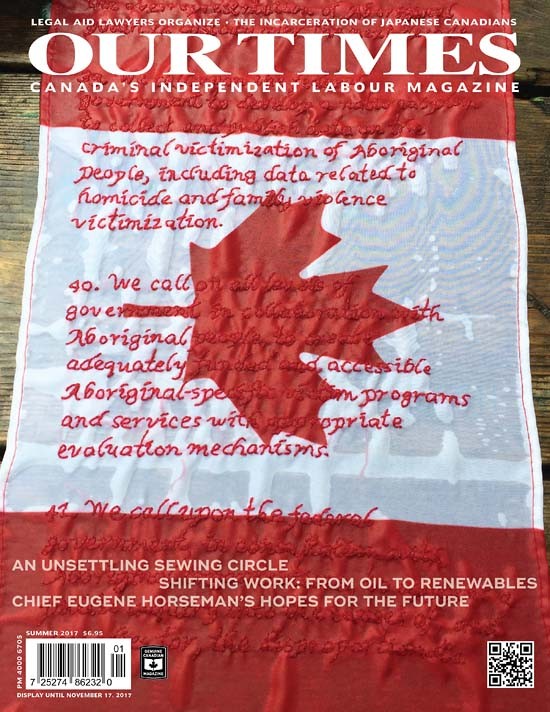 Summer 2017
Features
ALL THAT WAS STOLEN

To really understand what happened 75 years ago to Japanese Canadians, you have to know the stories behind the numbers.

MAKING THE SHIFT

CHIEF EUGENE HORSEMAN'S HOPES FOR THE FUTURE

It's not going to happen overnight, but with the government wanting to invest in the new energy, I'm thankful.

MAKING THE SHIFT

KEN SMITH AND DELIA WARREN SPEAK OUT

There's an often overlooked but valuable resource that could fuel the establishment of the renewable energy sector in Canada — skilled tradespeople.

THE DANCE OF DECOLONIAL LOVE

Poster No.5 of the Graphic History Collective's series Remember | Resist | Redraw: A Radical History Poster Project.

THE LAWYERS OF LEGAL AID ONTARIO ORGANIZE

Once we were empowered to be advocates for ourselves and our colleagues, it felt like a movement.
Departments
NOTES

Equity at AWOC * CBTU Award * Stan Raper (1961-2017 * Mike Seaward (1950-2017)

SNAPCHAT, PASSION & PODCASTS

This is what all the gizmos, coding, strategies and tactics are about: workers, and their lives.

OUR TIMES TALLY

* Percentage of Canadians who believe they are "as nice as the world thinks we are": 66


* Percentage who believe they are "even nicer": 12

Coal or Tires

LafargeHolcim wants to burn 400,000 used tires a year at its cement plant in Nova Scotia. Should we be worried?

Precious Creature

Adnan awoke to the sounds of panic at reception.

POETRY

An Unsettling Sewing Circle

When the Truth and Reconciliation Commission first released their Calls to Action, I wanted to begin embroidering them onto Canadian flags, but I hesitated.

Dolores

An inspiring documentary about Dolores Huerta restores the lifelong activist to her rightful place in history.

Nation to Nation

In the year of Canada's 150, we're still strong, we're still proud, we're still culturally present.