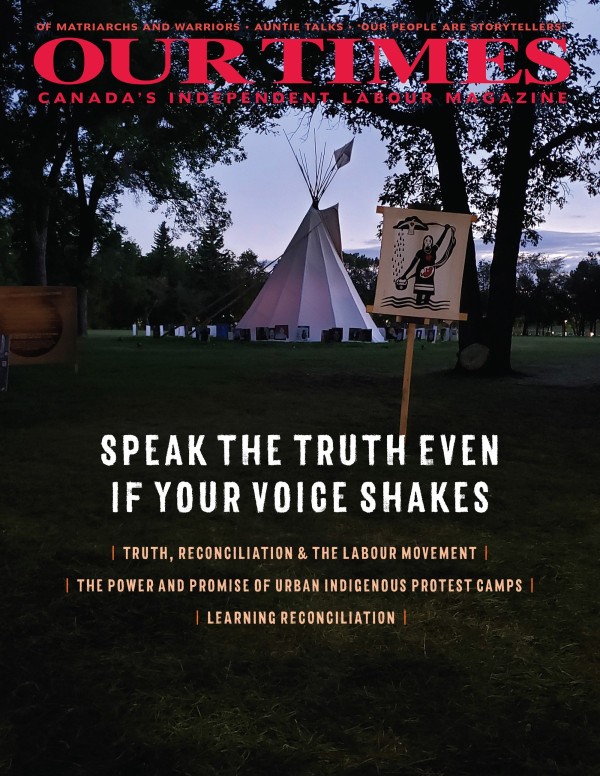 Fall 2022
Features
THE POWER AND PROMISE OF URBAN INDIGENOUS PROTEST CAMPS

These expressions of Indigenous sovereignty challenge not only the participants, but the city, the province, and the country. They have been a life-changing experience for me, and for many others.

OF MATRIARCHS AND WARRIORS

Of her path to activism, Janna Pratt says, "When you are born Native, you have no choice. Your life is designed around legislation. You have to be active in order to navigate it."

I have been a union member for my entire adult life. Sometimes I have given more than I should have to this movement — this powerful movement that I love so dearly. And so, even though this is probably the most difficult thing I have ever written, I do so because it is necessary to speak the truth, even if your voice shakes. You cannot have reconciliation without the truth first.
Departments
UPFRONT

Phyllis Webstad's Story • The Red Dress Campaign • The Moose Hide Campaign • Resources for Reconciliation

OUR TIMES TALLY

• Number of Indigenous people throughout the world today: 476 million

• Percentage of the world's biodiversity that is situated on lands inhabited by Indigenous communities: 80

LEARNING RECONCILIATION

One of the University of Alberta's most interesting offerings is the course Indigenous Canada. Twelve lessons, taught by Métis writer, lawyer and educator Chelsea Vowel, filled with lots of good stuff, all available online, to do at your own pace.

(re)Collection

not today

Auntie Talks

HOW CAN LABOUR ENGAGE IN TRUTH AND RECONCILIATION?

In the labour movement, two of our most important tools are words and action. So when it comes to labour engaging in Truth and Reconciliation, how do we use our words and actions to make gains?

Untitled

STORYTELLERS

For further reading: A nowhere-near-comprehensive list of essential books, films and podcasts by Indigenous creators.

THE SURVIVORS' FLAG

The flag, each one of its elements carefully selected by Survivors, is "an expression of remembrance, meant to honour residential school Survivors and all the lives and communities impacted by the residential school system in Canada."