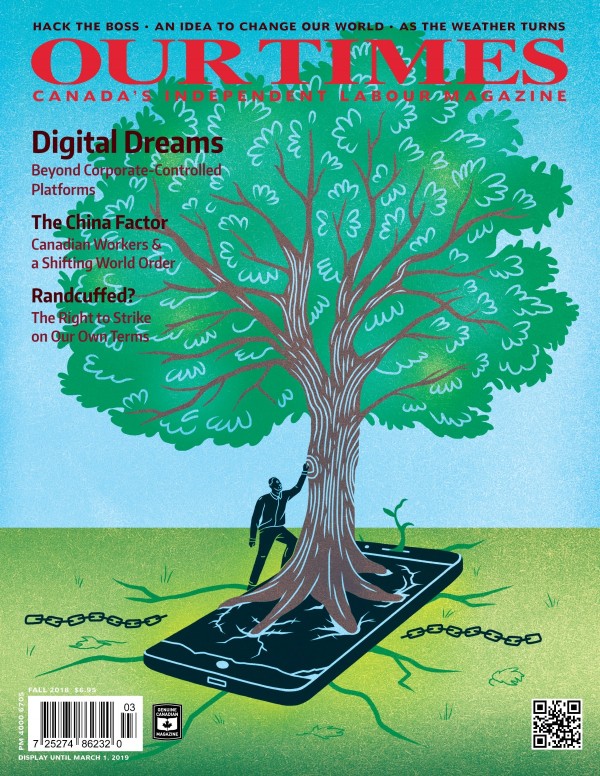 Fall 2018
Features
Unions need to fight to rebuild our own ability to
publish, teach and engage using digital tools we control.

The China Factor

Exploring China's massive Belt and Road Initiative and a potential Canada-China Free Trade Agreement: how should we engage with a country soon to become the world's leading economy?

The Human Cost Of China's Belt And Road Initiative

There is major opposition to the BRI in Pakistan's Balochistan province, where the Pakistani army is accused of massive human rights violations.

When all actions are governed by labour legislation, which unions dutifully obey and employers cynically manipulate, it becomes more and more obvious that legalized strikes are less and less effective.
Departments
Notes

Ontario Workers Fight Back * Canada Bans Asbestos * Remembering Bromley Armstrong

We have a roadmap to re-tool entire industries, retrain workers and, ultimately, to meet global climate targets. Let's use it.

Our Times Tally

Ratio of citizens to CCTV (closed circuit television) cameras in China: 7 to 1
Estimated ratio by the year 2020: 2.3 to 1

Some New Zealand workers will soon be bossless. They will be taking direction, instead, from a chunk of software.

Bloody London Buildings

I Have No Mute Button And I Must Scream

Twenty-two of us began our training together. Week by week that group dwindled. Now there are just eight.

Precarious Employment:  Causes, Consequences And Remedies

An in-depth study of the forms of work that have emerged and thrived in the last 30 years shows just how we got to this place of precarity.

The current viral strain of right-wing populism is difficult to stomach and hard to fight: What can we do to make a difference in such a divisive world?