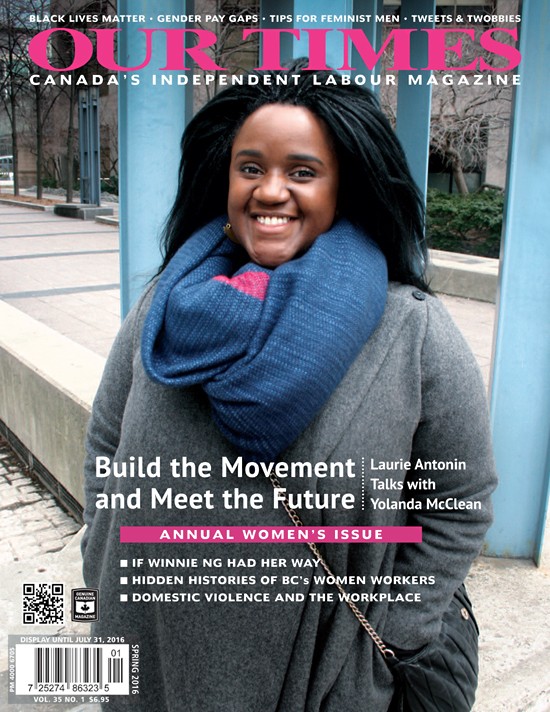 Spring 2016
Features
HAVING A HAIRY DAY IN YOUR WORLD

I'm selling Megaphone magazine in the Woodward's atrium. My feet are wet, my jacket's kind of soaked, and most of my papers are dry.

BUILD THE MOVEMENT AND MEET THE FUTURE

"People won't act if they don't feel supported. They won't connect or dedicate for the cause if they don't feel someone's behind them," says Laurie Antonin.

If I had my way, equity training would be mandatory for all union leadership, twice a year.

OUR SISTERS WERE THERE

Vancouver and District Labour Council president Joey Hartman uncovers the hidden histories of BC's women workers.

DOMESTIC ABUSE AND THE WORKPLACE

Supportive family and friends are invaluable. So is structured programming in the workplace to address domestic violence. Beginning with building general awareness, the CLC and unions are working to develop just that.
Departments
NOTES

Make Women Count * BLM Tent City * Support Chronicle Herald Workers * Barb Byers Awarded Order of Canada * A Sister's Jubilation * Min Sook Lee & Labour Arts Awards

First a flash flood, then a drought — some of you, way too many of you, are still clustering your tweets. You know who you are.

CAROLE PEARSON (1952-2016)

With the passing of West Coast journalist Carole Pearson, the labour movement has lost a great writer who cared deeply for workers and the challenges we face.

OUR TIMES TALLY

Chance that a refugee or displaced person throughout the world is a woman:
4 in 5.

GENDER PAY GAPS & BETTER RESEARCH

Better research practices can end the exclusion of millions of women from data that inform policy advocacy.

POETRY

CRACKED

Having been a telephone operator herself, Joan M. Roberts has great respect for the women whose story she tells in her book Cracked: How Telephone Operators Took on Canada's Largest Corporation . . . And Won.

SEVEN TIPS FOR FEMINIST MEN

Seed your life with feminist inspiration. Raise feminist sons. Be quiet.