On April 12, 1871, a group of workers gave birth to what was then known as the Toronto Trades and Labour Assembly. Sixteen unions representing workers from various segments of Canada's then emerging economy were determined to forge better working and living conditions throughout workplaces and communities. These unions were soon joined by organized workers from other occupations. Within a year, the group's resilience was tested when a strike by printers at the Globe Newspaper led to many members of the Toronto Trades and Labour Assembly being arrested and charged with criminal sedition.
Who would have known that this group would later mature into Canada's largest labour council, eventually to be renamed the Toronto & York Region Labour Council? Throughout its 150-year history, the council has taken on many struggles. By using education within the labour movement while co-operating with community organizations seeking to improve race relations and create legislation to afford civil liberties for all, the council has waged the struggle to combat racial intolerance. Recently the membership of the Toronto & York Region Labour Council led by example and shattered a 150-year-old glass ceiling. They acclaimed a Jamaican Canadian named Andria Babbington as the first Black woman president of the council. I recently had the opportunity to interview Andria for Our Times magazine.
_______________________________
MARK BROWN (MB): On June 3, 2021, you were acclaimed as the first Black woman president of the Toronto & York Region Labour Council in its 150-year history. Tell us a little bit about yourself. Tell us who you are and a little bit about your journey to becoming the new president of the labour council.
ANDRIA BABBINGTON (AB): As a Woman of Colour, I faced my share of challenges in life. I, like many others, had to work multiple jobs to make ends meet. I've known co-workers and families who would leave one job at the end of a shift only to clock in to another eight-hour shift at a second workplace in order to put food on the table. I have been exposed to workers who have felt the negative impact of precarious work on marginalized communities. As these problems grow and inequality deepens, it affects all workers, regardless of their background.
My service as vice-president of the labour council has taught me that in order to make changes that will positively impact all communities, we need to grow our political power and political consciousness across all workers. I believe that as a labour body we need to mobilize for better working and living conditions. We need to reach workers wherever they are and show them that organizing their workplace and voting can change their conditions for the better.
Organized labour, as I see it, has a role to play in order to effect change in this area. The labour council must continue to agitate against repressive and dangerous laws like it has done before in the fight against carding. We must continue to show workers and communities that we are ready to fight for them even outside of the workplace. As president of the labour council, we will continue the struggle to get good jobs to marginalized communities, as we do with our apprenticeship programs.
As a young woman, I was continually told that I would have to do 200 per cent more than others to make it in this country. I went into my first job with my eyes wide open after those warnings, but I definitely wasn't ready for what I saw. Joining the hotel sector in the 'back of the house,' I was joining an older workforce, and in my department it was mostly women, People of Colour, and newcomers to Canada. If you were new in the country, this is where you were sent.
My co-workers were doctors, nurses, engineers in their country of origin, but we all ended up in the 'back of the house' anyway. It was hard for us to move up. The hardest part was the disrespect and harassment in the workplace. The managers told us we should be grateful to have a job at all.
MB: You are taking the reins of Canada's largest labour council during a time of global pandemic. As such, what are some of the unique challenges you expect to face during your mandate that would be different from challenges faced by previous labour council presidents? What do you see as an effective strategy to address those challenges?
AB: Some of the unique challenges that we face because of the pandemic include the idea of a "just recovery" for workers after this pandemic. We will need to establish what a just recovery looks like from a worker's point of view. The pandemic has exacerbated many workplace inequalities that existed before. Many workers who previously were unable to obtain a $15 minimum wage were suddenly recognized as essential to society. These are the workers who could not work from home and as a result face greater exposure during the pandemic.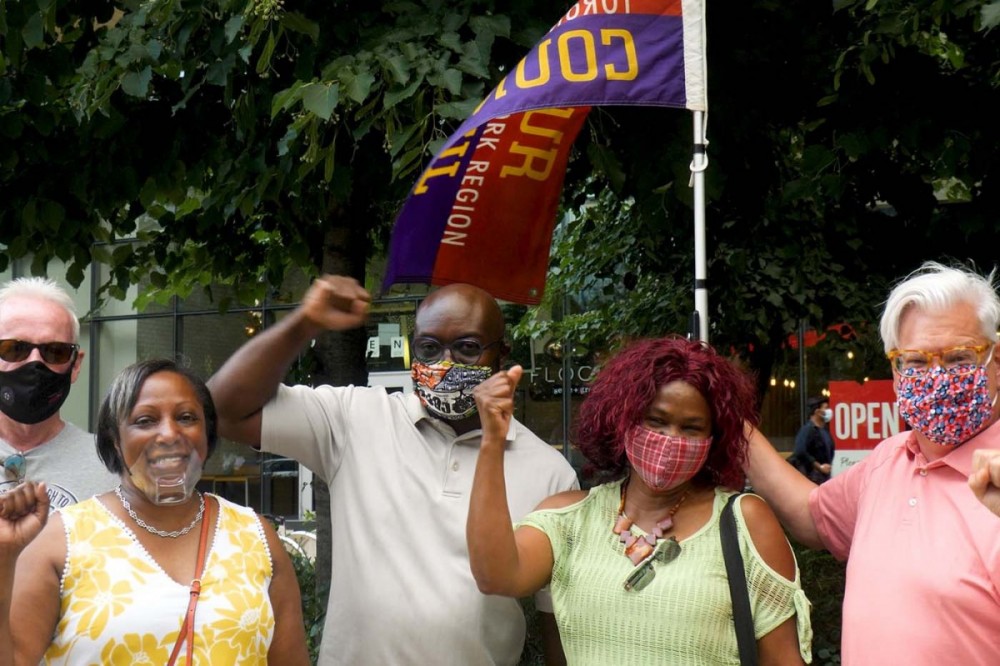 We have had healthcare workers die because of workplace exposure to the pandemic. We had education workers contract COVID-19 and possibly bring it home to their families. The pandemic has put a totally different light on the idea of working from home and has threatened the future of public education in ways we can only imagine. As a labour body, it is imperative that we press towards a just and equitable recovery that benefits workers, their families and the communities that we live in.
MB: What do you see as some of the most pressing challenges that the labour council faces and what do we need to do as a movement to overcome those challenges?
AB: I have felt for some time, that even before COVID, labour was entering a state of crisis. Unionization rates are low, and the rise of new industries like the gig economy are threatening so many of the gains that we have made. Now the pandemic and its fallout have only made conditions more intense, more immediate — and the situation for working people in this country more dire.
For labour to succeed, we need to circle back, and refocus our energies on what's most pressing. One thing I've observed, in the 20-plus years I've had in the movement, is that labour always has a lot of balls up in the air — the class war is being waged against the working people in this country on so many fronts that it forces us to spread ourselves out to fight every battle. Sometimes, though, I think we spread ourselves too thin. If we don't make time to really engage with our members, make time to really organize workers who don't have a union, then we will continue a slow march to defeat that is dotted with flag waving at rallies, but no real gains for working people.
I Want Working People to Win
But I want to win. I want working people in this country to win. To do that, I want to refocus our efforts on organizing, and making sure member engagement increases. We need to get to a place where strikes, picket lines and job actions are our primary focus, and that we've done the work beforehand to ensure workers are ready to go all the way. That means solidarity. And for me, solidarity can't just mean posting your support online. We need people to show up to pickets, show up to strikes, and let workers know "I am with you to the end," and mean it, because to win it takes numbers, so that when we show up the employers are worried that we're there.
To get that kind of energy back into the labour movement, I think one of the main things we need are victories, plain and simple. We need to show workers the power of the movement through our actions, through their material gains — not just words. It seems obvious, but if we can't win these fights, people won't want to engage, which just ensures more losses for us in the future. People need to be ready to fight — ready to really fight like hell. But first, we need to show them it will be worth it.
If there's one thing that COVID showed us, it's that the bosses aren't bluffing. We need to show them that we aren't either.
MB: Recent discoveries of unmarked graves on the properties of former residential schools across Canada have forced Canadians to rethink what some would describe as a common Canadian narrative. A narrative which describes Canada as a diverse melting pot of tolerant and polite people without the horrific racial tensions experienced in the United States. Many for the first time are using words such as Reconciliation as it relates to Indigenous communities. What does Reconciliation with Indigenous communities look like to you and what role, if any, would be the role of labour in this process?
AB: This was a very troubling revelation to me as an individual. Labour has been a part of seeking justice for Indigenous people for some time now, but this just shows us how little has been done on the part of the government to make things right. In 2015 when Justin Trudeau came into power, there was a slight glimmer of hope that maybe things could change, but he has failed Indigenous people in this country at almost every turn.
Now Isn't the Time for Another Inquiry
We hear things now about panel discussions, researching questions, sending problems off to big think tanks to be solved, and while I am happy that people's voices are going to be heard, the truth is this: we know the problems the Indigenous community face — they've been crying out in pain about them for years!
Now isn't the time to send off another delegation, to start another inquiry, the time now is for action. Action means listening to the calls already being made by Indigenous leaders, like enacting all the recommendations from the Truth and Reconciliation report, getting clean drinking water to every community, and the federal government must stop taking residential school survivors to court.
For labour's part, together with CBTU [the Coalition of Black Trade Unionists] and ACLA [the Asian Canadian Labour Alliance], bringing Indigenous leaders into our institutions is just going to have to be part of our DNA. I'm proud that we have a history as a movement of marching for Indigenous people and their rights, backing them up with actions, but we can always go further.
Unions need to take stock of the Indigenous members they have, and do what they can to identify the young Indigenous leaders and get them into positions in the union where their voices can be heard. We need to educate our other members on Indigenous members' struggles, continue to show up to actions, and start seriously thinking about how we can give labour's strength to Indigenous people in the country, at the job site, in the streets, and at the voting booth.
Some of our biggest unions are government unions, and we need to start getting creative about how we can use our leverage there to move the needle. We can't just think about our contracts as being a tool for the workplace — we can win gains in the community as well. If the sector we are fighting in can have a positive impact on the Indigenous community, we need to get justice for them in the streets, and at the bargaining table.
MB: What do you see as the future of work and workers' rights, especially in Canada? What do you feel is going to change, and what will we need to struggle to improve?
AB: If we went back in time 30 years, and thought about the future of work and the impacts it would have on the labour movement, the struggles that it might bring, we might be talking about the atomization [good, stable jobs becoming precarious gig work] of a few factory jobs, or a few sectors that were crossing the border, but things have changed now. I would say now that no matter what sector you're in, changing technology has made work a whole different thing.
A big one that comes to mind is the fight around hybrid learning in the education sector. This was an industry that I don't think many might have imagined would be threatened with the major upheavals that we see now. Ontario's Conservative government is using COVID as an opportunity to slash education budgets and lay teachers off by forcing them to do double time, teaching in the classroom and on the computer.
The government is trying to lay people off, threatening not just the well-being of workers today, but the job prospects of the workers of tomorrow — all the while our students will suffer too, as their learning is negatively impacted by the cuts.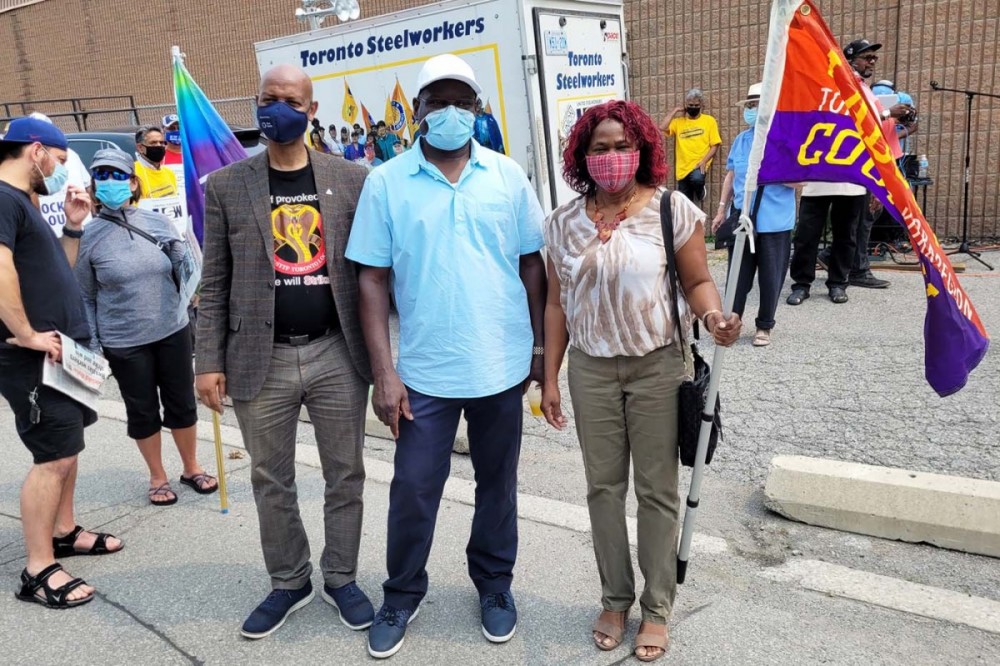 Corporations in all sectors are learning lessons from the pandemic, and for workers that means job losses across the board. The bosses are keen to squeeze workers, who have been made desperate due to the pandemic, to work twice as hard, while they rake in record profits in some cases. It's affecting white-collar work as well. The 'Zoomification' of work means that offshoring, odd hours, and the blurring of the line between work and home allow the bosses to get more out of workers, while those same bosses save money by not renting out an office space.
These sorts of changes have now become the norm, and customers are starting to expect it. For me, to win the fight to show workers are still needed, union density in the labour movement should be our main area of focus. We need to get unionization rates up higher than they've ever been and build up a consciousness in society, so that we are making sure corporations work for us, not just for the bosses' profits. This is going to be a huge fight in the next five years.
MB: What are some of the struggles and victories from labour's past that inspire you the most?
AB: When I need a moment to regain my strength, and remind myself why we're fighting and what we can accomplish, I always think back to 2009's Hotel Workers Rising Campaign, which was organized by my own union, UNITE HERE. For me, it represented everything that the labour movement can be when it's at its best.
Workers, the community, even the church, all came together to lift hotel workers above the poverty line. We're talking about a group of workers who, like me, were mostly immigrants, women and People of Colour. These are groups who are normally the most marginalized in our society, but they didn't have to fight alone during that campaign. I'm very proud of that, and sometimes I'm not sure if I've seen such a powerful concerted effort in this region since then.
It's not to say we haven't had great campaigns with our unions, in the community, or at a grassroots level generally since then, but these efforts have been more siloed — more people who have tried to make it on their own. It's heartening to know that people haven't lost the will to fight for what's right, but my experience has taught me that we can't go alone, and that when we want to win big, like we did with Hotel Workers Rising, we all need to come together. Hotel Workers Rising showed how strong we can be, so it's a campaign I'll always remember.
MB: Organizations such as the Coalition of Black Trade Unionists (CBTU), the Asian Canadian Labour Alliance (ACLA) and others have a long-standing working relationship with the Toronto & York Region Labour Council. What do you see that relationship looking like during your mandate? Are there areas that these organizations have in common with the work of the labour council, and do you see any opportunities for collaboration?
AB: One of my main areas of focus is going to be around racism in our unions. This is something my predecessor John Cartwright made strides in, with his work around equality, and it's an area that's close to me personally as well, so I believe it makes sense that CBTU and ACLA collaborate with me there.
I think one of the first pieces of this puzzle is to look inside our own home: labour. We need to come together and build a plan which allows us to eliminate racism in our unions. It can't just be those of us inside the unions and the leadership at the top that makes this strategy, though. This is an issue that affects all of us, and I believe it is vital that we bring in leadership from CBTU and ACLA, but also from the community, to work on this together.
This is the sort of initiative that I want to have some recognizable faces in, not just community leaders we know and respect, but a new generation of young leaders who we teach, who we educate, and then grow the movement with them.
When I hear about things like workers finding a noose on their equipment at a job site, it makes me sick to my stomach. I dealt with this sort of intolerance when I first moved to the country, but I can't stand to think of another generation of young people growing up like that. I view this as such an important issue for the labour council, and I don't tend to think of CBTU and ACLA as separate groups at all, but as central parts of the council itself.
____________________________
"Ultimately a genuine leader is not a searcher for consensus but a molder of consensus," said Dr. Martin Luther King Jr. The sheer size of the Toronto & York Region Labour Council brings with it a tremendous responsibility, while simultaneously demanding strength, resilience and determination from its leaders. Advocating for a just recovery in the wake of a global pandemic is not an easy task, and not one that Andria Babbington and her team take lightly. What is clear is that overcoming difficult challenges in a post-COVID climate will inevitably become part of the day-to-day operations of Canada's largest labour council.