My gonzo non-journalistic style seems unsuited to the theme of this issue of Our Times. So be warned: this WebWork could be (should be?) retitled: settler with labour magazine column goes looking to fill the gaps in his knowledge and finds those gaps are bigger in size and greater in number than he thought. So he has some work to do. Which he will start on while researching and writing this column.
Now it could be I'm the only settler out there with this problem. But on the off chance that you, dear reader, are also a settler and one who was, until now, equally deluded, here are a bunch of online resources that can help fill those gaps.
Take a step back and you'll see that one striking thing about a lot of what's out there has been designed by Indigenous folks for a settler audience. It's hard not to see this as the result of Indigenous folks getting more than a bit frustrated with how the rest of us are approaching the Truth and Reconciliation process. Give that a moment to sink in before you decide you haven't the time for any of what's listed below.
At my advanced age I spend a fair bit of time trying to forget that I once had negative opinions about things I now love. And vice versa. MOOCs, Massive Open Online Courses, are one of these. Where once I trashed them, the pandemic has brought me around.
The University of Alberta is big on MOOCs. For our purposes, one of their most interesting offerings is the course Indigenous Canada, offered by the Faculty of Native Studies. Twelve lessons, taught by Métis writer, lawyer and educator Chelsea Vowel, filled with lots of good stuff, all available online to do at your own pace. If, like this settler, your knowledge of where things are for First Nations, Métis and Inuit people is based on informal learning and the news media, this, or something like it in book form, is a must.
Best thing about it? The course, meant for non-Indigenous folks, is designed to impart "a basic familiarity with Indigenous/non-Indigenous relationships," so it promises to be productively uncomfortable. Oh, and it's free.
Also free, and with a similar mission, is Reconciliation Through Indigenous Education from the University of British Columbia.
TRUTH, RECONCILIATION AND LABOUR
Now let's throw in labour unions. Indigenous People, Wage Labour and Trade Unions: The Historical Experience in Canada, by settler academics Lynne Fernandez and Jim Silver is a CCPA (Canadian Centre for Policy Alternatives) publication, one that's available as a free PDF to download. The only disappointment? At 12 pages plus a substantial, really lovely, bibliography, it's far too short. Then again, it's meant to be a survey — an introduction to a very broad topic.
Suzanne Mills, also a settler academic, and a labour studies prof at McMaster, whose body of work stretches from the early 2000s to the present day, has a history of doing lovely stuff; vivid sociological (but don't let that turn you off) studies of intersecting solidarities in odd places, amongst workers who have richly complex relationships in and out of their shared workplaces.
Her 2007 article "Limitations to Inclusive Unions from the Perspectives of White and Aboriginal Women Forest Workers" can be found in Just Labour: A Canadian Journal of Work and Society. Her more recent work includes the 2016 "Lands and Resources for Jobs: How Aboriginal Peoples Strategically Use Environmental Assessments to Advance Community Employment Aims," which appears in the Canadian Journal of Public Policy. For more info about her publications, see her bio on the McMaster University site.
CUPE Saskatchewan's version of the course Unionism on Turtle Island is one attempt to transform relations between Indigenous workers, both those in and outside of the union, and union leadership. Other unions including SGEU, PSAC, Unifor and the Steelworkers have also adapted the course for their members. And we shouldn't forget CUPW, which has a course on offer called, simply, Turtle Island.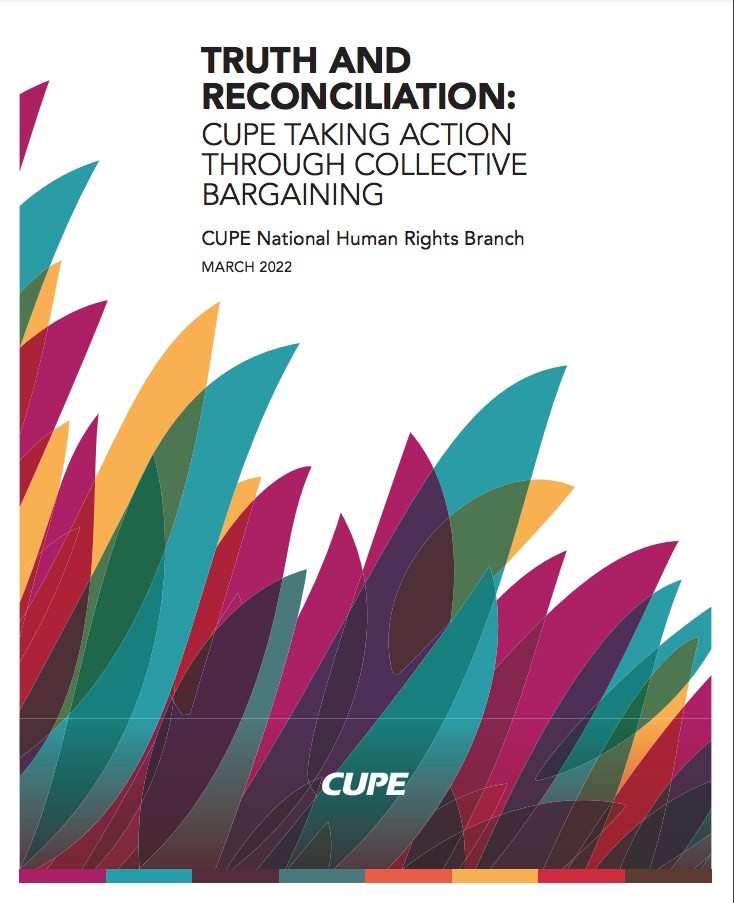 A more recent contribution CUPE has made is a bargaining guide meant (let this not be just pious hope) to be used by all its local unions.
"Truth and Reconciliation: CUPE Taking Action Through Collective Bargaining" was released in March 2022 by the union's national human rights branch. If applied, it could mean great things.
Less encouraging is the reaction I got when I contacted education staff at a few different unions. Education efforts around Truth and Reconciliation are not getting near enough uptake amongst settler members. There are some regional exceptions, but not many.
But for an idea of what unions aspire to, there's probably no better example than UFCW's policy (and all that comes with it) supporting Indigenous self-determination. That includes the union's annual National Indigenous Peoples Conference. Have a look at "UFCW Canada: Our Commitment to Reconciliation 2021." (Note that UFCW's support for self-determination is really a social justice position unrelated to the union's organizing efforts and all the other organizational interests and imperatives that too often cloud union statements on Indigenous issues and too commonly boil down to "we love you, we support you, sign a card.")
And then there's this fascinating development. All Nations United (ANU), "Canada's first Indigenous-led union" was just founded, literally just, in March 2022.
LOOKING SOUTH
Now let's look outside Canada. Take Brazil. By the time you read this the Brazilian presidential election and the tight race between Lula and Bolsonaro will be over.
In both Brazil and Peru, forced labour and slavery are common in the Amazon region. And, according to the International Labour Organization (ILO), Indigenous people are frequently targeted. Read the ILO article "Justices of the Peace, allies in the fight against forced labour in Peru."
We know that the pandemic's impact has been to greatly increase the numbers of people living in slavery. Inevitably that means Indigenous workers have suffered, and will suffer, disproportionately. Few nations are moving to do much on this front. The ILO's Indigenous and Tribal Peoples Convention, Convention 169, has, after 30 years, been ratified by just over 20 ILO member states. Pitiful.
Ten years ago, the ILO conducted a training session for senior national trade union leaders from around the world, on best practices for implementing 169. As far as I can figure out, there wasn't a single representative there from Canada. If we were indeed unrepresented, we weren't alone. A grand total of 20 union leaders, from the whole world, attended. See the report "Implementing the ILO Indigenous and Tribal Peoples Convention No. 169: Towards an inclusive, sustainable and just future."
It's not all bad news, though. Amongst trade unions, Brazil's CUT, with support from the global union federation Building and Wood Workers International (BWI) — most of the people who are enslaved in the Amazon basin are forced to work in forestry and construction — seems to be playing an important role providing meaningful material and political support to organizations like Mato Grosso do Sul State Indigenous Workers' Association. MGSSIWA has managed to liberate over 1,600 workers in the past decade or so. So successful have its efforts been in the sugar industry that, for the first time, harvesting machinery is appearing on plantations.
Why? Because as pressure on those who enslave others rises, the cost of labour rises and mechanical harvesters become more attractive to plantation managers. (The difficulty is that mechanization has not ended enslavement. It has merely shunted many Indigenous workers into other jobs.)
Sadly, the union which represents staff at Brazil's FUNAI, the country's Indigenous protection agency, regularly has to report attacks, including assassinations, on anti-slavery and other Indigenous advocates. Think good thoughts about the union's activists — in addition to the resistance they face in their day jobs, they have been known to act as human shields in their "free" time.
Lucky for you, readers aren't treated to my work process. Something that messy deserves to be hidden away. And this WebWork was messier than most. When I first sat down at my desk, I thought "I know more than a bit" about all this. I have some buttons, an orange tee and I keep up on the news. I've read the Truth and Reconciliation Commission's 94 Calls to Action.
Which is why, if you're like me, you'll want to head on back to the top of the page and give some serious thought to those MOOCs I mentioned. This settler, I have discovered, has much to learn.
This WebWork is dedicated to the memory of Maxciel Pereira dos Santos, a FUNAI officer murdered in 2019, and to his comrades who continue the struggle, in Brazil and everywhere. Derek Blackadder is the coordinator for LabourStart in Canada. Email him with your feedback and ideas at derek.blackadder@sympatico.ca.