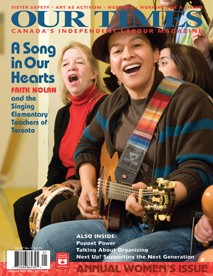 February-March 2008
Features
NEXT UP

Every Friday, Tria Donaldson travels six hours by bus from Kamloops, B.C., to Vancouver to take part in "Next Up," a new leadership program for young people committed to social and environmental justice.

COVER STORY: A SONG IN OUR HEARTS

It's a windy winter day in downtown Toronto and the teachers' group called the Singing Elementary Teachers of Toronto are recording "One World" with singer Faith Nolan.

PUPPET POWER

With her talented hands, Vancouver's Diana Jeffries creates puppet figures that become magically infused with their own personalities. And some of them are talking union.

TALKING ABOUT ORGANIZING: SEX, RACE AND SACRIFICE

How does gender and race affect the experience of organizing? And what can these experiences tell us about our labour movement and its future?
Departments
NOTES

Time for Public Child Care * School in Cuba * Union Women's Survey * Saskatchewan Attacked

DEAR SISTER SAFETY

I work at a computer all day and suffer from eye strain. Is there anything I can do?

WEBWORK

The second instalment in our new regular column about online resources for union activists,this time for union women in particular.

POETRY

WORKING FOR A LIVING: THE DANCE

A one-way ticket to grad school, which was to be my permanent escape from menial labour: this was definition of exotic dancing.

REVIEW: WILD FIRE: ART AS ACTIVISM

Wild Fire: Art as Activism engaged my longing for more irreverent activism, my growing thirst for more creative forms of political practice.

REVIEW: HOUSEHOLD WORK

The film Household Work: More Than It Seems, isn't just about scouring out the bathtub and killing off dust bunnies.

COMMENTARY: WHAT'S IN A WORD

You can tell a lot about what's happening in the world by words and phrases that appear out of the blue, like "warcost" and "monetize."