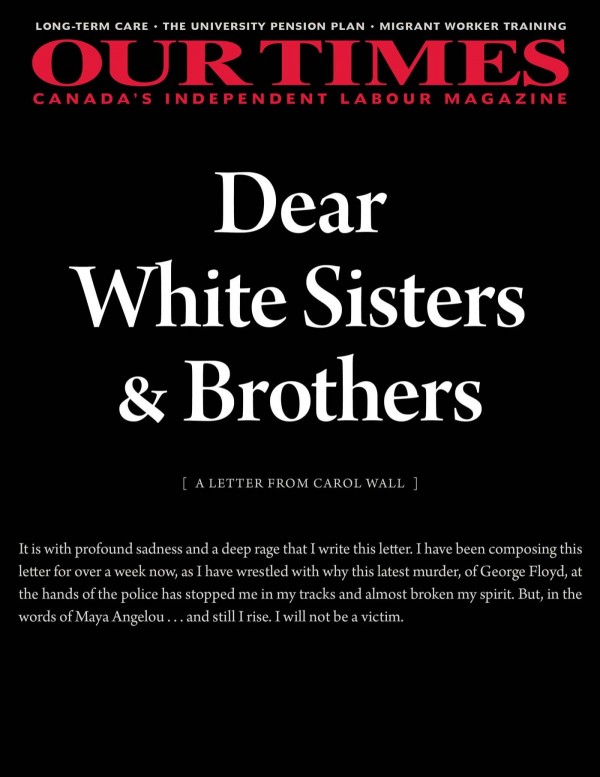 Summer 2020
Features
Dear White Sisters and Brothers

You are receiving this letter because I believe you care, and you want to act.

TRANSFORMING LONG-TERM CARE IN CANADA

Reclaiming the original vision of medicare can help us move beyond a broken long-term-care model.

A SUSTAINABLE PENSION PLAN FOR ONTARIO'S UNIVERSITY WORKERS

Over a decade of work by countless dedicated activists led to the groundbreaking University Pension Plan Ontario.
Departments
THE TIME HAS COME

Two things have hit Canadian society with a vengeance, and both have laid bare the anti-Black racism that exists here. There is much work to do.

OUR TIMES TALLY

Percentage decline in employment for high-wage workers in Canada from February to April 2020: 1 Percentage decline for workers making less than $16 per hour in Canada during the same period: 51

CARE WORK IS CLIMATE WORK

Care work is exactly the type of employment we need to invest in as a cornerstone of a Green New Deal.

ZOOMING IN POST-PANDEMIC TIMES

What about making meetings via videoconference the standard rather than just a COVID-related exception?

A TRAILBLAZING LIFE THAT LIT UP THE ROOM: MEGAN WHITFIELD (1968-2020)

"Megan Whitfield was a leader who touched and changed so many lives. She commanded a presence."

MIGRANT WORKERS TRAINING IN AFRICA

A new project aims to equip Kenyan workers coming to Canada with the information they need to stay safe.

GUILTY UNTIL PROVEN INNOCENT

44

BEST OF THE UNION PRESS

BC TEACHERS SPEAK OUT ABOUT COVID-19 AND THE ANTI-ASIAN PANDEMIC

"With any teaching around equity and inclusion, we need to re-examine our own experience first," says teacher Joe Tong.

BLACK WOMAN IN GREEN

For Gloria Brown, "visiting the forest was like going into a dark room and having the light come on slowly to reveal a new world."

THROUGH TEAR GAS AND TIME

Will we learn how to move past policing as the brutal and blunt tool it now is?