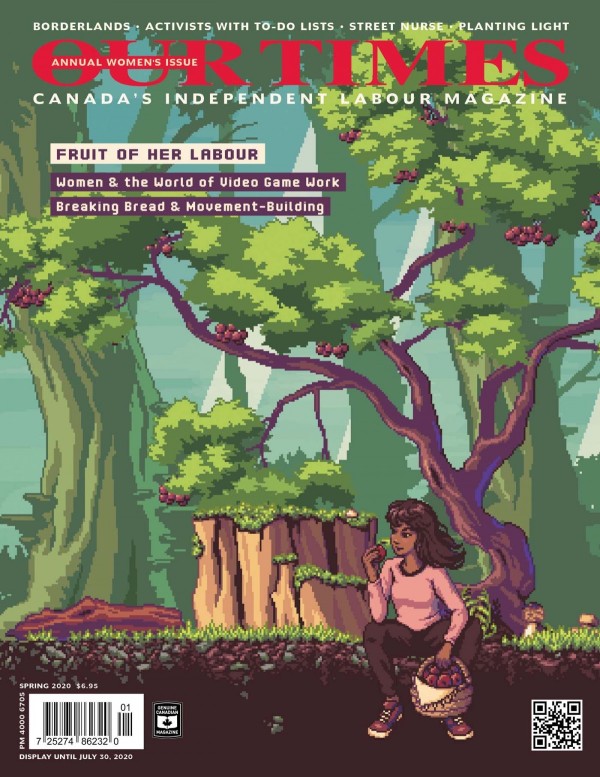 Spring 2020
Features
LEVEL UP

Unprecedented attention is now focused on unionizing the video game industry, and women are integral to the movement.

BREAKING BREAD

"Folks think that labour is all about strikes," activist Gogi Bhandal says. They need to know how much labour does in the community.
Departments
Upfront

Foodora Workers' Historic Win • Affordable Housing for All • Paid Domestic Violence Leave • Jesse Wente • Our Times Online • Kickstarter Workers Unionize • COVID-19

OUR TIMES TALLY

Rank of the military as the profession that women believe is the most difficult for them to advance in: 1. Rank of politics: 2

HOW NOT TO BUILD PUBLIC TRANSIT

Shrouded in corporate secrecy, Ottawa's Light Rail Transit expansions have quickly become the city's most expensive mistake.

MAX YOUR SECURITY AND BUILD A WEBSITE

A website will anchor your campaign, and save it if your social media presence is compromised.

A PEOPLE'S COALITION FOR JUTSICE AND SURVIVAL

"Why is it only the environmentally destructive practices that we're allowed to participate in?" asks Sherry Pictou, former chief of the L'sitkuk Nation.

A KNAPSACK FULL OF DREAMS: MEMOIRS OF A STREET NURSE

Many of the men and women living in Toronto's Tent City were labourers; drywallers, roofers, and steelworkers.

ACTIVISTS WITH TO-DO LISTS

How to make a difference without burning out is not something we often discuss in activist spaces. But we need to.

GIG WORKERS AND TAX CHEATS

Darlene and Connie belong to a growing number of senior women forced to take on gig work to survive.

PLANTING LIGHT

HOW MAY I HELP YOU?

I lamented when a woman said, "Look at that tall thing; she can't even butter a goddamn bagel."

1919: A GRAPHIC HISTORY OF THE WINNIPEG GENERAL STRIKE

From the moment you pick up this book you get the impression you're holding something special.

BORDERLANDS

What price passports and borders in the future?