On December 18, International Migrants Day, the United Food and Commercial Workers Union (UFCW Canada) launched a petition calling for Canadian governments to protect the labour rights of migrant agricultural workers. "Without agricultural workers," it reads, "much of Canada's food supply would collapse."
UFCW Canada is one among several unions and labour bodies taking action on behalf of migrant farm workers in Canada.
In June, for instance, leaders of the Ontario Federation of Labour joined the Solidarity Caravan for Migrant Workers, organized by the Migrant Workers Alliance for Change. Unifor, in collaboration with the Migrant Rights Network, recently released an anti-racist fact sheet tackling myths and misinformation about migrant workers in Canada. In September, the Ontario Public Service Employees Union (OPSEU) organized the Rally Against Racism Towards Migrant Workers, in Leamington, Ontario. This year, over 50 unions, labour councils and federations across Canada have signed on to the Migrant Rights Network's petition calling for full immigration status for all. These are just some of the more recent acts of solidarity.
"The right thing to do, the human thing to do, is direct solidarity among workers," says Santiago Escobar, a national representative with UFCW Canada. "Solidarity, coming from unionized workers, to protect the most vulnerable workers. Every General Assembly, our members [have] voted to keep supporting and providing funding to support this work. I think it's our social responsibility, our political commitment, to protect workers. This is what we do."
On August 10, 2020, UFCW Canada released a report called "The Status of Migrant Farm Workers in Canada, 2020." It details some of the key issues that migrant agricultural workers have been facing for decades in Canada. The report was launched in the midst of a media spotlight on the heightened vulnerability of these workers in the context of the ongoing COVID-19 pandemic.
"Canada's migrant agricultural workers work in conditions where exploitation and abuse are common," it reads. And, according to UFCW Canada, seasonal workers make up half of Canada's agricultural workforce. In 2019, Employment and Services Development Canada issued 72,000 permits to migrant farm workers.
"We don't want to exclude anyone," says Escobar. "We want to improve the industry for all workers. Because it doesn't matter if you're local, or if you're a foreign worker — at the end of the day, we are all workers and we deserve to be treated with dignity and respect."
Escobar is part of a team of UFCW national representatives who support workers who are not unionized, including migrant workers.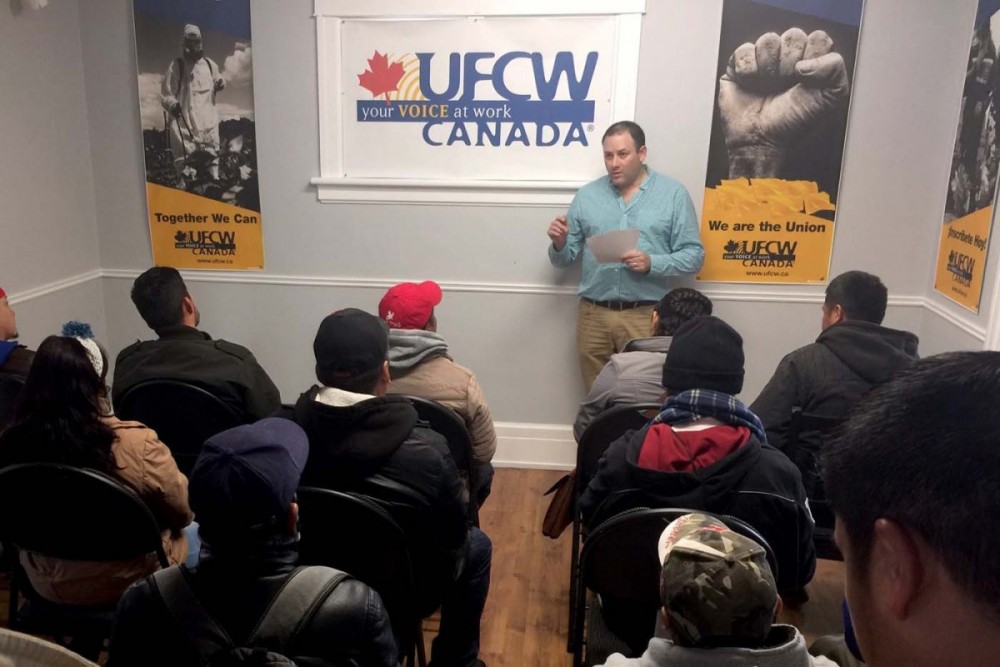 Over the past 30 years, UFCW Canada has worked on a number of initiatives to defend the rights of migrant agricultural workers, including establishing migrant worker support centres across the country; working with community organizations; taking legal action at the provincial, federal and international levels; and working with governments and labour organizations in countries sending migrant workers to Canada, promoting education and facilitating trainings.
"We think that this issue is a labour issue," Escobar tells Our Times via phone. "I think [it] goes beyond immigration, because we are claiming that the core issues of what migrant and agricultural workers are experiencing across Canada is the lack of labour rights. Because it doesn't matter if you are a Canadian national, or if you're a foreign national, if you work in agriculture, you know, your labour standards and wages are very low."
Low Labour Standards
Escobar calls migrant farm workers "the most precarious workers among precarious workers." "They're in an industry with very low labour standards," he says. "And on top of on that, with precarious status."
UFCW Canada's report, which describes migrant farm workers as "Canada's most exploited workforce," details how back in 1994, agricultural workers in Ontario won bargaining rights based on recommendations from the union. These were eventually appealed by former Premier Mike Harris' Conservative government, but UFCW Canada challenged the appeal and eventually won when the Supreme Court of Canada ruled in their favour six years later.
However, the Supreme Court of Canada has since sided with the Ontario government to deny Ontario farm workers the same rights as other workers in Ontario to join unions in order to be able to bargain collectively.
The 2011 decision was the latest chapter in a decades-long battle to provide statutory labour rights protection and collective bargaining rights for Ontario's 80,000 domestic and migrant agriculture workers.
In 2001, the Agriculture Workers Alliance (AWA) was established under the leadership of the late Stan Raper, a long-time activist and advocate for the rights of farm workers.
The AWA is a membership association that advocates for and supports migrant workers. It opened its first Agriculture Workers Support centre about 20 years ago in Leamington, Ontario, and now runs support centres across Canada.
Today, the AWA has over 13,000 card-carrying members. But since the AWA doesn't require workers to be members in order for them to receive support, Escobar estimates that the AWA has actually supported over 40,000 workers across Canada.
I Think We Have Made a Difference
For instance, he explains, the union supports workers in the process of claiming various employment benefits like Employment Insurance, CPP and WSIB benefits. In 2020, UFCW Canada has also supported over 100 migrant workers in receiving the Canada Emergency Response Benefit (CERB).
"In terms of numbers, I think we have made a difference," says Escobar, since, while taxes are deducted from the workers' pay cheques, "they can barely get [the] benefits. So we have assisted workers to obtain financial support that they pay into, and they deserve to get. That's the least the least they can get, right?"
On top of that, migrant workers outside of agriculture have reached out to the AWA for support. "So we have assisted workers from the fish industry, meat industry, agriculture workers, wood workers, you name it," says Escobar.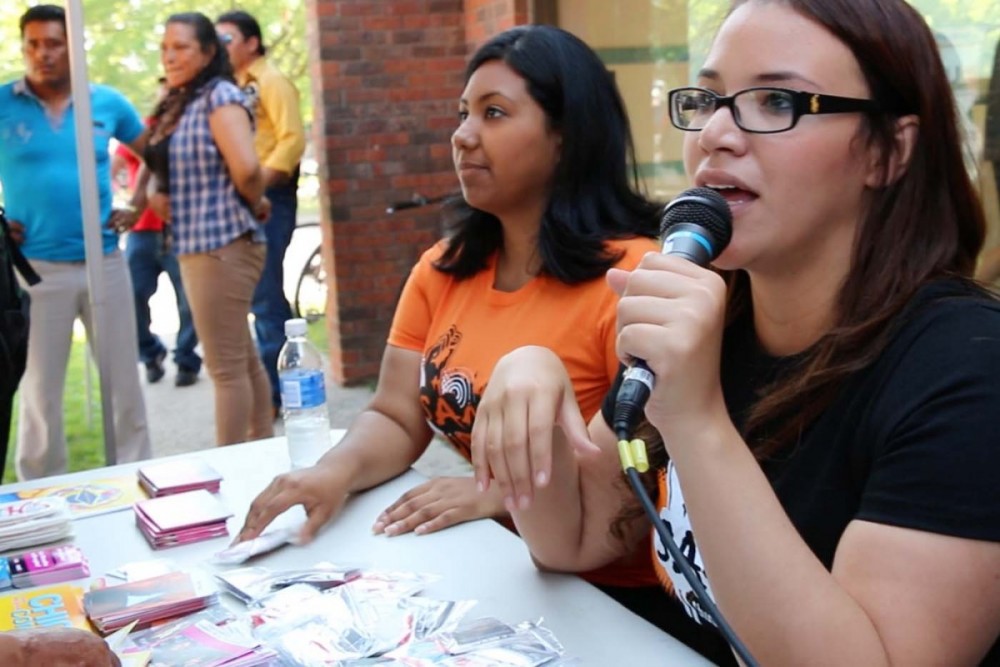 In 2003, UFCW Canada launched three legal challenges addressing the exclusion of migrant workers from the labour rights and standards enjoyed by other workers in Canada: one against the AEPA in Fraser v. Ontario; one regarding the exclusion of farm workers from the Occupational Health and Safety Act, and a third, regarding deductions seasonal workers pay into the Canadian EI program (which they do not receive benefits from).
In 2006, the union won health-and-safety coverage for Ontario farm workers, with the provincial Occupational Health and Safety Act (OHSA) being extended to agricultural workers, including migrant agricultural workers, for the first time since the act was passed in 1990.
In 2010, the International Labour Organization (ILO) upheld a UFCW Canada complaint, finding Canada guilty of a discriminatory attack on the rights of migrant agricultural workers. In 2018, the union facilitated the first-ever in-person consultations with workers and federal representatives as part of the federal primary agriculture review.
In 2019, UFCW Canada began assisting workers in submitting applications for open work permits as part of a new federal program which allows workers tied to one employer, whose applications are approved, to leave an abusive employer without having to leave Canada. Escobar estimates the union has worked on over 100 applications so far, at no cost for the applicants.
Overcrowded and Unsafe Housing
This year, UFCW Canada has made a number of recommendations at the provincial and federal level to address the heightened risks migrant workers face in the context of the ongoing COVID-19 pandemic. The alarming violations that migrant workers have faced for decades (for example, overcrowded and unsafe housing, a lack of access to health services, and fear of reprisals for speaking out), were put in the spotlight by the pandemic. In many cases, farm workers had no access to PPE (personal protective equipment) and weren't able to maintain social distance, making them, once again, one of the most vulnerable groups of workers in Canada. Hundreds of workers contracted the virus, and three workers from Mexico died.
On December 10 (International Human Rights Day), UFCW Canada launched a Spanish-language version of their report. Many migrant farm workers in Canada are Spanish speakers and come from countries in Latin America and the Caribbean. According to Statistics Canada, 51 per cent of migrant agricultural workers that came to Canada in 2018 were from Mexico.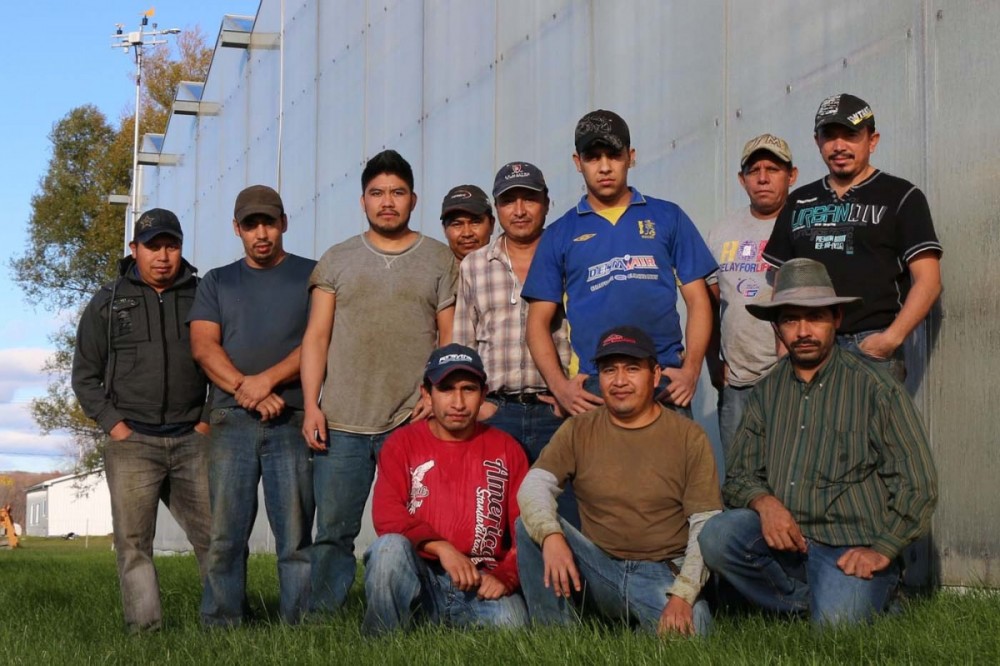 "There is much work to do," said UFCW Canada president Paul Meinema via videoconference at a press event at the Mexican State Legislature, accompanying the launch of the report. "We feel our 30 years of work has demonstrated the need for change."
In attendance were state officials from the Mexican government, including representatives from the Foreign Affairs Ministry, and UFCW Canada's representative in Mexico, Octavio Nava Manrique. Virtual speakers also included Alvaro Gutierrez, a TFWP (Temporary Foreign Worker Program) worker and Pablo Godoy, UFCW regional director for the Western provinces.
"We pledge to continue our commitment to migrant workers," said Meinema at the event. "Together UFCW and the Mexican government can make fairness a reality for Mexican workers in Canada. Together let's call on the Canadian government to make representation a fundamental right for migrant workers."
Stop the Exploitation of Migrant Workers
UFCW Canada hopes this initiative will put pressure on the Canadian government to make the necessary reforms to stop the exploitation of migrant workers and protect their rights, Godoy tells Our Times. Godoy is also UFCW Canada's Liaison for Mexico, and one of the organizers behind the launch of the Spanish-language version of the report.
"If in Canada we exhaust all our energy and the answers aren't there, we think that it's important that we go to wherever we can, to try to better these circumstances," says Godoy. "We know that labour rights and human rights shouldn't be alienable. They should transcend borders, much like the people that come here to harvest our food, and often are neglected their basic human rights."
Haseena Manek is an Ottawa-based labour journalist, and Our Times' Online Community and Outreach Coordinator. Follow her on Twitter here.