I am a proud member of Ottawa Local 580 of the Canadian Union of Postal Workers (CUPW). I've been a postal worker for a long time, working as a service technician, a letter carrier, a postal clerk, and now as a mail-service courier.

When I heard the words "legislation" and "ending the postal dispute" uttered by the federal government I felt violated and completely misunderstood as a worker. My anger over being once again legislated back to work cannot be understated — especially since this action has been taken by a government that professes to believe in collective bargaining and the right to strike.
A HISTORY OF WORKER ABUSE
Let me put this round of collective bargaining into context. In 2011, the Harper government not only took away our right to collective bargaining and our right to strike by legislating us back to work, but they did so with a vengeance. Their legislation completely tilted the field in favour of the employer, stripping the union of its right to bargain by imposing wages, the length of the collective agreement, and final-offer arbitration.

The result was devastating to our membership. Among other losses, acquired rights such as sick-leave entitlement were rolled back. As well, all newly hired workers would receive $7 an hour less than everyone else.

Our union challenged this legislation in the courts and, in 2016, we won. The legislation was deemed unconstitutional and struck down by the courts. Still, the effects were irreversible.

This set the stage for our latest round of bargaining. We made our demands clear to Canada Post management: the issues of health and safety and the overburdening of workers needed to be resolved. (Canada Post has the highest injury rate among federal workers.) Pay equity for rural and suburban mail carriers, a predominantly female workforce, had to be instituted. Unpaid hours and the absence of overtime provisions needed to be fixed, and we wanted real wage hikes based on inflation. As well, we wanted the unfair pay scale imposed in 2011 on new hires addressed.
In early 2018, CUPW served Canada Post notice to begin bargaining. After eight months of negotiating in the hopes of reaching a collective agreement, with no movement from Canada Post, our union leadership asked us for a strike mandate, and we gave it to them: 93 per cent voted in favour of strike action if no agreement could be reached.

After several failed attempts at mediation, Canada Post presented our union with a "global offer" that failed to address any of our concerns or demands. This was flatly rejected. Our union countered with a global offer that took into account management's offer as well as the demands of the union membership. Canada Post rejected this proposal.

On October 22, CUPW exercised its members' right to strike with the aim of reaching a collective agreement with Canada Post, one that met workers' concerns. In order to limit the strike's impact on the public, our union opted for a rotating-strike strategy and began shutting down locals one at a time, and for a day. There was only a minor disruption to service over the proceeding five weeks of rotating strikes.
MAIL BACKLOG BLARNEY
Still, Canada Post turned to the media and government claiming there was a crisis in the postal system and, within a week, the public was to understand that there was a full-blown postal apocalypse, with an apparent history-making backlog of mail.

Then, in what was clearly a public relations move, Canada Post tabled its second global offer, not very different from its first one. Once again our union rejected this offer and once again it countered with an offer that addressed our membership's demands.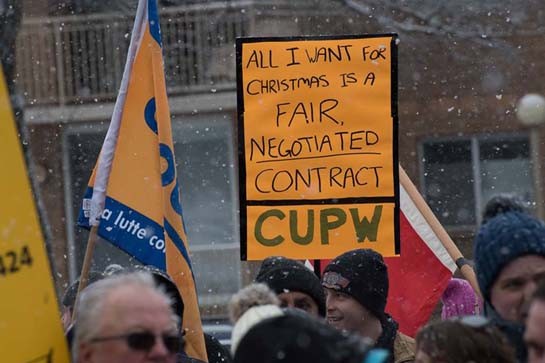 Enter the Liberals who, since elected, have publicly stated they believe in collective bargaining and the right to strike. On November 20, Labour Minister Patty Hajdu told the press that the Liberal government was reappointing a special mediator to bring the parties to an agreement. At the same time, she tabled back-to-work legislation, which requires a 48-hour notice, in case mediation failed.
A KNIFE AT A GUNFIGHT
It could be said that reappointing a special mediator was a step in the right direction. But to also add the immediate threat of back-to-work legislation was, as the saying goes, like giving one side a knife at a gun fight. Canada Post had already proved its reluctance to negotiate and no doubt preferred to see its workers legislated back to work. Why would 48 hours change anything? It did not.

On November 22, the Liberal government went back on its word to labour and introduced back-to-work legislation in a fast-track process that limited debate. Late Friday, November 23, the legislation passed in the House of Commons and was sent to the Senate. The Senate passed Bill C-89 on November 26. On November 27, although we could have defied this no-doubt yet-again illegal and unconstitutional legislation, we returned to work, ceasing all strike actions.

Postal workers like me, and labour activists across the country, are outraged that, once again, our rights as workers have been removed. Labour unions across Canada have pledged money in support of the struggle if need be. Labour unions and supporters set up picket lines across postal facilities, shutting down the system in support of the 50,000 postal workers — actions that continue as I write this.
THE RIGHT TO STRIKE
This much needs to be clear: the right to strike is an indispensable component of collective bargaining. When good-faith negotiations break down, a fundamental way for us to be able to participate meaningfully in the pursuit of our collective workplace goals is this: to collectively stop working and withdraw our services. Indeed, this is exactly why the right to strike is constitutionally protected by the freedom of association guaranteed by the Canadian Charter of Human Rights and Freedoms.

People ask me what I like best about my job at Canada Post and I always answer the same: my union and co-workers and the customers we serve. When it comes to what I like least about my job, it would have to be the injuries and the toll they have taken on my body over the years. I have had three knee surgeries, broken ribs, a full hip replacement, planter fasciitis, numerous slips and falls, not to mention many aches and pains. Still, I love my job.

As a worker and a union member, I know there is only one way to improve working conditions and that's through the collective-bargaining process — and the right to strike if agreements can't be reached. To take this right away is completely disrespectful and immoral. It fundamentally infringes on our Charter rights. Taking this right away has no place in a free, democratic country.