While messages of support for essential workers are well-warranted during this ongoing pandemic, a select group of essential workers has largely been forgotten — abortion providers and frontline abortion workers.
Abortion, despite being legal for decades, is still considered a taboo topic in many circles, and abortion is still inaccessible for many in Canada. According to Action Canada for Sexual Health & Rights, roughly one in three women will have an abortion at some point in their lifetime. We know the procedure is common, and that many Canadians are still sexually active throughout this pandemic. (In fact, many sexual health workers are predicting a post-pandemic baby boom.) While pandemic anxiety is becoming a mental health epidemic of its own, being pregnant during these times can add a whole new layer of stress.
So, why haven't we heard much about our abortion workers?
Jessa Millar of Planned Parenthood Ottawa (PPO) says her organization has been receiving "more calls recently from folks who are concerned, stressed and anxious about how the pandemic has affected reproductive care." PPO provides education, research, pregnancy-options counselling, and referrals. The organization is regularly in contact with abortion providers in Canada and often serves as a link between providers and potential or future patients.
"There is a bigger sense of urgency about getting things done, and an anxiety about the risk associated with being in a clinic," explains Millar.
Recently I walked to my local pharmacy, which is attached to a walk-in clinic. Maybe it was the nurses in the hazmat suits, visible through the windows, but Millar's mention of medical facilities inducing a new kind of anxiety during these pandemic times sprang to mind. Abortion is highly time-sensitive and often emotionally charged. Coupled with pandemic-related anxiety, this creates fear and premature hopelessness among those in need of the procedure. As Millar mentions, "the thought of just being in a medical space is stressful for many."
Unfortunately, much of this anxiety is justified. In terms of abortion accessibility, Statistics Canada reports that over six million Canadians live in rural areas, and in provinces like Alberta, Saskatchewan, Manitoba, and Ontario, abortion providers are simply out of reach outside of urban settings. In New Brunswick, we've heard outcries over the closure of Clinic 554 — the last free-standing abortion clinic in the province.
Whether someone in need of an abortion is dealing with job loss or has a job, it's a catch-22: if you are employed and live in rural New Brunswick, for example, and have children, and you need to travel to an urban area to get an abortion, what are you to do if you can't get time off work, or if you can't find someone to care for your children? What if you need to fly for an abortion, as many of those in Northern communities must do? And for those who are immuno-compromised, flying, or travel of any kind, poses what may well be a life-or-death risk. It's clear that many people are facing particularly pressing barriers.
Abortion providers are keenly aware of the lack of abortion access in this country. All medical workers are facing unprecedented pressure during this pandemic, but if you're an abortion provider in an area with limited access, that pressure is tremendous. According to Action Canada for Sexual Health and Rights, nine provinces and territories have five or fewer abortion providers — the exceptions being British Columbia, Nova Scotia, Ontario, and Quebec. So few providers in most Canadian provinces and territories means increased dependence on those we do have. Imagine one dentist or one cardiologist in a province — the number of people waiting to see these providers would skyrocket. Add to that scenario the time-sensitive nature of abortions, and the result is a high-stress atmosphere for many abortion workers, both for providers and support workers.
Sam, whose name has been changed, works in an abortion clinic on an almost full-time basis and says, "I've found myself needing some much-deserved self-care time, but I'm often unable to even get this recuperation period, given how high-pressure the situation is.
Pro-Choice Comradery and Collaboration
The good news? The comradery among people in pro-choice networks across the country is stronger than ever. I have been working in pro-choice spaces for about two years now and, in this short time, I've found a sense of community support and mutual aid unmatched by any other community space I've been in. Jessa Millar of Planned Parenthood Ottawa speaks of how collaboration, despite limited physical interaction, is increasing as pressure rises.
Abortion clinics and community organizations like PPO along with other activist groups and support services such as abortion doulas have acted on their community bonds to try to address any access needs that have arisen or could arise during the pandemic. The activist spirit in abortion spaces has become stronger than ever amid these trying times. Sam mentions during a group Zoom call that the "saving grace has been the awesome repro community support."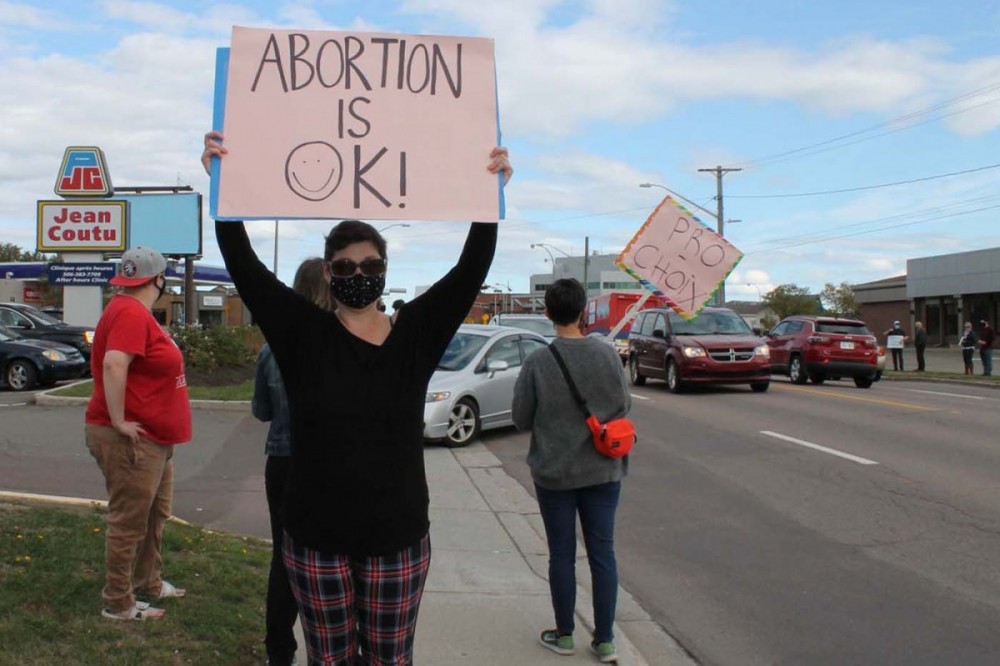 A second bonus? Due to physical-distancing measures, anti-choice activists have largely disbanded. Abortion workers in the Greater Toronto Area mention the unprecedented relief they felt once anti-choice protestors were no longer berating patients or medical staff outside of clinics. In Ottawa, where anti-choice activists seem to congregate less in front of clinics, even those few protestors are no longer there. Not only is it hard to protest while remaining six feet apart — a medical clinic is one of the last spaces many want to occupy. Moreover, many protestors are funded by their church organizations. With many in-person church services on hold, any meetings some may have around anti-choice strategizing are also on hold. Anti-choice groups are still alive and taking up space in digital arenas, but the physical protesting and the intimidation that existed in the pre-pandemic world now poses less of a threat. The biggest threat to abortion services at present is lack of access.
Measures to Ensure Services Accessible
In these uncertain times, many providers have already implemented some adaptive measures to ensure abortion services remain as accessible to as many Canadians as possible. Under normal circumstances, a blood test and ultrasound are often required prior to an abortion procedure. Ultrasounds are used to see how far along a pregnancy is, but using the date of a patient's last period for reference can also allow a provider to safely estimate the progress of a pregnancy. The World Health Organization's stance is that "ultrasound scanning is not routinely required for provision of abortion. A physical examination to assess uterine size, assessment of last menstrual period and recognition of symptoms of pregnancy are usually adequate." While ultrasounds can certainly ensure accurate dating, the lack of one should not pose a barrier to abortion.
Usually about one or two weeks after an abortion it is common to have a follow-up appointment. The World Health Organization has stated that a routine follow-up is generally unnecessary for an uncomplicated abortion, whether by surgical procedure in a clinic or with medication (using the Mifegymiso pill — the standard in Canada). Follow-ups are useful to answer any remaining questions a patient may have, to provide contraceptive counselling, and to assess and support the emotional well-being of a patient. Abortions, both surgical and medical, are very safe procedures, rarely resulting in major complications.
Given our newfound circumstances and the mobility restrictions placed on patients, many providers have begun to turn to telemedicine follow-ups. This is essentially a telephone appointment during which a provider answers a patient's questions and ensures the patient is in good physical and mental health. Through these telemedicine appointments, physical contact is reduced, money is saved, and social-distancing guidelines are more easily followed. Moreover, the potential stress or worry over person-to-person contact is reduced for physicians, patients, and all medical staff, all while keeping abortion accessible.
There has been much talk about what a post-pandemic world will look like, with many prophesizing that our world will never return to its old "normal." I can't help but think about this question in the context of abortion services. While issues of access to abortion have always been present, this pandemic seems to have exacerbated them further. The adaptive measures listed above address many accessibility issues, so I can't help but wonder if they will become the new normal in abortion services in Canada.
Millar offers a simple but thought-provoking response: "Why would we put barriers in place that don't need to be there?"
The Resilience of the Pro-Choice Movement
The most astounding observation I've made through my professional life, and during my research for this article, is just how resilient abortion workers in Canada are. While the anti-choice movement in Canada remains, the pro-choice community and its comradery are proving strong, and resistant to even the most unpredictable barriers. This heightened comradery, it seems, will not dissipate any time soon.
Sam, for one, repeatedly brings up the legacy of resilience and anti-establishment politics within the pro-choice movement — that legacy will continue to inform the new normal. While I may be an optimist, I truly foresee a post-pandemic world where pro-choice communities are stronger than ever, unnecessary barriers to abortion continue to be torn down, and the necessary nature of abortion is finally more widely understood.
Laura O'Connor has volunteered for Planned Parenthood Ottawa for over a year and learned about the abortion provider network in Ontario. She is a research assistant with the University of Ottawa and a member of the Canadian Union of Public Employees (CUPE) Local 2626.