Features
Shoulder to Shoulder
Migrant and Canadian Workers Forge Solidarity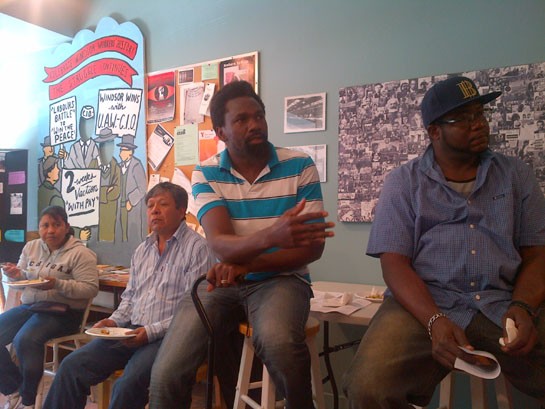 Debates on the Temporary Foreign Worker Program all too often veer towards distinctions between "Canadian" and "foreign" workers. Public rhetoric pits workers against one another, and poverty is presented as individual failure.
Migrant workers are accused of stealing Canadian jobs, driving down wages and threatening the stability of Canada's labour market. At the same time, Canadian workers, we're told, abuse available social welfare programs and prefer to receive benefits rather than do an "honest day's work." In both cases, low wages and the precariousness of available work are blamed on workers rather than on employers' decisions and Canada's trade, labour and labour market policies.
There is much less discussion about the similarities between migrant workers and Canadian workers' employment experiences, and how the threat of unemployment hangs over both groups' heads.
There are few reported instances of alliances between the groups, and of thinking about how migrant and Canadian workers could come together. In June, an opportunity arose to do just that in the Windsor-Essex region of Ontario, and we took part in it.
RESISTING FEAR, FORGING ALLIANCES
Located in the heartland of Ontario's auto and agricultural sectors, Windsor-Essex has one of the highest concentrations of migrant workers in Canada. Thousands of migrants are employed in the region's agricultural sector. Countless others are employed through the Live-in Caregiver Program, and in service sector and automotive jobs.
Windsor-Essex also has one of the highest unemployment rates in Canada. Devastated by the loss of manufacturing jobs since the 1980s, the region has an unemployment rate that hovers around 8.7 per cent.
Recently, a group of Canadian welders found themselves unemployed after their employer used loopholes in Ontario's Employment Standards Act to lay them off and replace them with migrant workers from Jamaica.
The welders contacted the Windsor Workers' Education Centre, which, in turn, reached out to the Migrant Workers Alliance for Change and Justicia for Migrant Workers (J4MW) to discuss ways for the migrant workers and the unemployed Canadian workers to explore commonalities and forge alliances, rather than allow their mutual frustrations and fears about unemployment to fester.
The goal was to try and build a different story about work and labour market insecurity in Canada.
STRATEGIZE, ORGANIZE
Advocates for global market integration and free trade regularly espouse the virtues of managed migration, flexible labour markets, the re-regulation of labour standards in favour of employers, and the weakening of our social safety net.
Workers — especially non-union workers — are provided few venues in which to discuss the links between situations in their workplaces and the large-scale production decisions made by employers, as well as the impact of governmental policies.
In bringing these groups of workers together, we hoped their conversations would help dispel the myths surrounding the "need" for austerity and expose how immigration laws and labour laws are being used to sow seeds of division amongst workers.
J4MW has hosted community dialogues in the past, often over dinner, to bring together migrant workers to discuss important themes in their lives, and to strategize and organize, together.
At previous Christmas holiday dinners, migrant workers have discussed the elimination of EI parental benefits for themselves, and the role of racism in the communities they work in. Mother's Day dinners have brought together migrant women from Guatemala, Indonesia, the Caribbean and Mexico to discuss the particular sacrifices that many migrant women have to make, including leaving their children behind. The proposed dialogue between the welders and the migrant workers was part of a larger, ongoing project of building solidarity amongst workers.
On June 8, thirty migrant and Canadian workers met at the Windsor Workers' Education Centre to share their thoughts about the current state of work in Canada, its relationship to global production and migration, and to talk about the similarities in their lives and needs.
Unemployed workers shared their frustrations at being forced into short-term, insecure work, and spoke of the difficulties of precarious and dangerous working conditions. They talked about how their employers used the threat of bringing in migrant workers to keep them in line.
Migrant workers described, in their own words, how economic restructuring and the absence of workplace regulations affected them, and how working for poverty wages affected their health and well-being.
Both groups talked about how their employers exercised control over them by letting the workers know that, if they complained about working conditions, others were available to do their jobs.
For many of the workers present, this was the first time they'd been able to engage in a conversation like this and with each other. For some, it was the first time they had been able to articulate, from their own experiences, why austerity measures and work deregulation are wrong. For others, the dialogue itself was liberating: a newfound ability to speak to each other about their experiences, hopes and fears.
There were hard moments in the conversation. There were moments when Canadian workers talked about the heartbreak of losing a job to someone they were told was willing to work for less. There were moments when migrant workers talked of their social isolation, and the racism and discrimination they faced. But all agreed that the conversation needed to continue.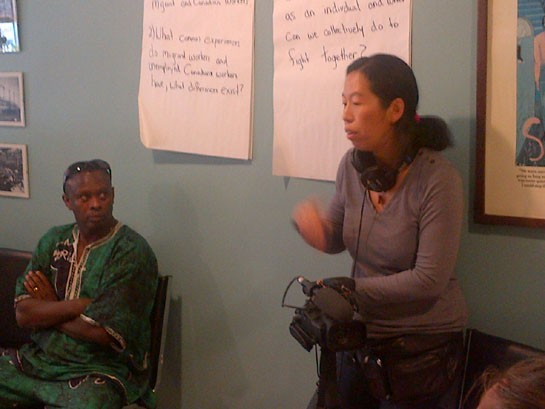 Days after the workshop, organizers with the education centre heard that the Bonduelle Plant, a subsidiary of Green Giant, in Tecumseh (a suburb of Windsor), was asking the Tecumseh City Council to rezone a plant warehouse so they could house 45 migrant workers. Politicians, community leaders, and advocates from both WWEC and J4MW sprang into action.
Some individuals expressed concern about the decision to hire migrant workers in the first place. But for the most part, community groups were moved to action not from a desire to exclude migrant workers from their community, but from a genuine concern that the proposal would segregate the migrant workers away from other residents. Moreover, the proposed housing site once served as a refrigeration unit for vegetables, which provoked significant health and safety concerns.
Using some of the discussion points raised during the June 8 forum, community activists developed accountability measures to try to ensure that Bonduelle would be accountable to the community, and that migrant workers would have decent living accommodations.
Rather than attacking migrant workers, many members of the community demanded that migrant workers be seen not as short-term labour but as equal members of the community in which they were employed.
EXERTING COLLECTIVE POWER
A recent fire at the Bonduelle plant has put the rezoning issue on hold, but the effort to bring Canadians and migrant workers together is already having a positive effect and changing the dialogue in the community.
Slowly but surely, the focus is shifting from blaming migrants for their desire to work in Canada, towards examining the legal and political choices that render migrant workers particularly vulnerable to exploitation, the same choices that permit out-sourcing, off-shoring, deregulation and the cutting of social welfare benefits — issues that affect everyone in Canada.
On August 10, migrant and Canadian workers got together again in Windsor-Essex to continue the dialogue.
Front and centre was the realization that the only way to build workplace strength and to counter oppressive laws and policies is for workers to exert their collective power.
The workers' dialogues are exciting and critically important at this time. Only by standing together, shoulder to shoulder, can migrant and Canadian workers change the narrative that seeks to divide them, and begin to build a community in which workers do not perceive each other as threats but as allies, friends, and equals.
Claire Mummé teaches in the University of Windsor's Faculty of Law, in Ontario.