Pensions are a promise
Respect the Locked-Out Refinery Workers
Four workers walking the picket line at the Regina Co-op Refinery were arrested on February 4, charged with public mischief. While they were subsequently released from police custody, the bizarre nature of the incident stands out for Unifor Local 594 president Kevin Bittman. "It's a little hard for people, in two aspects: the company isn't even trying to get a deal, and they're trying to hurt us and using the police to do it."
With video cameras at every gate of the 85-year-old diesel and gas processing facility, workers are under surveillance as they draw attention to the dishonest dealings and unfair demands of their employer, Federated Co-operatives Limited (FCL). On February 5 — day 61 of the Regina Co-op Refinery lockout — Bittman said the conflict showed no signs of ending.
He has spent 23 years working at the Saskatchewan refinery, where he is a process operator overseeing all the processing units that create diesel fuel and gasoline. More than 1,000 workers are employed throughout the complex. "We've had quite a bit of turnover," Bittman notes of the job, in which expansions typically create waves of new employees. "We have over 400 members under the age of 35." Now, the Unifor Local 594 members of all ages find themselves on the literal front lines of the Canadian labour movement in the fight for defined benefit pension plans.
"It all started three years ago, when the company wanted concessions on pensions," he explains. "The company wanted more this time. The company was adamant that we had to go backwards on our pension." Contrary to the view promoted by the business owners, the unionized refinery workers originally agreed to concessions around pensions. "Three years ago, we agreed that all new hires would no longer be on the defined benefits plan. This contract is now attacking the ability [of veteran members] to stay on the defined benefits pension," adds Bittman.
The Company Wants Us to Go Backwards
Defined benefit pension plans differ significantly from defined contribution plans, and the latter is what Regina Co-op Refinery management is trying to force on the employees. "We offered six per cent, when we were paying nothing before; six per cent of each individual's income would go into the defined benefit plan. Right now, the company is contributing all of it," the Local 594 president tells Our Times.
Moving to a defined contribution plan places employees in a risk-bearing situation similar to when someone makes RRSP investments for their retirement: Unlike defined benefit plans, defined contribution plans do not provide a guaranteed monthly income that is protected from market fluctuations and their effect on personal investments. In the case of defined contribution plans, the employer is not expected to ensure that the monthly pension amount keeps up with inflation and cost of living increases. Bittman says he will have to work an extra six years because of pension changes.
Bargaining with FCL has proved elusive and disheartening. "They never officially gave us an offer," says the process operator. "They never gave us anything to vote on." Instead, the $3-million-a-day-in-profits company has spent freely on helicopter transportation and camp accommodations for 120 management workers and 400 "replacement workers," while also buying ads asserting that locked-out Unifor members are acting contrary to "Prairie values."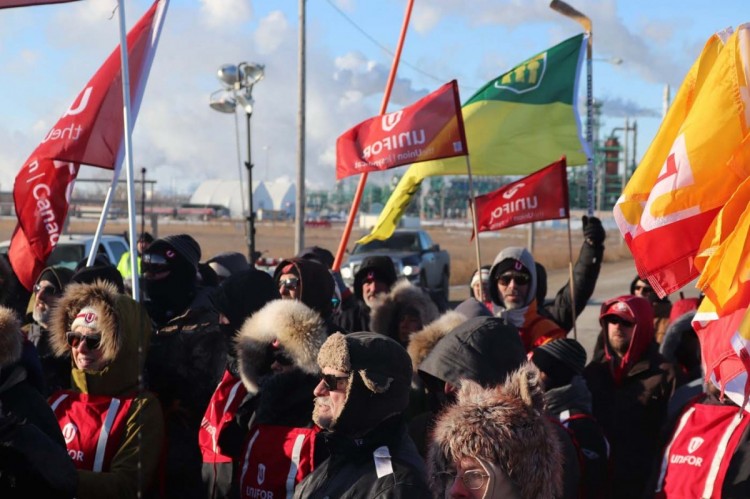 Bittman says that support from other unions and even federal NDP leader Jagmeet Singh has encouraged the Regina Co-op Refinery employees, who are surviving on strike pay as the dismal situation drags on. "The labour movement is onside," he says. At the time of this interview, there was a Western Canadian boycott of FCL-owned businesses, and the picket line had kept fuel from leaving the Regina plant for 15 days.
But there is a battle for public perception underway, and the Local 594 president fears that FCL is successfully deploying anti-union stereotypes to fuel community resentment against the locked-out workers. "What power do we have?" he asks, frustrated. "The labour movement has understood it, but you're in this Conservative province where a lot of people just hate unions. They say, 'These greedy union people They should just get back to work ' But we can't get back to work — we're locked out."
Workers Fight for Safety, Too
Back on December 4, Local 594 members delivered an unmistakable 97.3 per cent strike vote to their leadership. Since then, Bittman says that despite $20-million in savings offered to the company, FCL has rejected the union's offer and instead "gutted" the pension plan. But there's even more at risk. Bittman notes that safety measures ensuring that adequate numbers of properly trained workers handle specific duties are being altered in dangerous ways by the company's proposed changes to the collective bargaining agreement's "letters."
"The 'letters' refer to maintenance duties that are defined in the collective bargaining agreement and the company wants to remove them, and then remove language that prevents workers doing work that is someone else's job in the bargaining unit," says Bittman. "This would allow anyone to do anything. The other change would be removing a minimum maintenance-complement number. Without this number, the company could reduce the maintenance department to zero [employees]. They also want to add language to have the ability to change workers' hours of work whenever they want."
FCL has used the positive associations people have with the co-op's image and its history to evoke hostility against the very refinery that generates the bulk of the Western Canadian Co-op brand's revenue. "If it wasn't for the refinery, those little [Co-op] stores would close," Bittman observes. "It's really fractured Regina. Our members alone put $50 million into the community."
The man who is in the next-highest job to supervisor in his workplace notes that the 36 highest-paying positions in his bargaining unit are under threat, with no resolution on the immediate horizon. Federal legislation cannot bring a ready conclusion to the lockout, which falls under provincial jurisdiction, so Bittman says a provincially appointed mediator is likely the next step in resolving the ugly impasse with FCL. "We are hoping that they give that mediator some power," he adds.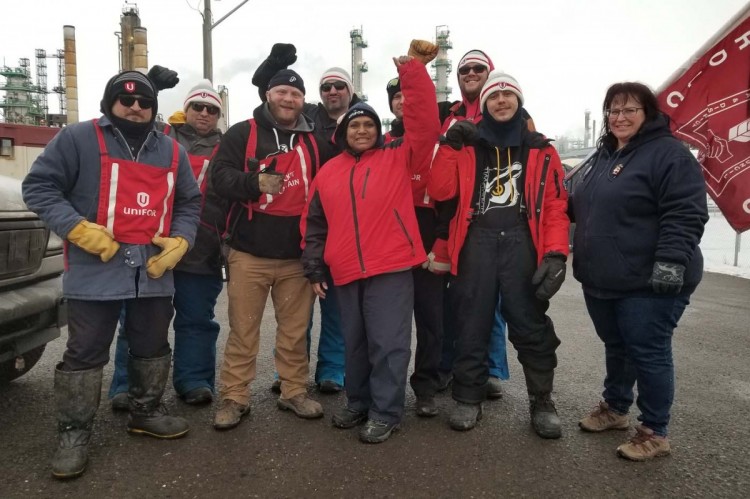 Shobna Radons is president of the Regina and District Labour Council. She says that in the early days of the refinery lockout, "it was all peaceful." FCL's subsequent refusal to bargain in good faith with Unifor members changed the tone, and the company has taken a more aggressive stance by invoking police contact. "Now they are awarding tickets to everyone parked on the shoulder [of the road] or in the ditch, knowing that they are the workers on the picket line," she says with disgust.
Radons believes that the workers have more public support than they may realize. "These guys are our neighbours, our family members, our friends. They're in the community," she stresses. "FCL has billboards posted up, saying 'Why is Unifor striking?' They're blaming them, but they [FCL] have dug their heels in and are the ones that are perpetuating the division."
She says that Scott Banda, the CEO of FCL, is responsible for the lockout at the Regina Co-op Refinery; his recent media releases suggest that he wants to work out a fair deal with the workers, and that he has been speaking with employees at Western Canadian Co-op retail stores who want the impasse to end. But the FCL has not dealt with Unifor Local 594 members in good faith, leading Radons to one conclusion: "Don't blame the union. Blame the CEO for damaging the legacy of the Co-op."
In a February 3 FCL media release on the company website, a quote from Banda paints the Regina Co-op Refinery workers as lawless and self-interested. "Unifor said this labour dispute can only be resolved at the bargaining table, and on that we agree. But the bargaining table doesn't look like setting up blockades, breaking the law and defying court orders. You can't have meaningful bargaining when your business is being held hostage."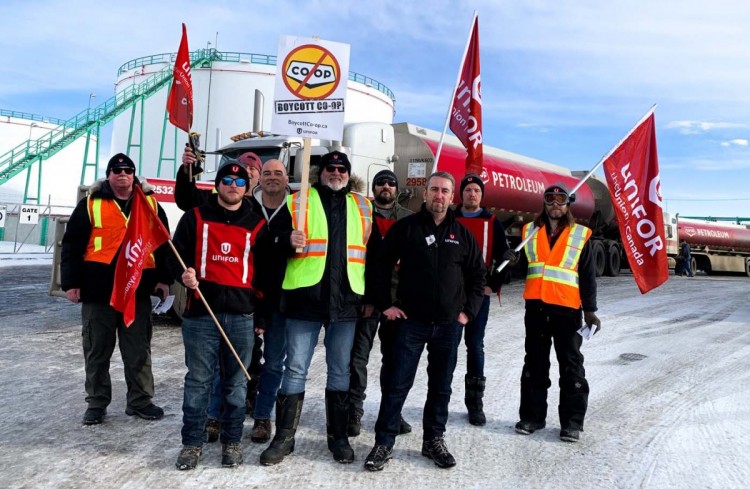 Union blockades were erected at the Regina refinery, as well as the FCL Carseland Fuel Terminal, and Weyburn and Regina Co-op locations. The Weyburn Crossroads Co-op blockade ended January 13, and on Sunday, February 9, the Carseland Fuel Terminal blockade was dismantled to comply with a February 6 court order. On February 10, 20 Unifor members set up a new blockade at a Co-op bulk fuel depot in Moose Jaw, Saskatchewan. FCL has repeatedly sought court injunctions to remove the locked-out workers' main line of protest for their pensions and rights.
Radons says that Saskatchewan's Conservative premier would expect union members to make even more concessions than those already offered, in order to end the ongoing labour dispute. "Scott Moe would only appoint a special mediator if the union agrees to take the barricades down," for starters, thus abiding with a Queen's bench court injunction.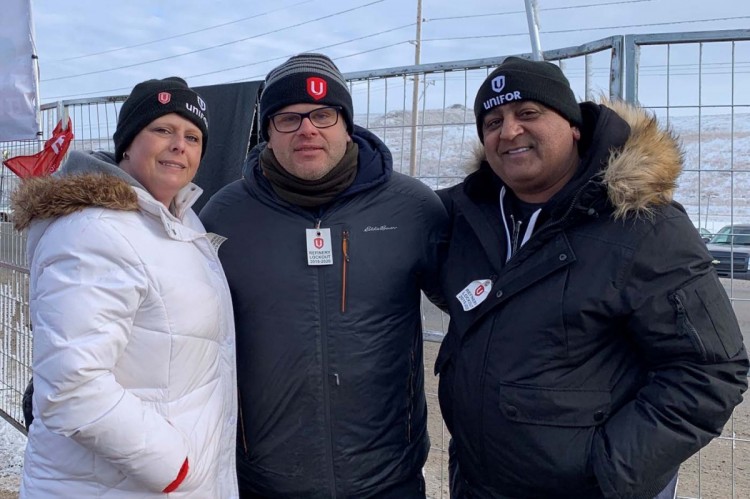 The barricades are both symbolic and actual shows of strength by the locked-out members of Unifor Local 594. Bus driver Balkar Sandhu says that members of his union local responded when Unifor's national office put out the call for all locals across Canada to support the Regina Co-op Refinery workers. Sandhu notes that six different transit garages operate out of the Lower Mainland in Vancouver, where he and his bus-driving fiancé, Tracy Milne, are based. The 3,800 bus drivers there are members of Unifor Local 111, while an additional 1,200 mechanics belong to Unifor Local 2200.
Local 2200 president Mike Smith was one of the first people arrested during protests at the Regina refinery. Sandhu and Milne were among the 30-plus Unifor members to leave Vancouver to join the locked-out Co-op Refinery workers in Saskatchewan in January. Since then, hundreds of members from different unions across the country have shown up in support of the locked-out refinery workers. "Eight hours a day, we picketed with our brothers and sisters of Local 594," Sandhu tells Our Times. "Sometimes we would get an email saying 'Something is going down,' and we'd jump back in our cars and go back up there [to the refinery]."
Sandhu describes the scene of the protest as inspiring, despite the ongoing lockout. "There were a couple of mobile homes there, people were bringing food, coffee was always available, and there was a proper DJ booth, to keep warm and show the faith " he recalls. "The amount of different unions there was mind-blowing: longshoremen, CUPE, nurses. . . ." Cold temperatures and long hours did not detract from the workers' message, echoed by Sandhu. "This is a show of force for the rights of Canadians and what is right for blue-collar workers, busting their butts for the right to retire," he stresses. "Some of these guys now have to work another 10 or 15 years."
The lockout is having a serious impact on FCL's bottom line and day-to-day operations, as Sandhu points out. "I just got an email [. . .] saying the Winnipeg stations just ran out of gas" on February 8; Co-op and Shell stations selling FCL Refinery gas products were both reportedly affected. He notes that some 300 truckloads per day were being held back by 30 truck drivers who are part of the protest.
The effects of the lockout go beyond the gas stations, directly to the heart of public safety. "Here's the scary part, which the public needs to now," explains the Local 111 member. "The Master Operator, who has run the plant in Regina for 20 years, [is locked out]. […] These scab workers are so unqualified to work with propane and diesel that it's dangerous. There's only one guy there who's qualified, and everyone else is Facetiming him saying, 'Is this right? Is this right?'"
That alarming scenario is only worsened by the lack of pipe inspections within the refinery, he adds. As of February 8, it had been 67 days without pipe inspections by the qualified veteran employee who normally handles this essential safety measure. "A six-millimetre crack in a pipe resulted in an explosion several years ago," advises Sandhu. "Why isn't the premier involved yesterday, bringing in the mediator?"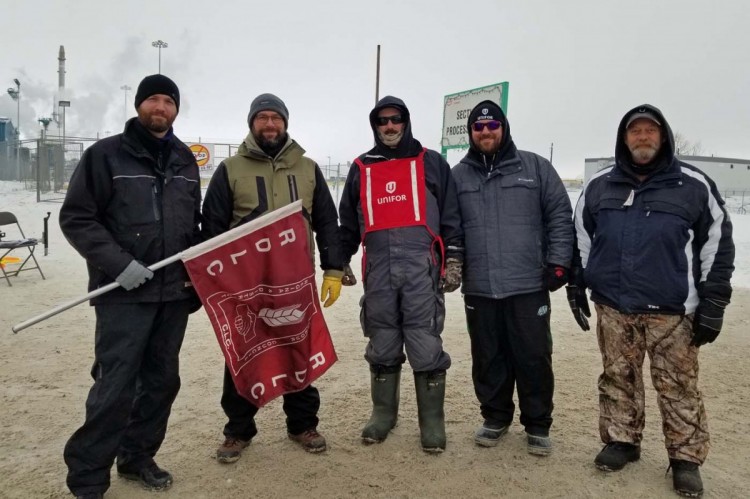 That question remains, as workers await the reopening of negotiations. "What it comes down to is the rights of hard-working Canadians paying taxes," argues Sandhu. "They need to get back to the table and call on a mediator, for a fair contract that benefits both sides." He recounts how Unifor Local 111 was on the brink of a strike last March, when the transit drivers' contract was up for renewal; employer TransLink returned to the bargaining table to help hammer out what Sandhu terms "what a collective agreement should be, and the best contract we've had in the time I've been there."
As law enforcement is called upon to intervene in what is fundamentally a labour dispute, Sandhu wonders how police officers feel about arresting locked-out workers and those who stand with them in solidarity: "Getting the police doing things that they probably really don't want to do, because they are actually in a union," as he phrases it.
"This is not just about Unifor or Local 594," argues Sandhu. "This is about all Canadians who work for a living."
Supporters of the Regina Co-op Refinery workers can check out the calls to action on two websites: boycottcoop.ca and unifor594.com.
Melissa Keith is a former radio broadcaster and an award-winning freelance journalist. She lives in Lower Sackville, Nova Scotia.