April 28th is the National Day of Mourning to commemorate workers who have been killed, made sick, or injured on the job. We are injured migrant workers who are organizing with Injured Workers Action for Justice (IWA4J) and Justice for Migrant Workers (J4MW) to demand that the federal and provincial governments protect all workers. No worker should ever die on the job!
Today, we want to call attention to the specific injustice faced by agricultural workers — a group which is disproportionately made up of temporary foreign workers and undocumented workers. These workers face dangerous working conditions on a daily basis, but our governments consistently tell them that an agricultural worker's life is of no value next to the bottom line of a big corporation.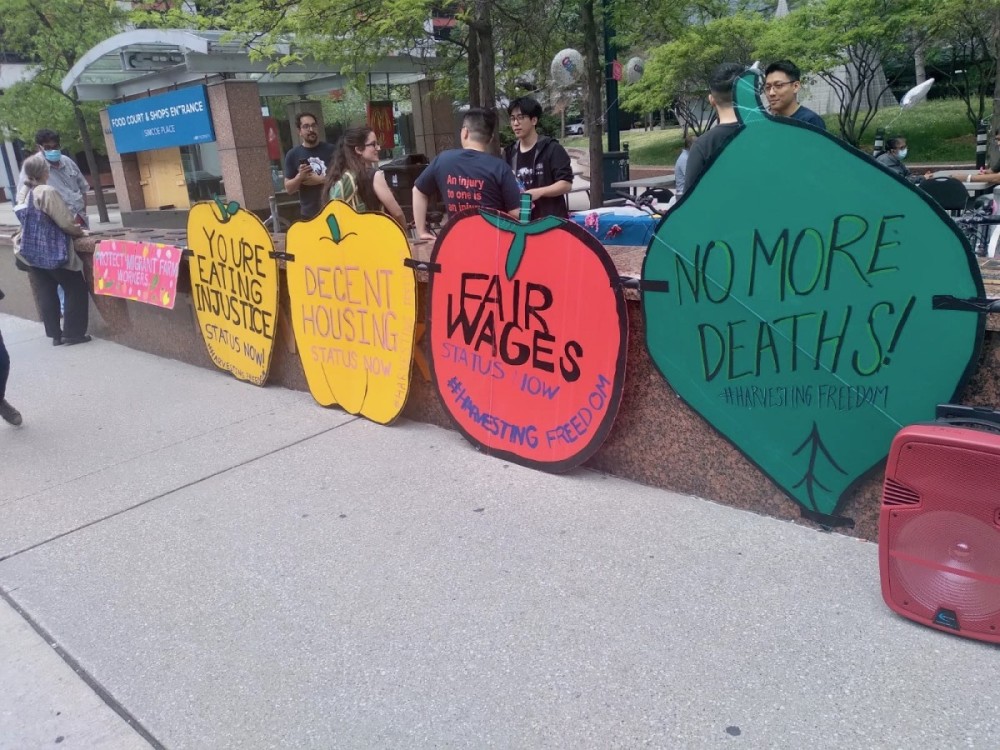 Agricultural workers are excluded from many basic provisions of Ontario's Occupational Health and Safety Act and its Employment Standards Act, as well as denied the right to collectively bargain. Agricultural workers who are migrants are also restricted in their access to supports from the Workplace Safety and Insurance Board (WSIB). Their exclusion from these protections is deeply discriminatory and exacerbates the prejudice and disadvantage they already face as racialized migrant workers. It also shows a deep disregard for their lives, considering that agricultural work is one of the most essential and dangerous occupations in Ontario.
We demand, and deserve, better.
Every year, IWA4J and J4MW send our open letters to the provincial and federal governments, but we have seen zero change on the ground.
We urge Prime Minister Trudeau and, in Ontario, Premier Ford, Minister McNaughton, and WSIB President Lang to take the following actions immediately to protect all workers and to provide immediate support to the workers and families of workers who have died, become sick, or been injured on the job.
The federal government must:
Provide immediate and unconditional permanent immigration status for all undocumented and migrant workers. This should include workers who become sick or are injured at work and who are often repatriated to a life of poverty and ill health as a result of workplace illness or injuries sustained in Canada. The recently proposed legislation for the program is grossly inadequate and may allow only a tiny fraction of farmworkers access to permanent residency.
Federal and provincial governments must:
Provide social assistance benefits that increase as the cost of living does, and implement a new Canada disability income benefit, for people with disabilities to suitably sustain their lives. Any social safety net should be available to everyone who needs it regardless of immigration status.
In Ontario, the Ministry of Labour, Training, and Skills Development must:
Investigate, without delay, all work-related deaths including those resulting from occupational disease, regardless of the industry or the immigration status of workers. Coroners' inquests should be mandatory for all workplace deaths. (More details here.)
Stop distributing the WSIB's insurance fund surplus to employers (Working for Workers Act, 2021, Schedule 6). If there is any surplus, it should be invested in efforts to ensure that all injured workers are receiving their legal entitlements. (More details here.)
Prosecute employers under the Occupational Health and Safety Act when violations occur. Prosecutions are especially important when there are clusters of occupational diseases in workplaces because employers have not taken the necessary steps to prevent deaths and illness from the dangerous work environment and toxic chemical exposures.
End the exemptions granted to the agricultural industry under the Occupational Health and Safety Act, so farm workers are treated equally to workers employed in other occupations. Develop industry-specific regulations like those that exist in construction, mining, and healthcare.
Invest in more resources to ensure that enough proactive health & safety and employment standards inspections take place.
Create a specific program that works with community organizations advocating alongside workers to ensure their rights are upheld in precarious workplaces.
Strengthen anti-reprisal measures. Among these, expedite proceedings before the Ontario Labour Relations Board.
Expand health & safety investigations to target large-scale operations. The focus should be on non-unionized workplaces such as agricultural operations, distribution centres and precarious workplaces where migrant workers are employed.
Implement specific regulations that address infectious hazards in the workplace to protect all workers from future pandemics.
In Ontario, the WSIB must:
Provide real healthcare for injured workers, and fund medical treatments and medication our doctors prescribe, especially for those workers and migrant workers who have been injured in precarious workplaces and repatriated to their countries with no medical attention.
End the WSIB practice of "deeming." (At present, if a worker's injury prevents them from returning to their own job, the WSIB can make the call to deem that worker capable of taking, for example, a minimum-wage job, leading to the worker's WSIB benefit being cut by the amount that "phantom" job would pay.) Along with that change, the WSIB should provide benefits when injured workers are not able to get a job or when no job is available in the market. It is important to end deeming, especially when it comes to migrant workers who cannot legally obtain other work in Ontario after they are injured on the job.
Change the WSIB's discriminatory mental-stress policies to protect all workers from workplace harassment and abuse. The WSIB denied 94 per cent of chronic-mental-stress claims in 2018, thereby retraumatizing workers who had already experienced tremendous hardship.
On April 28, we remember, honour, and mourn the workers who were killed on the job. And we, as workers and communities, will continue to fight for the living.
As agricultural workers, we are united and working together to make sure our demands are implemented, and followed, by our elected representatives in government. We will keep working with our community allies to help our elected representatives do their job to protect all workers during this critical time. We urge provincial and federal governments to respond with immediate action.
Please share this with your friends and family and contact your Ontario MPP and MP (click the hyperlink to find yours) to protect all workers!
An injury to one is an injury to all!
In Solidarity,
Members of Injured Workers Action for Justice and Justicia for Migrant Workers
Injured Workers Action for Justice is a diverse grassroots group of injured workers and allies who have been fighting for fair compensation and respect from the WSIB (Workplace Safety and Insurance Board) for all workers. Contact them at iwaction4J@gmail.com, and follow their work on social media via @justiceforinjuredworkers on Facebook, @IWA4Justice on Twitter, and @iwa4j on Instagram.
Justicia for Migrant Workers is a volunteer-run political collective comprising people from diverse walks of life, including migrant workers, labour organizers, educators, researchers, students and racialized youth based in Toronto. Learn more about their work at harvestingfreedom.org, contact them at j4mw.on@gmail.com, and follow their work via @justice4mw on Facebook, @j4mw on Twitter, and @harvestingfreedom on Instagram.
Learn more about IAVGO's Real Healthcare for Injured Workers Campaign here: iavgo.org/get-involved, and find their reports, Bad Medicine and No Evidence, here: fairnessforinjuredworkers.org.