Pondering Pandemic Workarounds
COVID-19 as an Opportunity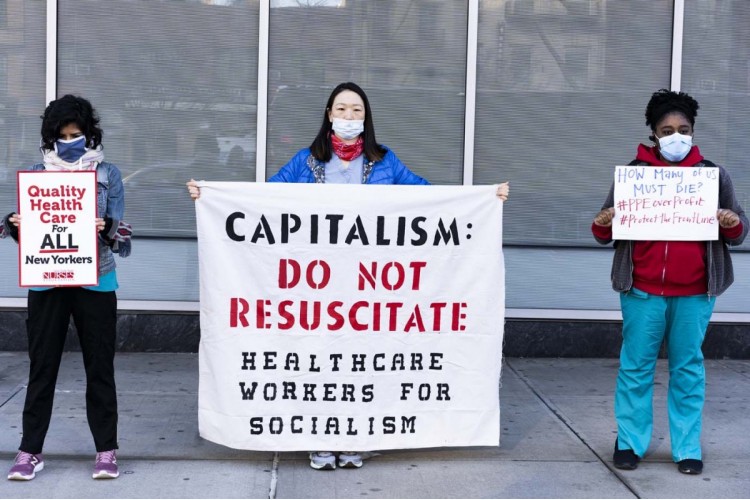 I am so old I remember the leaked minutes of a meeting John Snobelen, former Tory Ontario Minister of Education, held with senior bureaucrats not long after the much-lamented election of 1995. "We want to re-make education in Ontario," he said, 'so first we need to convince people there is a crisis that needs to be fixed, even if there isn't one."
No, I am not a COVID-denier, and unlike your average Tory education butcher, I don't need to invent anything except solutions — solutions to the challenges unions face as a result of the pandemic. In fact, in the immediate responses to this crisis are huge opportunities for long-term, deeper organizing amongst our existing members, and for organizing new members.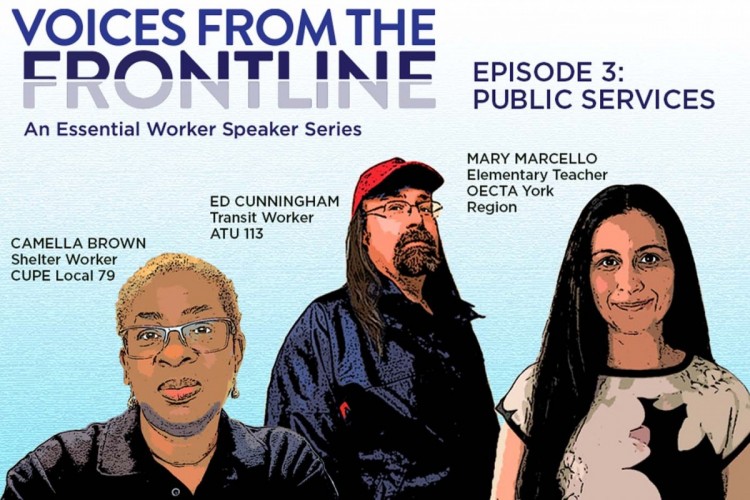 Here's just one example: a local union conducting membership meetings using video-conferencing software is entering members' homes in a way not seen since dues had to be collected physically and outside of work hours at a member's kitchen table or front door.
Though little reported, unions around the world are achieving some unexpected positive results when they attempt to use technology to replace physical contact for organizing purposes (I use the term "organizing" in the broadest sense). There are reports from the UK, Spain, Brazil and other countries that member-recruitment rates have risen spectacularly.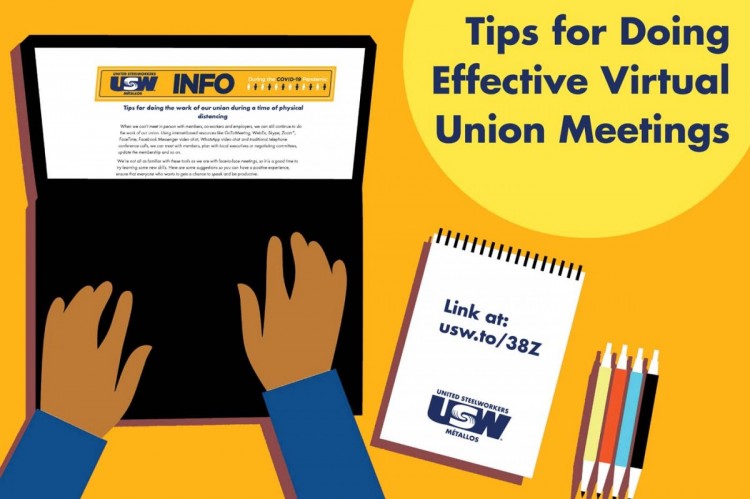 I was chatting with a comrade from the Canadian Union of Public Employees (CUPE). She mentioned how locals that have traditionally had trouble making quorum at membership meetings were having no difficulty now that their meetings were happening via videoconferencing. A few emails from me to contacts in a half-dozen unions and labour councils later, and it looks as though this experience is fairly common.
Should these COVID-19 workarounds be more than temporary?
Our goal shouldn't be to use the internet just to get around the current problems we face in doing union work. It should be to use the COVID crisis to remake the way in which we organize, internally and externally.
We can remake the way local unions function, making those locals, and our unions in general, more effective. The COVID crisis has made this possible after a decade of digital stagnation during which many (local and other) unions came to believe that the height of online organizing is a union creating a Facebook group.
This isn't just geeky, nerdy wishing on my part.
* The International Trade Union Confederation (ICTU) and LabourStart held a global May Day event this year, the first time there has been a single global event in the 130-year history of May Day, and the first time online. We used a Vimeo feed echoed as a Facebook Live event. Direct attendance cracked 100,000. We may never know how many more watched as a result of viewers sharing the feed.
* On April 28, the Day of Mourning for workers injured, made sick, or killed on the job, dozens of labour councils and federations across the country used Facebook Live, Zoom and Skype as substitutes for the usual in-person Day of Mourning ceremonies. Afterwards, many reported increased attendance.
* Labor Notes held an online substitute for its biennial conference using Zoom and was able to sustain panel discussions and other sessions with 700 participants. Normally they would have seen 20 to 50 people in a hotel meeting room.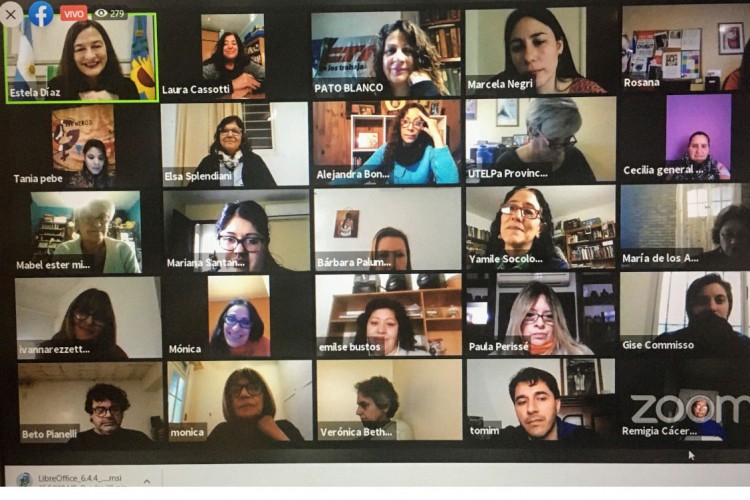 * A major union in the UK reports that by using a combination of Zoom and Skype sessions it has recruited 15,000 new members since the pandemic hit. This number is very close to the union's annual recruitment record.
* The German family practitioners' union held an online "strip-off" during which thousands of its members stripped off their clothes as part of the union's campaign for adequate PPE (personal protective equipment).
* Unions in Argentina, Croatia, Portugal, Malaysia and many other countries are experimenting with online protests. To date, these protests have mostly amounted to substitutes for a picket line. But there has also been some experimentation with taking participants of an online video event directly to a web page where those participants then send a solidarity email. (Some take participants to an employer's Facebook page in an effort to clog it with protest posts until it has to be shut down.)
* British union GMB has been using Skype to give their health-and-safety staff access to Amazon and other warehouses where workers are being instructed to work unsafely. In addition to providing advice to a workplace rep via Skype, the union has been able to Skype-in workers from other locations who can then look in on what is happening and learn how to make their own workplaces safer. Or they can add members and staff with useful experience or expertise as the remote inspection goes along. A kind of on-the-job training and flexible response we have not been able to provide in the past.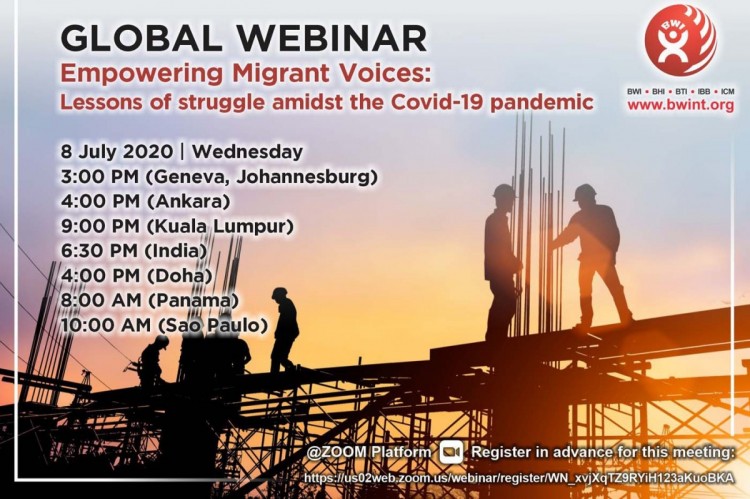 * Globally, NGOs and unions organizing migrant workers are using video conferencing to hold educational workshops for these workers on what to expect, effectively organizing them both before they arrive and after they start work. They're also holding media conferences with workers around the globe, and other similar events. This from organizations that are grossly underfunded and which could never have afforded an international conference call, let alone airfare for even one migrant worker.
Common Platforms & Software: An Overview
Zoom has recently taken off in popularity. The security concerns are by now well-known. My understanding is that a number of unions and agencies, including labour and employment tribunals across the country, are re-thinking their commitment to Zoom in light of those concerns. In several cases they have had direct experience with "Zoom bombing" (an unwanted intrusion into a video conference call), resulting in even greater concerns regarding the confidentiality of discussions held on Zoom. As a union nominee to boards of arbitration, I have seen a sharp drop in arbitrators' enthusiasm for Zoom. Specific concerns I have heard relate to the privacy of mediation and settlement discussions.
That said, Zoom remains easy to use and, with a local union meeting chair (host) who has had some orientation, the risk of "Zoom bombing" should be minimal, though the need for confidentiality should be considered very carefully when planning an online meeting.
Skype is less friendly to new users but has been the target of informal testing since Zoom's security issues came to light and seems to be holding up well. The rate at which Microsoft issues substantial updates to Skype has skyrocketed in the past month and several of the more popular features of Zoom have been implemented in Skype.
Skype is superior to Zoom and the other video- conferencing options when used by a member as a means of communicating with a local union intake or duty officer. Where more than one worker is affected and those workers are not in the same location, the ability of any one of them to contact the local union and have others added to a call can be useful. With an upgrade to Skype for Business, both calls and video conferencing can be effected with the account. And access to the voice and video accounts can move as the responsibility rotates amongst local union officers. Beats moving a mobile around or requiring someone to sit in an office in order for calls to be answered.
In an ideal world, Jitsi, a freeware, open-source video-conferencing application, would replace Zoom. It is more secure, simple to use and free. And it can be integrated with Slack (see below). People resist adopting Jitsi because there is little commercial-brand recognition. But it definitely warrants consideration.
Three Video-Meeting Problems to Consider
All these video-meeting applications share three (at least) problems a union should consider:
First, they require the installation of software on each of the computers and phones participating in a meeting. This can, especially as the news of "Zoom bombing" episodes and security compromises spreads, be a barrier to participation.
Second, meetings where the chair may be expected to deal with points of order, etc., are not well-suited to any of these options. Speakers lists are made easy by Skype, Zoom and Jitsi, but someone trying to raise a point of order or of privilege etc. will simply appear as an addition to the list — at the bottom. The chair will experience confusion in trying to maintain a speakers list and deal with points raised by participants well after the fact. Agreeing on an amended set of rules for business meetings of a local may be appropriate. Providing the chair with an assistant who can monitor incoming text chat from meeting participants raising procedural issues is also useful.
Third, video-conferencing apps and platforms are data-intensive. Canadian ISPs (internet service providers) and mobile networks are notorious for their data charges. Give some thought to the load being placed on members' internet or mobile accounts. Daily local union briefings may be popular but only until the month's mobile bill arrives.
For one-way (though questions are possible) communications such as reports or briefings, Crowdcast can be very effective. See the Unions21 Crowdcast event below for an example. Crowdcast has been around for a while and there have been no serious security concerns with it.
Slack is a highly regarded team-productivity application. Staff and local union executives can integrate their roles in projects and track progress across all participants. An excellent substitute for progress meetings that also reduces participants' email load.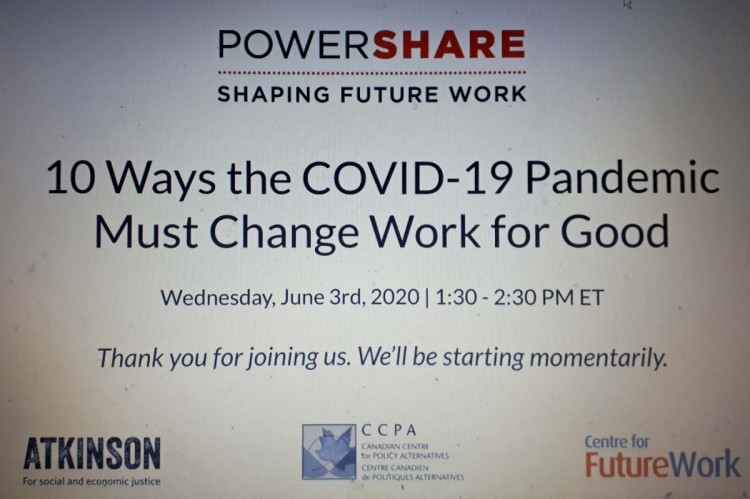 Who can provide tech training, and resources?
1) Your union, especially if it has an IT department.
2) Depending on the membership involved, there may be some advantage in constructing educational events like this quiz tournament from the UK's Trades Union Congress (TUC) — since the lockdown, it has proven useful for upgrading participants' skills and confidence.
3) TUC Digital Lab is a branch of the TUC devoted to evaluating digital tools for trade unions and providing training on the same. An example of the more accessible work they do is this assessment of video conferencing options.
4) Unions21 is a UK-based, union-supported NGO that works to share best practices on the theme of "modernizing" trade unions. Lots of good stuff here in the form of a website and a podcast series including this short guide to webinars and briefings.
5) Campaign Gears is a Toronto-based union-side tech consultancy with staff who have worked inside trade unions. Highly regarded, Campaign Gears can provide training and software recommendations, as well as customized development.
6) Organizing 2.0 may be able to provide copies of materials it uses at its conferences and/or refer facilitators.
7) Social Movement Tech is often dismissed for local union use because of its focus on online campaigning. This is a mistake, since much of what a local union does or should do is in effect campaigning or organizing. The training provided is of very high quality.
8) Union Professionals program (again, a TUC project) is intended to provide training to staffers from a variety of unions to a common standard. A few years ago there was no resistance to the suggestion that Canadian union staff be provided with access to some of the courses, so if you're a staffer, ask.
9) Specialist staff or others with a deeper interest in online organizing will find FairSay's eCampaigning Forum of interest. The forum is a mailing list bringing together digital campaigners from trade unions and progressive NGOs around the world.
10) The Digital Union Activist group, on Facebook, is the creation of Jason Dewolfe, a deputy general secretary with the BC Teachers' Federation (BCTF) and former organizing director with the BC Federation of Labour (BCFL). He has a long history of pushing unions into more and better use of digital organizing tools. Suggestions, evaluations and reviews are regular features of the group, though it has suffered of late, as most members are heavily engaged in their union work.
That's it for this month. Next month who knows what weird and wonderful online tech will be in the hands of a union geek? Check back and see. In the meantime, here's your homework from the Global Labour University: Read Hansjörg Herr's article "COVID-19 recession: Lessons from past severe recessions."