We Will Not Rest, We Will Not Stop
Building for Better in a Post-Pandemic Recovery
"We ain't gotta go back to nobody's normal that never served us." — Dr. L. Toni Lewis
This Labour Day, unions are being called upon to implement anti-racist post-pandemic recovery plans. Union action plans must ensure schools, hospitals and other workplaces are safe in response to a pandemic that has disproportionately impacted Black, Indigenous and Racialized frontline workers.
At the same time, concrete actions are urgently needed to confront anti-Indigenous, anti-Black and systemic racism, so vividly displayed this year through ceaseless images of police brutality.
The struggle is real. Activists around the world are crying out "Black Lives Matter," "Silence is Violence," "The system isn't broken. It was built this way." The calls to intensify the struggle against Canada's police violence, economic apartheid and environmental racism are resounding.
Anti-Indigenous, anti-Black and systemic racism are woven into the political, economic and social fabric of our country. We need only look at the recent actions of politicians.
In June, Toronto city council voted 16 to eight against a motion to reduce the Toronto Police Service budget by 10 per cent and reallocate those financial resources to community services. Even before the motion was discussed, Mayor John Tory took the position that calls to defund the police were "not credible." He effectively increased the 2021 police budget with another motion, this time approved by council, that will provide the initial funds to roll out the force's use of body-worn cameras, though studies provide no conclusive evidence that such cameras are effective.
At the provincial level, Ontario premier Doug Ford denied the existence of systemic racism in Canada, reframing it as a U.S. problem, until community outrage forced him to recant. Then, on August 20, in the midst of calls to increase the number of education workers to help ensure a safer return to school, the Premier instead hired 200 more OPP officers.
Though Prime Minister Trudeau may have joined anti-racist protesters in taking a knee at an Ottawa protest in June, his symbolic gesture failed to translate into any meaningful action on mass incarceration rates for Black, Indigenous and Racialized peoples.
Anti-Indigenous, anti-Black and systemic racism extend beyond our political structures to our education and healthcare systems, to our corporations, workplaces, communities and, yes, to our labour movement. As Carol Wall, long-time union educator and social justice and community activist, wrote in her open letter to white sisters and brothers: "When you scan your organizations, pay attention to positions of power and authority. If they are all or predominantly filled by white people — racism is alive and well." ("Dear White Sisters & Brothers," Our Times, Summer 2020)
Specific demands for action are being clearly expressed by BIPOC workers. For an example of anti-racist workplace demands that speak to Carol Wall's statement, we need only look to the Canadian Association of Black Journalists (CABJ) and their Calls to Action, created "to help Canadian news outlets establish clear and attainable goals as they seek to diversify their newsrooms."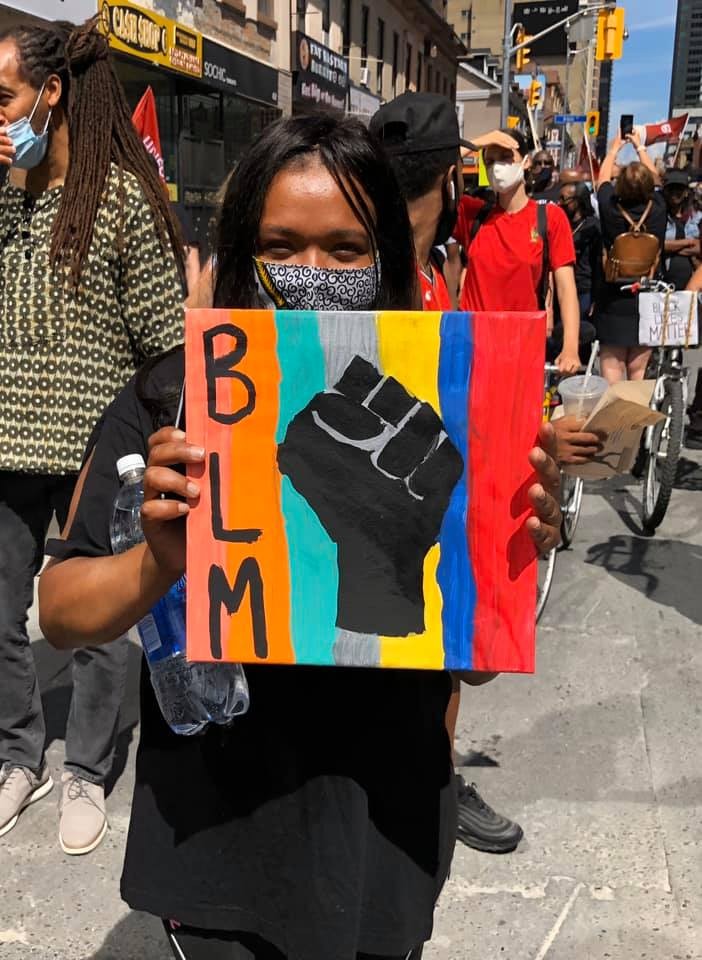 So what should a labour vision for a post-pandemic recovery include?
A labour vision for a post-pandemic recovery must confront structural racial inequalities and advocate for the inclusion of BIPOC communities — economically, politically and socially. The pandemic has revealed which workers are essential to our health and well-being, and CEOs are not among them. Migrant farm workers maintain our food supply, health care workers mitigate the impacts of COVID-19, postal workers provide necessary supplies to homes, and childcare workers provide care for the children of frontline workers and so many others.
These workers, in predominantly racialized and gendered sectors of the economy, are called "heroes" by their employers. At the same time, many of these workers have had their pandemic pay increases taken away, and their employment remains precarious. Ryerson professor Grace-Edward Galabuzi has documented the systemic nature of Canada's racial income gap in, among other publications, his book Canada's Economic Apartheid: The Social Exclusion of Racialized Groups in the New Century.
A labour vision for a post-pandemic recovery must demand an end to environmental racism in all its forms. We continue to witness the gentrification of neighbourhoods that have long been home to BIPOC communities in Canadian urban and rural areas. Indigenous and Racialized people are also disproportionately exposed to environmental toxins and contaminants where they live as well as to toxins in the workplace. Our communities grapple with unequal access to basic necessities like healthy food and clean drinking water.
"Institutions, private and public, that continue to pollute and destroy our environment, without re-examining their purpose or improving their methods, are in fact practising racism," points out Verda Cook, a member of the Coalition of Black Trade Unionists (CBTU) who also belongs to its Eco-Alliance Committee.
Our communities are further excluded from affordable health care benefits, and transit. The inequitable realities behind these socio-economic determinants of health make BIPOC communities more vulnerable in general, and even more vulnerable during the current pandemic, as has been revealed through the collection of race-based data in the groundbreaking study, "The Impact of COVID-19 on Black Canadians."
The mantra "We are all in this together" is disingenuous. Migrant workers, essential workers, precarious workers, Racialized and Indigenous communities have had the greatest exposure to and highest infection rates of COVID-19. We know that Premier Ford's call to work from home was anything but colour-blind as the number of frontline workers who are dying continues to climb. The capitalist primacy of profit over life could not be illustrated any more starkly as we prepare to send our children to school during an ongoing pandemic, in an effort to reopen the economy.
Economic recovery plans must address all these issues. "We don't want the transition to a new green economy to reflect the old white economy. Employment equity and the dismantling of systemic employment barriers faced by BIPOC communities must be central to labour's demands for good green jobs," says Jawara Gairey, long-time union activist and co-investigator of CBTU's "Green Is Not White" Environmental Racism research project.
Recently, CBTU joined forces with the Asian Canadian Labour Alliance (ACLA) and York University's Adapting Canadian Work and Workplaces to Respond to Climate Change (ACW) to produce a webinar. Have a look at "What Can Unions Do to Stop Environmental Racism?"
A labour vision for a post-pandemic recovery must demand an end to the extra-judicial killing and mass incarceration of Black, Indigenous and Racialized people. We know that incidents of police terror are not the result of a few "bad apples," and that "colour-blind" policing is a myth. In November 2017, the Ontario Human Rights Commission (OHRC) launched a public inquiry into the Toronto Police Service's use of racial profiling and its discrimination against Black Torontonians. The second interim report of that public inquiry, "A Disparate Impact" (August 2020), details a "highly disturbing" use of force against Black Torontonians, who are disproportionately arrested, charged, struck, shot or killed by Toronto police.
"The OHRC report confirms what the Black community already knows," says Mark Brown, "I can't work if I can't breathe." A CBTU executive officer, Brown wrote an article with the same title in the summer 2016 edition of Our Times.
Recently the Ontario Federation of Labour (OFL) joined with the CBTU to confront anti-Indigenous and anti-Black racism in policing by issuing a joint statement calling for the defunding and reallocating of police budgets. The statement also includes a wealth of anti-racist resources and plans for taking these messages to the streets.
Labour leaders cannot be silent for political gain. Nor can they issue statements that will only ring hollow without corresponding actions. There comes a time when silence is complicity, and that time is now.
"When Unions don't speak up, when complicity becomes the safe normal, when economic inequalities widen, when images of police brutality circulate ceaselessly through social media and the COVID virus spreads through our workplaces, opposition is not an option: it's an obligation," says Mark Brown.
Unions will also join the call to defund the police in order to re-fund health, housing, social and education services for BIPOC communities, including mental health services to redress the collective racial trauma and suffering we are enduring.
As Yolanda McClean, CBTU's Canadian chapter president, says, "Black Lives Matter is not a commercial slogan but a reflection of the deep pain that our community is experiencing as Black, Brown and Indigenous bodies are lost through state-sanctioned violence."
In the words of Jacob Blake's sister Letetra Widman: "We don't want your pity: we want change."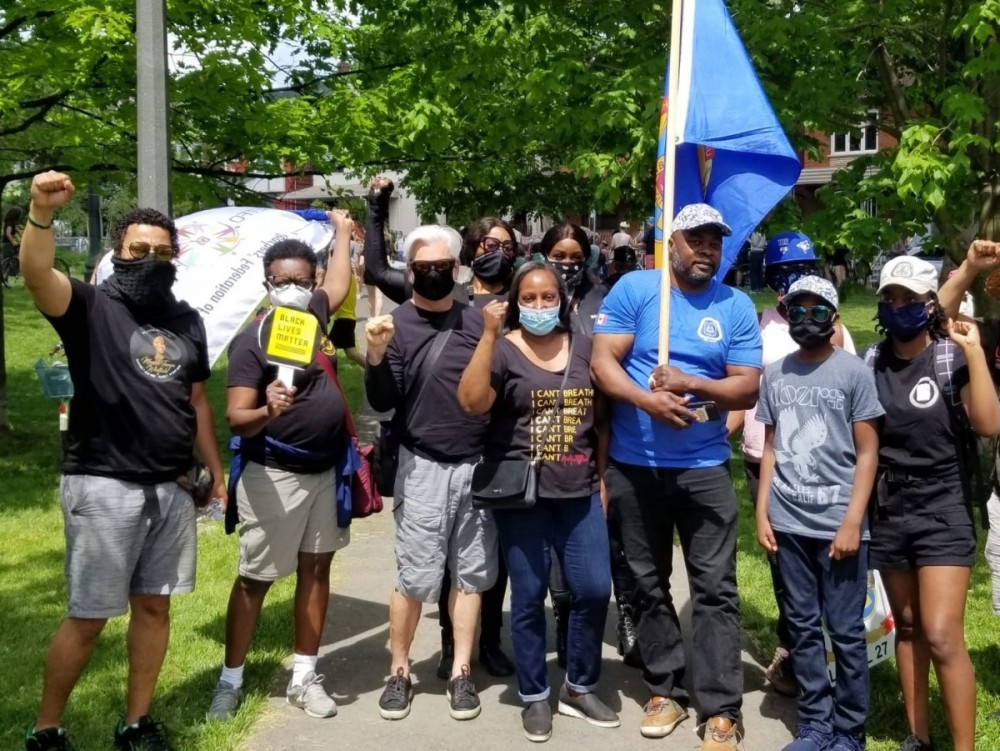 CBTU will continue to work with the OFL, and the labour movement more broadly, to amplify the demands of our community for anti-racist pandemic recovery plans.
Trade unionists have been marching every Labour Day since the printers' strike of 1872. McClean vows, "We will keep walking along the long road to Justice. We will not rest, we will not stop, we will not concede until our demands are met."
Solidarity Forever Black Lives Matter
Yolanda McClean and Christopher Wilson are the president and 1st vice president of the Coalition of Black Trade Unionists (CBTU) in Canada. The CBTU is the independent voice of Black workers within the Canadian and United States trade union movement.