Features
A Call for Solidarity with Bangladeshi Garment Workers
Interviewing Kalpona Akter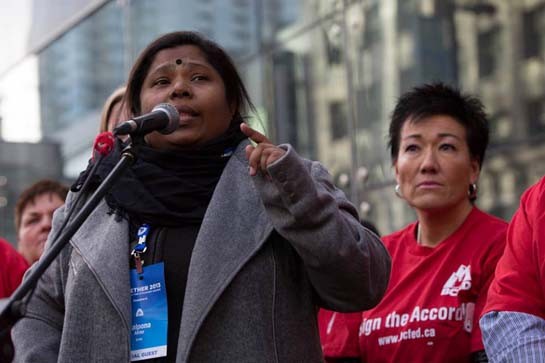 The fire at the Tazreen garment factory in 2012 killed more than 110 workers. In 2013, the collapse of the Rana Plaza factory killed more than 1,100 workers, and injured 1,600 more.

These were not the first, nor, likely, the last tragedies to take place in Bangladesh's garment industry. But their scale drew international attention, once again, to the working conditions and the exploitation of workers in Bangladesh.

Former garment worker Kalpona Akter is executive director of the Bangladesh Centre for Worker Solidarity, which conducts labour rights and leadership training for garment workers, and advocates for their rights. Late last year, she visited major Canadian cities while on a national tour co-sponsored by the Public Service Alliance of Canada (PSAC), the Canadian Union of Public Employees (CUPE), and the Maquila Solidarity Network.

With the holiday season approaching, Akter and her supporters recognized an opportunity to help educate consumers about what they were buying and who was producing it. "I'm going to connect you with those human faces who make clothes for you," she told a Toronto audience. "You are on the top of the supply chain and the worker is at the bottom, and you two have a relationship that you may not know about."

While in Toronto, the warm and engaging Akter sat down with me to share her experience of union organizing in Bangladesh and to offer her own hopes and challenges to Canadians around the role we might play in bringing greater justice and dignity to the lives of Bangladesh's garment workers.
— Mary Unan, for Our Times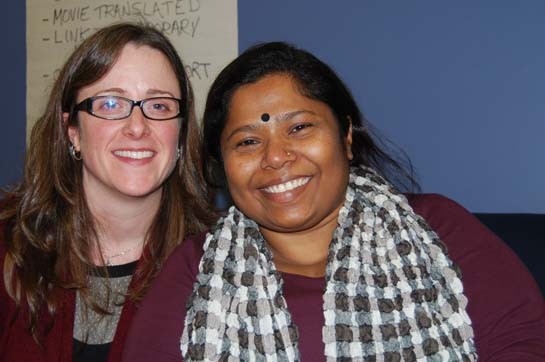 OT:
What is it like to be a garment worker in Bangladesh today?
KA:
Today, there are 5,000 factories across the country and we have four million workers. Over 85 per cent of them are female and 99 per cent of them are from the countryside. Their average age is between 20 and 25. Garment workers work 10 to 12 hours a day, six days in a week. Sometimes they work through the weekends. They can't take sick leave. When a worker tries to join a union, they are threatened, beaten, fired. Sometimes they are forced to leave the community, because the people in the community side with the factory owners.
OT:
What are factories like in Bangladesh?
KA:
According to the garment owners' association, about 50 per cent of the factories are located in residential buildings; they just broke down the walls of a living room, bedroom, and kitchen and made a factory. And 30 per cent of them are in shared buildings: on the first floor you might have shops; on the second floor, banks; on the third floor, something else. Only 20 per cent of factories are built, purposefully, as factory buildings.
OT:
What is your own history as a garment worker?
KA:
I started working at a factory when I was just 12. That wasn't my choice. One day I was attending school and the next day I was in the factory. I had to go because my father was our family's primary earner and he got ill. (My mom needed to take care of my baby sister.) So, my 10-year-old brother and I went to work in the factory. I used to cry when I saw my friends playing in the playground. It was the first time I had ever used scissors. See these black scars on my fingers? They are from those days, 24 years ago.
OT:
What were your working conditions?
KA:
I was making $6 per month. I worked 23 days in a row. I did that because I didn't know any better. I didn't know how much I should be paid; I didn't know the law. Verbal and physical abuse was the norm in those days, and still takes place in the factories. Production targets were excessive. I could manage to make 60 pieces per hour, but I was told to sew 150 pieces. We went on strike, without knowing the law, when management decided to pay us less for our overtime.
OT:
What was the result?
KA:
We won the strike. But when we came back, we learned that 20 of our co-workers had been fired for joining the strike. They looked for help and found the
American Center for International Labour Solidarity (the Solidarity Center)
, which is affiliated with the AFL-CIO. They went to labour-law classes there, and then I went, too. It changed my entire life. It was like being reborn! Day by day, I learned how to organize a union, what benefits you can get from being a union member, and then I got my co-workers to join the union. There were approximately 1,500 workers in two units, and I believe I had over 90 per cent signed up. At the age of 15, I became the union president on my shop floor.
When we submitted our union application, it was rejected by the government, because the factory owners are so powerful. At 16, I was fired from the factory and blacklisted, so I couldn't get a job anywhere. Then I was hired by the Solidarity Center, the organization where I had learned how to work as a union organizer and labour educator.
OT:
Does Bangladesh law help or hinder union organizing?
KA:
We do have pretty good laws. But that is on the books. The problem is, factory owners don't comply with the laws. And why has the government failed to monitor this? Because 10 per cent of our current members of government are garment factory owners. My legislator was my factory owner.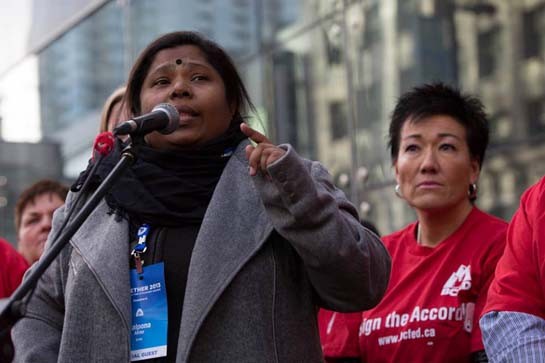 OT:
What is the history of the Bangladesh Centre for Worker Solidarity?
KA:
We try to make changes. We have awareness-raising programs, leadership training programs, legal aid services, and a lot of campaign programs to improve conditions. But it has not been easy for us to do these things. Just supporting workers' voices during the 2010 campaign to raise the minimum wage got us in trouble. The government launched a campaign to harass and intimidate me and my colleagues. First, they cracked down on our organization, revoking our registration so that all our funds were gone. Then they brought 11 different criminal charges against me and my colleagues, arrested me, along with my colleagues, and put me in jail.
The charges brought against us said that, by supporting workers' rights to an increased minimum wage, we were assisting the unrest across the industry. They interrogated me for 18 hours in a row. A colleague was severely beaten while in police custody. We were released on bail because of the tremendous international pressure that was put on our government. But that was not the end. In 2012, one of my colleagues, a senior organizer, disappeared after his work shift at the centre, and the next morning his body was found 100 kilometres away. He had been brutally tortured and beaten to death. All the evidence points to the national security intelligence. The government clearly knows who did this, but they are not arresting anyone.
Since being arrested, I still get nightmares, and broken sleep. I know that my life and my colleagues' and our families' lives are not safe, but we are still keeping on with our work. We haven't stopped. And we will not.
OT:
What are your hopes for your centre?
KA:
The Bangladesh Centre for Workplace Solidarity is a labour-education NGO, but we also act as an independent arm to help unions in Bangladesh. They are not as strong as Canadian unions. So, it is so important to do this job.
The organization used to be bigger, with 39 staff at eight centres. But after the crackdown in 2010, we had to lay off the majority of our staff. We don't have any core or program funding, now. We can barely raise the money to pay the organizers we have now at the centre. So, the priority now is to be able to hire more organizers, and, at the same time, have a fund to run the programs.
OT:
What do your organizers do?
KA:
Organizers reach out to the workers. They go to their communities, talk to them, invite them to the office for training, and to document the problems they are facing. They also keep track of these workers and do follow-up calls to find out what lessons they have been able to apply in their factories: whether they have reached out to other workers; whether they have raised their voices. Also, with the workers' help, we track all the sourcing companies. It is the organizers who update all these profiles, so they have a lot of jobs to do.
OT:
How can unions in Canada help unions in Bangladesh?
KA:
I heard someone suggest: "Why don't we adopt an organizer?" That is a great idea. Our organizers, including their telephone and all their transportation, cost $350 per month. We are looking not only for financial support but also, through exchange programs, for a sharing of experience. You folks have really good experience: how you organize; how you do collective bargaining. It would be great for our workers to learn from you. You know how you made the changes. If your experiences were shared with our workers, they would know what they needed to do.
OT:
When did you begin your work outside Bangladesh?
KA:
In 1996, I went to Italy to speak at a conference about child labour. In 1997, I spoke in New York City at the UN's commission for sustainable development. This is how I first connected internationally.
OT:
What was your role after the Tazreen fire and the Rana Plaza factory collapse?
KA:
I should remind you what happened on that November 24, at the Tazreen fire. Some workers smelled smoke, but the factory managers came and shouted: "There is no fire, go and do your work." And so the workers kept doing their work. When they saw smoke coming from downstairs and realized there really was a fire, they tried to escape, but, when they ran to the stairs, they found the door was locked.
When I heard what was happening, I ran to the factory. Within one hour after it started I was there, and there were already thousands of people outside the factory. I left at 2:30 a.m. to let my colleagues in this part of the world know there was a fire. Around 5:30, one of my organizers called me and said, "You should come, there are over a hundred dead." I ran back to the factory and saw the bodies being carried out. Then I went inside the factory, even though there were still flames on the second floor. I risked going in because I needed to know what the sourcing company was — I knew they would hide all the information, if they could.
That's when I discovered C&A from Europe; KiK from Europe; Piazza Italia from Europe; Karl Rieker. I found Sears Canada, and, of course, I found Walmart there; Sean John from the U.S.; US Marines; Edinburgh Woolen Mill from the UK — everyone was there. Everyone. I found all the logos and took pictures. And I found documents that clearly said that Walmart was sourcing from that factory, although Walmart is still denying it. So, I brought out all those documents and started sending them to my colleagues.
After Tazreen, I was in the U.S. doing a speaking tour with a Tazreen victim who had been injured in the fire. We protested at the Walmart home office as well, in Arkansas. I was in Seattle on April 24, the day the Rana Plaza collapsed. It is my habit to check the news before I go to bed. I saw just two lines, saying a building had collapsed in Bangladesh, and when I saw where, I was sure it was a factory. I called my colleagues to ask what was happening and they said, "It's a factory; it collapsed with 5,000 workers inside." I cried, because I knew it would be a death trap.
The day I got home, I just left my bag at the door and ran to the factory. It was hard to breathe because the bodies had already started to rot. I went to the school field where they were being kept. You couldn't look; you couldn't breathe. The people were in so much pain; families screaming. They would come to you, asking for help. And you didn't have any answers.
My colleagues had already found a lot of documents and we sent them to our international allies. I started searching, too, and found more in the rubble. You know, Loblaw's Joe Fresh was one of the companies we found, and there were a huge number of US and European companies. And no one was there to take responsibility.
I met as many of the families as I could, and the survivors. Everyone was saying, "We refused to go to the factory, but we were forced to. We were slapped, and threatened." Some of the workers were beaten to force them to go inside. Managers said, "We need to ship these clothes, so you have to come in." They were saying, "the factory will last a hundred years," but, less than a hundred minutes later, the factory collapsed.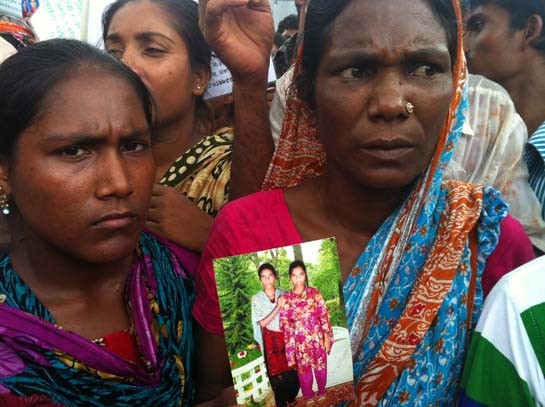 OT:
What can ordinary Canadians and Canadian organizations, like unions, do to help create a safer, better-paying workplace for garment workers in Bangladesh?
KA:
There is no doubt we need these jobs. We are four million workers, and this is the biggest industry in Bangladesh. These jobs are so important to us. But we want these jobs with dignity.
As consumers, citizens, and unions, you can play a good role. Tell these companies to pay more when sourcing from Bangladesh — without adding money to their price tag. We don't want consumers to pay; we want these companies to pay. It is high time for them to share their profit with the workers.
The Bangladesh apparel industry gets "trade privilege" from Canada and that is unconditional. Please, tell your government that it should be conditional, and that the condition should be that the Bangladeshi garment factories need to be compliant with the domestic labour law and the workers' fundamental rights.
We also want companies to sign the
Accord for Building and Fire Safety in Bangladesh
. More than 120 companies have already signed the accord, which provides for independent safety inspections, and makes the brands accountable for factory improvements. It also insists that workers must be at the table. Six companies from the U.S. have signed. The only Canadian company to have signed, to date, is Loblaw's Joe Fresh.
The "Alliance," created by Walmart, is voluntary: inspections are not independent, and there is no worker involvement. Hudson Bay has signed up to the Alliance. Put pressure on them and tell them to sign this Accord, because this will save our workers' lives. And companies like Loblaw, Children's Place, Walmart Canada, Sears Canada owe compensation to the workers of Rana Plaza and Tazreen. These families are living in miserable conditions. Please put pressure on the companies to pay full and fair compensation.
OT:
What keeps you going?
KA:
I get my inspiration from all these human faces. They know their life is not safe, but every day they go to the factory. They need to make money, so they keep working. These factories are literally deathtraps. We want these jobs, but we want these jobs with dignity, and dignity means having a living wage, a decent wage. We want a safe working place and we want a union voice at our workplace; that's all we want.
Our Times would like to thank communications specialist Mary Unan for her work interviewing Kalpona Akter and transcribing her words for us. Since this interview, Loblaw and three other companies have signed an agreement to provide long-term compensation to the Rana Plaza victims and their families, but companies like Walmart and Children's Place have, so far, refused to sign the agreement. For more information about the Bangladeshi garment workers' struggles for dignity and justice, visit the Maquila Solidarity Network and the IndustriALL global union.