As the June 2 Ontario election fast approaches, labour and community groups are answering the call to action.
Building upon the energy of the May 1 province-wide day of action for a better Ontario, the Ontario Federation of Labour (OFL) has launched For All of Us, a campaign gathering momentum across the province. Make sure to get plugged into those campaign activities happening in your own community.
Officially kicked off on May 11, the campaign has set in motion canvasses and phone banks in as many Ontario NDP ridings as possible, with the OFL making this pledge: "We're going to ensure the only party that puts workers first, wins!"
LABOUR AND COMMUNITY IN SOLIDARITY
The Coalition of Black Trade Unionists (CBTU) has released an online petition calling upon our members and allies to vote for candidates who are committed to securing and strengthening human rights protections in the province and who are prepared to confront anti-Black racism and all forms of discrimination in the workplace.
Also demanding change is the Workers' Action Centre (WAC).
With its important new report, From the Frontlines: An urgent agenda for decent work, the centre is calling upon candidates in the provincial election to commit to swift action on decent work. Make sure to share WAC's report with the candidates in your riding.
Sounding the alarm over the province's growing shortage of nurses and the ongoing issues in long-term care, the Ontario Nurses' Association (ONA) is tracking where each party stands on public health care, and calling on Ontarians to vote to protect and prioritize it.
LOOKING BACK AS WE GO FORWARD
To remind ourselves of the power of working people as we head to the ballot box, and to inspire us in the days ahead, we need only look back to the most recent International Workers' Day.
"Tell us why you're marching on May 1!"
Ahmad Gaied, the Secretary Treasurer of the OFL ushered in May Day with this call to action.
People answered by sending a resounding message of worker empowerment to Doug Ford. Actions were held in over 20 locations across the province. More than 16 marches took place in Toronto alone, with these converging on the lawn of Queen's Park for an afternoon rally hosted by the OFL.
VOICES FROM THE GRANGE PARK MARCH
Justice for Workers began the feeder march in Toronto's Grange Park by leading the gathering crowd with the chant "We work hard every day! We deserve decent pay!" Activists demanded decent work for all, an end to racism and oppression, paid sick days, equal pay for equal work, labour protections for gig workers and a $20 minimum wage. Tenants' rights advocates also called for a halt to rent increases and the intensive gentrification sweeping Toronto. Underscoring the sense of solidarity, the May Day Unity Committee banner proclaimed: "Workers of all Lands, Unite!"
CBTU joined the Grange Park march to defend our human rights and to draw attention to a crucial issue: The Human Rights Tribunal of Ontario (HRTO) is deciding two test cases that could result in Black trade unionists and all unionized workers in Ontario losing the right to file human rights complaints with the HRTO. The HRTO dismissed CBTU's application to intervene in the case, but the voices of Black and unionized workers will not be silenced. We took our message to the streets along with releasing a statement calling upon labour and communities to pay close attention to these two cases.
CUPE Local 905 and the Toronto Community Benefits Network have joined CBTU as the legal cases continue before the Tribunal.
Departing from Grange Park, we marched along Dundas to University Avenue, pausing in front of the Ministry of Labour. There, Deena Ladd, executive director of WAC, led chants calling out the lack of labour law enforcement when it comes to precarious workers. She also drew our attention to Doug Ford's Bill 88, that will, among other things, erode basic labour law protections for gig workers.
We continued north along University Avenue, pausing in the middle of "Hospital Alley" to protest another piece of legislation brought in by Ford: Bill 124. During the ongoing pandemic, even as the Ford government called health care workers heroes, it ensured they got little more than zeros. By imposing legislation limiting wage increases to a maximum of one per cent total compensation for three years, Ford's government is discriminating against women and racially marginalized workers. ONA members raised their flag and marched behind their "Protect Public Health Care" banner to demand that the Ford government stop the privatization of healthcare and repeal Bill 124. At the same time, ONA is pursuing a Charter challenge to strike down the legislation as an unconstitutional infringement on collective bargaining.
Also in the crowd were Justice for Migrant Workers (J4MW) and the Migrant Workers Alliance for Change, who demanded status for all with the chant "Justicia! El pueblo unido jamás será vencido! The people united will never be defeated!"
Public Service Alliance of Canada members were led by Craig Reynolds, Regional Executive Vice President, who captured the energy of the march.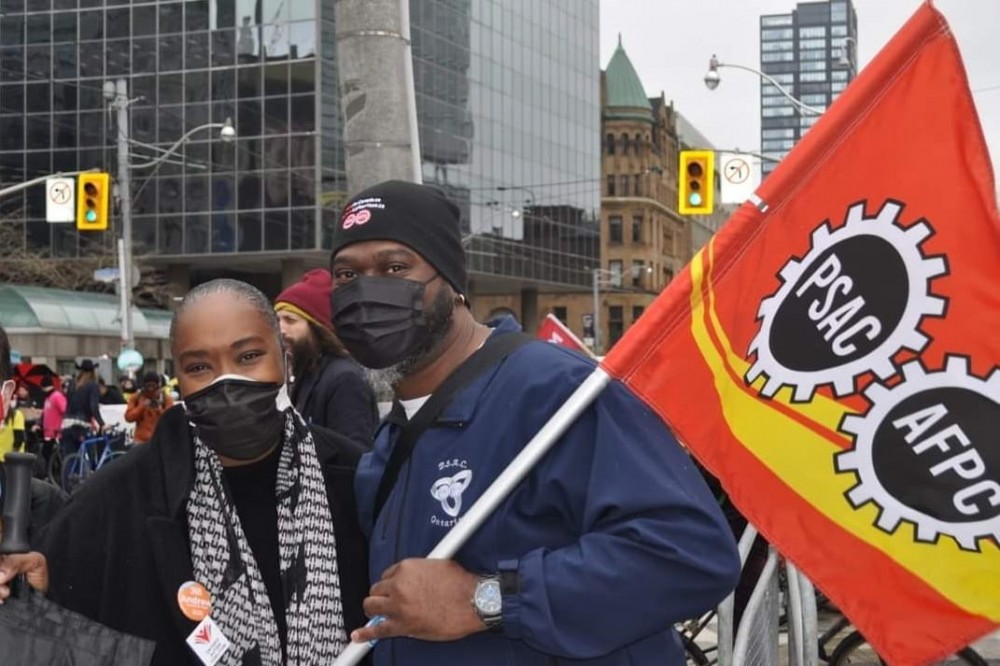 "It was great connecting with other activists and getting that charge and energy from an in-person rally," he said. "Although it rained, it was a fabulous event and a perfect day to take action for workers!"
Melisa Lodewyckx Hardy Bayon, the OFL's Director of Political Action and Outreach, expressed the same kind of optimism and commitment.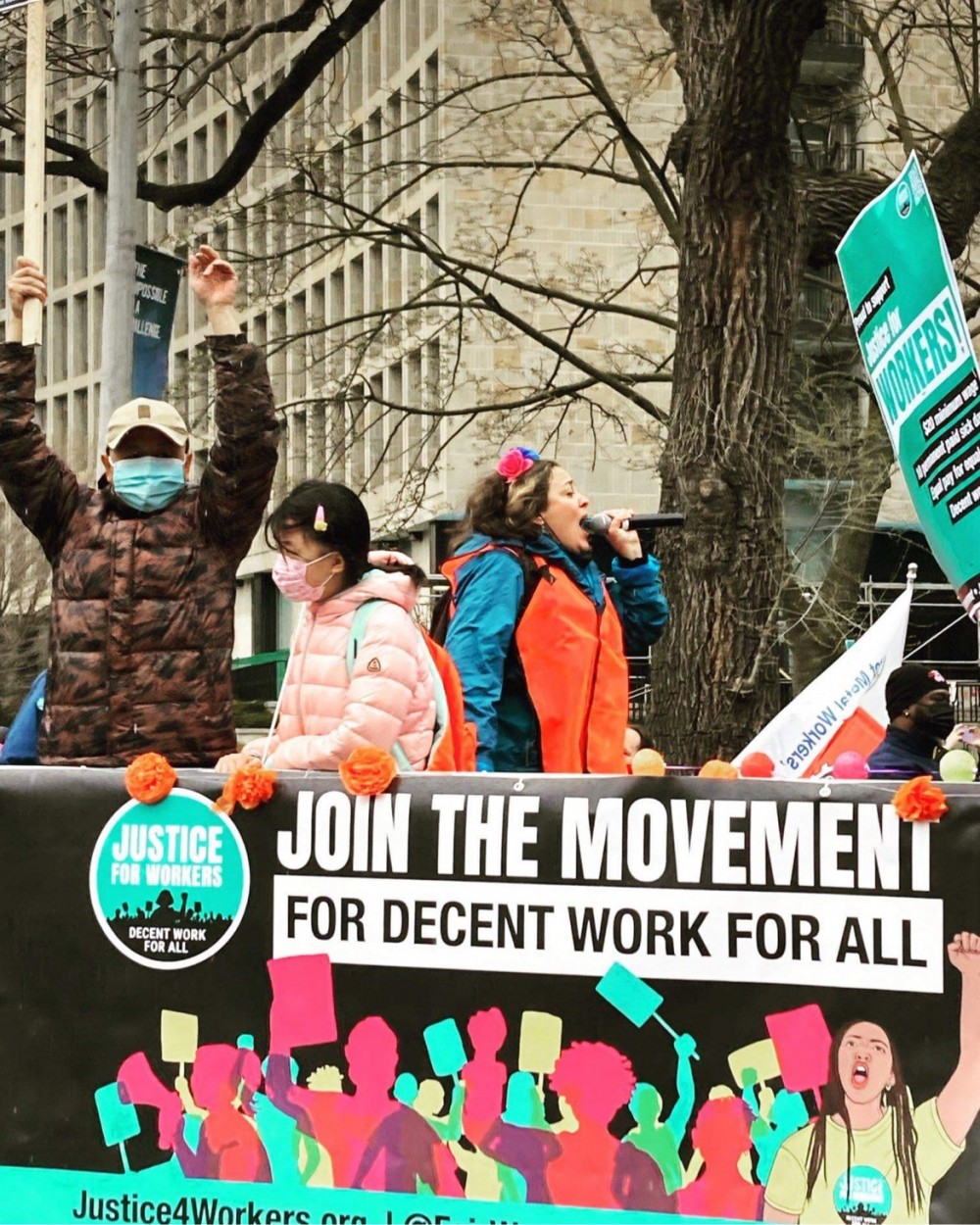 "I'm marching for my daughter, Alma," she said.
"She's my life. In her I see the potential for a bright future. I want to show her how to fight for it. I want her to know that a better world is possible if we build it. Together we can!"
People's reasons for joining the May Day marches may have differed, but those marches converged on Queen's Park with over 10,000 workers united in our resolve to defeat the neo-conservative Ford Government and bring an end to racial, gender, and class discrimination, and all forms of oppression.
The struggle is real. We won't give up our human rights or stop advocating for workers. We have a duty to win. All we have to lose are our chains.
Let's take our resolve to the ballot box on June 2!